For my kids, Halloween is all about three things: costumes; candy; and fun. In that exact order. In fact, as we drove home last night, they started discussing what they want to be for Halloween next year. It's a sickness. ;) Usually, they have a very decided idea of what they want to be and it's just a matter of figuring out how to make it happen. But this year, we had a lot of drama and indecision over costumes. First, Kaytie wanted to be Cat Woman because she saw a picture in a comic book and liked it. Nate wavered a lot, but he wanted
something
to do with Dr. Who. He did know that much. Daniel wanted to be an Indian and kept trying to talk Kaytie into being his squaw. She was surprisingly uninterested. Abbie wanted to be Captain America again. The middle of October, the time when most moms are busy making and buying costumes, this was where we were.
THEN, Abbie saw a Tinkerbelle costume in Walmart and fell in love. I talked Nate into the 10th Dr. Also known as David Tennant. When we were shopping for a suit for him, I let it slip that Daddy would buy him a Sonic Screwdriver and Daniel decided he wanted to be the 9th Dr. Also known as some guy whose name I don't know, but who wears jeans and a leather jacket. That just happens to be Daniel's favorite garb as well, so I didn't have to spend any money on his costume. Except, of course, for that screwdriver. ;)
This is when the drama began. When I went to buy Abbie's Tinkerbelle, there were none left. She took it in stride, but I felt incredibly guilty. There was a lot of stress about finding brown hair-spray-dye for the boys' hair, a tie for Nate and a wand for Abbie. We finally settled on black dye, Daddy's tie, and a stick that the girls painted with glitter glue. Daddy found Abbie a cheaper Tinkerbelle costume on Amazon, which turned out to be much better quality that the Walmart offering, so Daddy became everyone's hero. And we all took a collective deep breath.
At this point, we actually attended our first event. Nate went to a birthday party instead, so it was just me and the thrilling three...
After this trial run, Kaytie realized her costume wouldn't work for her. First, her hair was supposed to be white. We used an entire bottle of dye and it barely looked frosted. She also hated the way the mask didn't fit well over her glasses. She decided she would dig out our old Ninja stuff and be a Ninja instead. Daddy talked her into being a cowgirl. This necessitated more shopping. Of course.
These are the official pictures.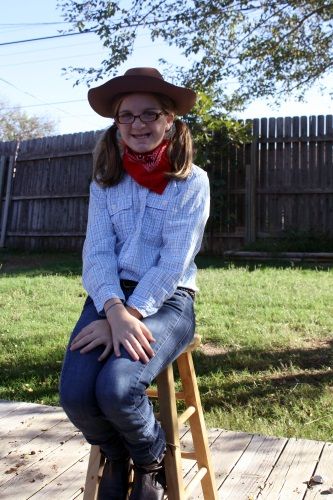 This is my new favorite picture of all time! Don't mess with the Fabulous Four! They've got you covered!
We went to a church carnival where they had a blast. They ate hot dogs, jumped on bounces, rode a "hayride" over and over, decorated pumpkins, and, of course, posed for pictures.
On Halloween, we went to our Ranch museum and took a picture with a longhorn. My kids are a little crazy. :)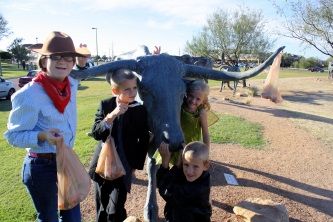 We also went to the Trunk or Treat at our church, but I was too busy to get any pictures. The kids had a chance to pass out candy, which they enjoyed. They also won lots of goodies at the cake walk. On our way home, we interrupted the discussion of next year's costumes to stop and jump on this huge bounce. We recently let the kids watch the Ghostbuster movies, so Daniel and Abbie just had to get a picture with the StayPuft Marshmallow Man!
That was our Halloween! Hope yours was just as great!