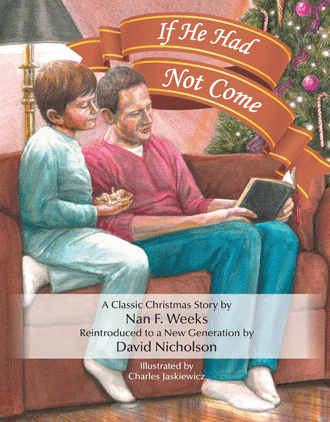 What would it have been like if Jesus had never come to our world? What impact did He make that we would miss if He had never been here? These are the questions addressed in the picture book
If He Had Not Come
. Originally written by Nan Weeks and published in 1938, this story is about a young boy who dreams a strange dream on Christmas Eve. In his dream, inspired by the Scripture verse John 15:22, he experiences a world without the influence of Jesus.
David Nicholson
, a retired teacher, short term missionary, father, and grandfather has shared this story with his own family for years. Eventually, he decided it needed to be shared with others.
If He Had Not Come is a beautiful, hardcover picture book that is intended for kids ages 6 and up. The illustrations are gorgeous. The story is engaging and thought provoking. Bobby, the main character, is changed by his understanding of what a Jesus-less world would have been like. As the story progresses, his focus changes from Christmas presents to compassion for the people he meets (the real reason Jesus came) to thankfulness that a Savior did actually come to us.
We enjoyed this book. I read it aloud to all the kids while they enjoyed the illustrations. Then we used the open-ended questions about the story in the back of the book as a springboard to a discussion. There are six paragraphs of questions and it took us awhile to work our way through them, but we all learned a lot. Next, we explored the Going Deeper page: four paragraphs of questions about why Jesus came, what His impact was, and what the spiritual implications are. Finally, we read through the Gospel message, the ABCs of Salvation.
This is a book that will definitely be going on our "Read Every Christmas Season" list and, starting this Christmas, we will implement the idea in the very back of the book about how to use a Christmas tree to remind us of eternal life in Jesus.
As usual, I asked the kids what they thought and they said:
Kaytie:
It was interesting. It showed a point that most people don't ever look at. I think it was an accurate picture of what would have happened if Jesus hadn't come. I recommend it.
Nate:
Well, it was interesting. I liked it. It made me glad that Jesus came to earth!
Daniel:
I liked it because it was about Jesus and what the world would be like without Him. Before it told us it was a dream, I already knew it was a dream. But before I thought that, I thought he had slept through Christmas. My favorite part was when he woke up and he found out it was Christmas.
Abbie:
I liked it. If Jesus hadn't come everyone would be mean and no one would care for anybody else. Like, if someone was sick, no one would care for them. I liked looking at the pictures.
You can buy your own hardback copy of If He Had Not Come for $18.95 or you can grab the ebook version for $3.99.