I'm a holiday fanatic. I love any excuse to celebrate and I like to do it up big. So it was really weird to me that this year, I have yet to catch any Christmas spirit. I don't know why. It hasn't been a hard year, I'm not sad or depressed. There is nothing wrong in my world. But the best I could muster was a hearty "ho hum".
Thankfully, my kids are holiday fanatics. They have taken the reins of their Christmas holiday and have managed to have a great time even without any "mama magic". They have taken responsibility for making sure we listen to Christmas carols, even singing them when needed. They have
read Christmas books
and pulled out several ideas from our
list of traditions
. They have plotted and planned giving gifts. Kaytie made several batches of fudge. Nate organized a
Gingerbread Village
.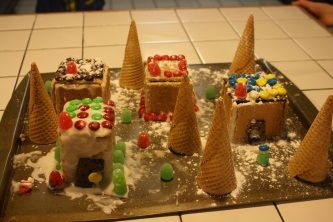 They've worn Santa hats.
They've reminded me to do our
Advent calendar
. They've enthusiastically wrapped, shaken, poked, and wondered aloud about presents. They've shopped and baked and organized lists. They've eaten candy canes. They've made regular donations of their own money to the "Mall Santas" with their red buckets and little bells. They've watched Christmas movies like Christmas Carol, The Santa Clause, Elf, A Charlie Brown Christmas and a Toy Story Christmas. They helped decorate the tree with Lego and Barbies
And then protected it from sabotage.
They've talked to Santa Claus
and to Sofie Claus.
Spent two Saturday mornings helping with Scouting for Food.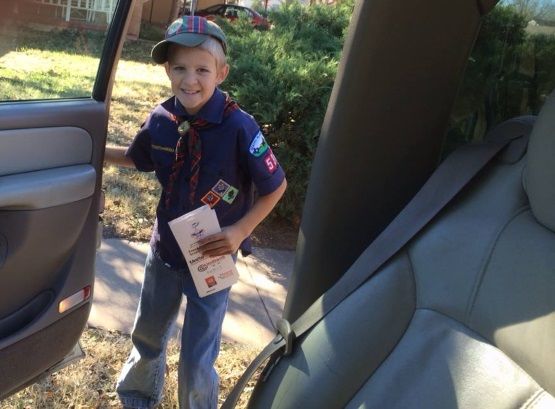 And proved that Grandma really DID get run over by a reindeer.
I'm proud that my kids know how to step up and take charge of their own fun! They sure know how to celebrate Christmas!