So, we love stories and the kids love being read aloud to, but I have to be honest and admit that I don't always (ok, rarely ever) enjoy reading aloud for long stretches of time. So being able to shift that labor to someone else while my kids still get to enjoy a story is quite a blessing! You can well imagine then, that
Heirloom Audio Productions
is a product that we enjoy. We have reviewed products from them in the past, so we were delighted to be offered
In Freedom's Cause Single Package
.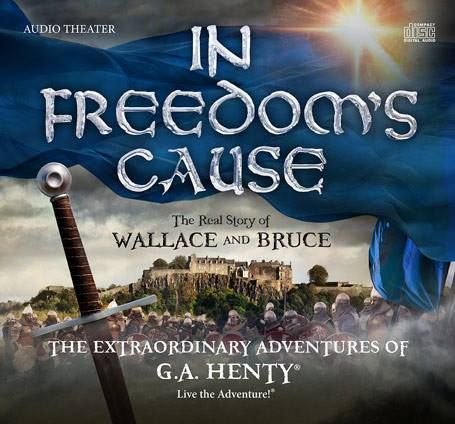 First, I must explain that this is not an audiobook.
Heirloom Audio Productions
offers theatrical productions with actors, sound effects, fast-paced plots and background music. It isn't just a book being read aloud, it is a performance! The story quickly grabs my kids and keeps them engaged.
In Freedom's Cause is the story of Sir William Wallace, a hero from Scotland who gave his life for the freedom of his country. This is not the Hollywood version of Wallace from Braveheart. This is the real story of a God-fearing man who embodied courage and strength and self-sacrifice.
Now, being Scottish and growing up on the legends of Wallace, I have always loved his story. I have found inspiration in his faith and passionate pursuit of right my entire life. It's always been special to me, so I am delighted to have a chance to share the tale and the inspiration with my kids in a way that will engage and enthrall them. Now William Wallace and Robert the Bruce are their heroes, too!
We received a physical CD, an MP3 download, a download of a Study Guide, and a printable copy of the Prayer of William Wallace. This prayer is a stylized version of the 23rd Psalm and is truly beautiful. The poster is also beautiful: a full color background of beautiful clouds, a castle and a warrior with his face lifted in prayer.
The story is told in dramatic color on the 2 CD set.
The Study Guide is a 49 page, full-color ebook in PDF form. It is printable but I chose to just read it off the computer. It contains two types of questions and vocabulary words for each section of the story. The first type of questions are simple comprehension questions. For example:
What happens to Ned as he and Gerald are practicing their sword skills?
The second type is for digging deeper and getting the child to really think about what is under the surface of the story. An example of this type of question is:
Why do the boys see Wallace as a hero? What do you suppose the English thought of him? Why did Wallace's action inspire courage and patriotism in the hearts of these young men?
The Study Guide also contains a few notes on the history of Scotland and three Bible studies on not fearing evil, vengeance and forgiveness, and freedom.
This was a fun product to review. We broke it up into several sittings although I think the kids would gladly have listened to it all in one go! Sometimes when we listened, we had tea...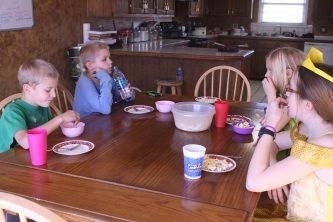 and popcorn and brownies and dressing up. The water drinker doesn't like tea.
Sometimes we built with Lego while we listened...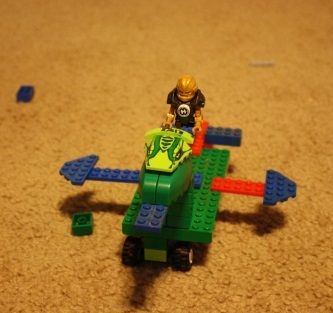 Sometimes we played games...
And sometimes, we got so into the story that we went a little crazy!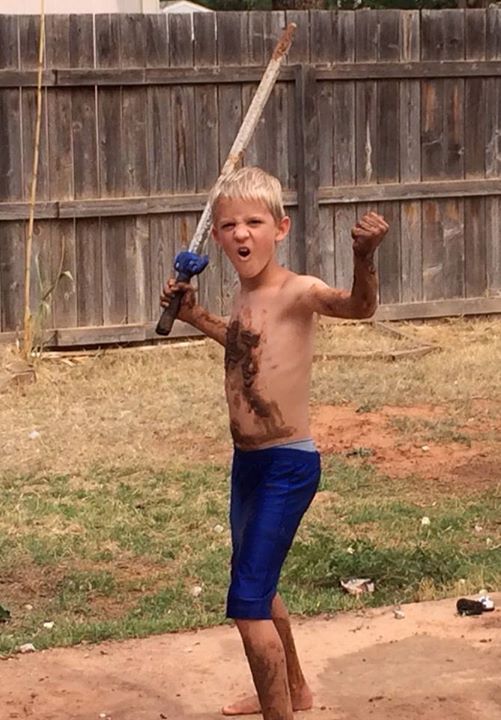 After each reading, I would ask the kids the Study Guide questions and they would call out the answers. Sometimes everyone had an answer, sometimes only a kid or two had something to say.
We also read over the Prayer of William Wallace several times just because it was so beautiful.