The
The Critical Thinking Co.
offers products that help your child learn to analyze, evaluate, and think a little more deeply. They have a wide array of curriculum for history, math, science, language arts and reasoning skills. We were asked to review one of their history products
World History Detective Book 1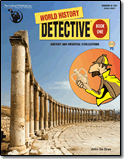 World History Detective is a thick paperback book intended for kids in 6th to 12th grade. It can be used as a full curriculum, just for review, or as a supplement to another history program. It begins with prehistory and Ancient civilizations, covers Medieval civilizations in Europe, Asia, Africa and the Middle East and finishes up with early American civilizations.
It contains 78 lessons and each lesson follows the same basic pattern. First, there is a brief reading passage. Each paragraph is lettered and the sentences are numbered for easy reference in answering the following questions. There are 9 multiple choice questions that force the kids to dig deep into the meaning of the passage. The answers to the questions are not necessarily easy to find. The kids have to infer a lot of the answers from what is actually said. Most of the questions are followed by "Which sentence best supports the answer?"
Next in each lesson is an essay question. And finally there is a concept map. Maps, graphs, drawings and small black and white photographs are used as needed to illustrate and expand the lessons. Answers to all the questions and concept maps are in the back of the book.
The book is consumable, but due to a generous copyright you are free to make up to 35 copies a year for your students. We used notebook paper and made a few copies. I'm pleased that all four kids will be able to use the book. However, if you do want to just have your child write directly in the book, the worksheets are perforated so you can pull them out and lay them flat for easier writing.
I used World History Detective with Kaytie and Nate. Kaytie is 12 and Nate is 11. Theoretically, they are in 6th and 5th grade, respectively, but in actuality, they do all the same work. We used this book as a supplement to the Ancient History studies we were already doing. We worked on it daily, breaking up the lessons into three parts. On the first day, they would read the passage and answer the 9 questions. The second day they wrote the essay. The third day, they filled out the concept map. This way, it only took them a few minutes each day to do the work.
We used notebook paper to answer the questions and to write the essays, but I made them each a copy of the concept map because, as you can tell, it could be complicated for them to draw out.
Kaytie's first concept map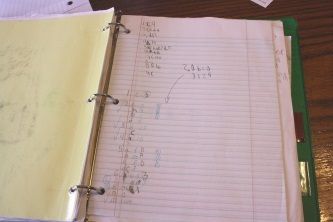 Nate's answer sheet
I really liked World History Detective. I don't think I would use it as complete program, however, it worked perfectly for us as a supplement to our other studies. The questions were phrased so that the kids couldn't just find a word for word quote and write down an answer. They had to think about what the reading assignment really said and even read between the lines a little. It required effort on their part to answer the questions and to point to the sentence where they found that answer. Sometimes they would get the correct answer but couldn't tell me which sentence supported their conclusion! So they would have to go back and think some more. As we worked through the lessons, however, this got easier for them to do.
This was not a "fun" program for either of my kids and Nate even dreaded it a little. This does not mean it was a bad product, though! I don't believe that kids have to thoroughly enjoy themselves in order to learn. Mental exercise should be a workout just as much as physical exercise. Hard work can be rewarding, but you have to suffer a little bit first. I appreciated that this was a challenge for my kids.
I liked that the book also included essay questions because this is a weakness we have. My kids need practice writing essays. And these questions were fairly easy for them to answer with a paragraph or two, but I could easily require longer, more detailed answers for an older student.
And finally, I liked the concept maps because it gave them one more method to interact with the lesson material. Kaytie especially enjoyed filling out the maps because by that time she was really comfortable with the information and it was mostly review for her.
The answers in the back made it easy for this to be an independent subject for us. The kids filled out their answers, I graded them, and then they corrected the wrong ones. There are no answers for the essay questions, of course, but at least I only had to work at checking 1/3 of the material!
The kids said:
Kaytie:
I liked that it has 3 separate kinds of questions so that you really get to know the subject. It was a little bit challenging... at least, for me. It helped me think more in depth about what I read.
Nate:
Personally, I think it was boring. It was kind of hard to figure out the right sentence to choose. The concept map was easy, though. I think I would have liked it better if I were older.
The Critical Thinking Co
has a lot of really great products to choose from. Not only did we enjoy
World History Detective
, but several years ago we reviewed
Crypto Mind Benders
which we are still enjoying.