Handwriting is one of those things that we struggle with in our family. I have four kids that are writing-phobic in various degrees. One of the most effective ways of dealing with it that I have found is to teach them cursive. It's just easier to write in cursive than it is to print. So when
Memoria Press
asked the Crew to review their
New American Cursive: Penmanship Program Workbook 1
, I was first in line to request it for Daniel, my 9 year old, who is learning cursive this year.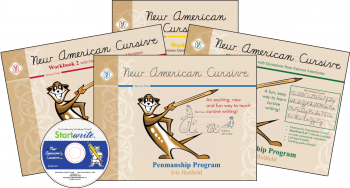 We received book one, a spiral-bound, consumable workbook that contains all you need to teach your child to write in cursive. The teacher's guide, which covers Posture, Pencil Position and Paper Position and a quick explanation of how to teach the material, is three pages long at the beginning of the book.
The rest of the book is for the student. Mr. Meerkat speaks directly to the child, explaining how to hold the pencil, position the paper, and the three basic forms required to write in cursive. There is some practicing of these forms, and then the alphabet pages begin.
There are three pages for each letter. An instruction page, a practice page and finally a "fun exercises and artwork" page. The first two are fairly self-explanatory. The third is a glorified review page that varies with each letter. Sometimes it is joining letters together, sometimes it is practicing capital letters, sometimes it is writing words. But each page has a space for artwork. We were a little confused about the artwork part at first. I told Daniel to write the letter and then draw a picture incorporating the letter. He eventually ditched that idea to just drawing an object or animal that started with that letter. At regular intervals, there are additional review pages that are just purely review. Here are some pictures of these pages. I let Daniel chose which to share with you.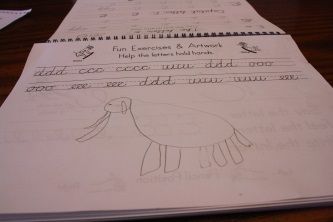 As you can see, both the capital and lowercase of each letter is taught at the same time.

At the end of the alphabet there is a page to practice numbers. Then a couple of pages of instruction about connecting the letters and some pages to practice this. Following this is a couple of pages for the child to trace and copy a thank you letter, the entire alphabet and the Pledge of Allegiance.
At the very end of the book, there is an evaluation checklist for the teacher where you can monitor 11 different areas of their handwriting.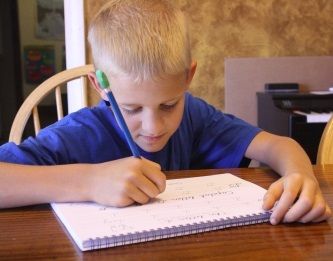 This book was very simple to use. My kids are pretty good at independent work, so I handed it over to him with a short explanation and he did a page every day. I watched him from afar, to make sure he was using correct paper placement and I looked over the page every day when he was finished. I praised good letters, offered constructive criticism, and voted for my favorite of his work. We always pick the best one, sometimes we circle it, sometimes we put a smiley face on it, Sometimes we give it a quick checkmark, sometimes we just pick it and go on.
Daniel's opinion:
I liked it because it helped me learn cursive. It was a little boring because I did the same thing for each letter. I liked the art pages.
I enjoyed the ease and simplicity of the book. I do wish the letters weren't in alphabetical order, but went from easy letters to more difficult ones. I also wish there was a little more variety in the pages and that the teaching of letter connection was put into the book before the child is expected to write words on the review pages. But overall, I enjoyed the ease of teaching my son cursive with this workbook. It was fun for him, simple for me and it worked. He is learning to write beautiful cursive.