It's that time of year! The fun time when a homeschool mom's thoughts turn toward a fresh, clean slate. Do you know what you are going to be doing next year? I have a rough idea and a list written in pencil of the subjects we are going to tackle. I have a few things I need to research and I totally reserve the right to change my mind between now and next fall.
First, let me just say that Kaytie and Nate (who do the same work, mostly) will be in 7th and 6th grade, respectively. Daniel will be in 4th and Abbie in 3rd.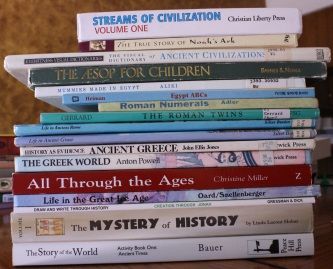 Mostly, things are staying the same. We will still be using:
Math U See
(but the kids will move up a level; Zeta for Kaytie and Nate, Delta for Daniel, and Gamma for Abbie)
Fix It!
for grammar (Kaytie and Nate will do level 2 and hopefully finish it and level 3, Daniel and Abbie will start level 1)
All About Spelling
(Kaytie and Nate will move into level 5 and Daniel and Abbie into level 2. I'm hoping that in spelling as well, the big kids can pull off two levels. I would really love to be done with spelling.)
History will still be our own thing. (we will still be in Ancient History but I am steadfastly refusing to allow that to bother me. Who says the entirety of history has be crammed into four years?)
Spanish for Kaytie and Nate will be
Duolingo
, which is free on the Internet. Daniel and Abbie will work on
Flip Flop Spanish
with me.
The three younger kids will still be working on copywork daily to help with their handwriting. The boys are doing cursive and Abbie will start learning it if her print is good enough by then.
Daniel and Abbie will still be reading aloud to me daily. They are growing into better readers all the time, but still need that discipline of regular, frequent work.
And, of course, we will be finishing up The Crew year and working on reviews.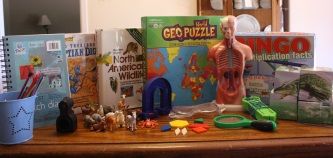 What will be new:
They are all getting piano lessons starting this month. We are super excited because a friend and fellow homeschooler is going to teach them: a sweet young lady who is willing to come to our house and give lessons to all four kids! Woot!
For science, Kaytie and Nate will be using
Apologia's General Science
which I bought used last year. Daniel wants to learn about Earth science and Abbie wants to learn animal Biology, so right now the plan is to bounce around
Christian Kids' Explore Earth and Space
and
Considering God's Creation
. I like this plan, because it means I don't have to buy anything for science! :)
We are going to do a geography unit that I will be writing and I'll also be writing a Texas History Unit for Kaytie and Nate.
What will be new but I don't have figured out at all yet:
Bible will also be new, but I don't know what we will be using. Daniel and Abbie might stay with
Bible Study Guide for all Ages
but Kaytie and Nate are kind of aging out of it. Hopefully, the Dad will set us up with an exegesis method of study that they can follow on their own/ under my supervision.
Kaytie and Nate will work on photography, logic (maybe using the
Thinking Toolbox
?), Latin, writing, and art (using I don't know what yet).
What are your plans for next year? Are you thinking about them yet? Are you making big changes, little changes, or no changes at all?