Real Life Press
is a ministry developed and run by husband and wife team, Jay and Heidi St. John. Their vision is to provide support to families in order to strengthen marriages, equip parents, and disciple children. Since the Scripture is the basis for healthy Christian families, they have designed Bible studies that are perfect for family devotions. My family reviewed one of them:
Firmly Planted, Gospels, Part 1
.
When my kids were little, it was super easy to engage them in Bible stories. We had some Children's Bible Story Books, and some Children's Bibles that we read aloud from daily. I knew lots of songs and games that easily reinforced the lessons. But now that they are older, it's a little more difficult for us to really give them the meat of the Word. We still read the Bible daily, but it doesn't seem to be as much "fun" for them and I am often frustrated, feeling they aren't getting enough depth. So I was excited to review this product!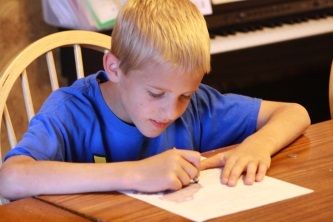 We were sent PDFs of the
Family Study Guide
and
Student Book
. The study consists of ten stories about Jesus' life and ministry. Each story is one lesson. The purpose of the study is for the whole family to dig into the Bible together. All age groups are represented in the activities and the worksheets. Everyone is included.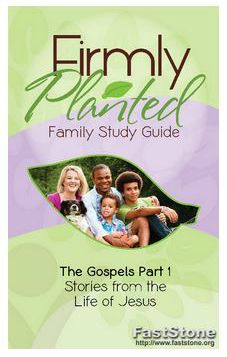 The
Family Study Guide
is the main part of the curriculum. It contains the lessons, the schedule, and has each day's work laid out.
Each lesson has six main components,
The Seed:
the theme, concept, or "big idea" for the lesson
Planting the Seed:
memory verses
Watering the Seedling:
a 5 minute story that "germinates" the concept
Daily Study:
the devotion your family does daily which leads you deep into the concept
Digging Deeper:
this is for adults, or older children doing the study, a deeper level of discussion
Taste the Fruit:
life application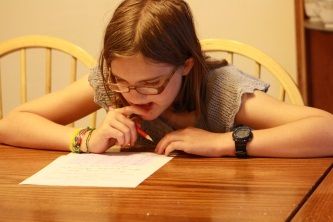 Each lesson begins with the Scripture passage to be studied. It was convenient to have it in the lesson plans, although, since I had the kids read along in their own Bibles, not completely necessary. I did like having it handy for quick reference as we worked through the week.
The first three components are next, laid out before the lesson begins. Then the other three components are the lessons that are done daily. There are four days of study for each lesson. This actually kind of irritated me, because there are seven days in a week, so what is one supposed to do with the other three days? But we did work that out, as I will explain when I tell you how we used it.
The
Family Study Guide
was easy to send to my Kindle and that made it handy for us to read through the lessons every evening. But you could also print it off and put it in a binder if that would be more suited to your preferences. The copyright allows for printing what your family needs.
The
Student Book
was full, very full of worksheets that went along with and reinforced the lessons. For each lesson there is:
a pretty page to take notes
a maze
crossword puzzles (one for younger kids and one for older)
a "nature study" page that brought in a science concept relating to the main story
review questions
copywork of a Bible verse
a coloring page
a drawing prompt
word searches (one for younger kids and one for older)
fill in the blank Bible verses
mapping exercises
pages for the kids to dig in deeper, like this one: (which I'm sharing a screen of because I cannot for the life of me figure out how to describe it!)
So this is how we used it. The first day, I (or the dad, depending on how we feel at the time) read aloud the Scripture passage. The second day, I (or the dad, etc.) read aloud the "seed" (or main concept for the week), the Bible verse and the "watering the seedling" story. The next four days we do the Daily Studies, which consist of a couple of Bible verses, a few paragraphs of Digging Deeper and then the life application. After each session, we let the kids choose a page to complete and on the last day, if they haven't chosen one that we really think they should do, we print that one off, too.
And that's it. It's that easy, and it doesn't take up a lot of time, so the kids don't dread it. But there is a lot of Bible learning and family bonding packed into those few minutes a day!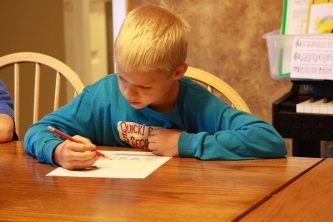 At first, it was a little difficult for me to wrap my mind around how it was supposed to look, and I would have liked some hand-holding with regards to when and how to use the worksheets since they aren't mentioned in the
Family Study Guide
at all. Also, the full color worksheets, while pretty, eat up a ton of ink which makes me hesitant to print them. Especially four copies! I wish there was an option to print them in black and white as well as color.
But overall, I enjoyed this study and my family did as well. I liked the simplicity. I liked the depth. I liked that a few minutes a day could pack such a powerful punch for the kids. I'm going to leave you with pictures of my kids' favorite pages, but be sure to click on the banner below to read more reviews because other Crew members reviewed other products offered by
Real Life Press
!