Thanks to the thoughtfulness of my husband, the generosity of his boss, and the sacrifice of my niece, I was given the gift of three entire days of child-free school planning. (We were gone five days, but two of those were travel days.) This means that a little over halfway through June I am planned, scheduled and ready to roll for next year. I need to print some maps and lapbooks and planners and such, and I need to shift around all the physical stuff and, of course, wait for the back-to-school sales for supplies, but otherwise I am ready. to. go.
I want to share my plans with you, of course, but first I just want to talk about how last year went. At last we seem to have found our way. Last year was our best, most productive year ever. When I hear a new homeschool mom say she is overwhelmed I totally sympathize because we have been at this for eight years now (if you don't count the fact that I knew I was going to homeschool since I was a teenager) and I am just now finally figuring out how we work best.
We do a sort of Charlotte Mason, project-based, delight-directed, relaxed, with textbooks (occasionally) and online programs (when appropriate) with a drizzle of of classical sort of eclectic thing around here. Back in the day, we dabbled in Montessori and work-boxes which led us to where we are now.
With all that said, I always post about upcoming plans that are shiny, new and exciting. But in the interests of keeping it real, I'm first going to tell you how well last year's plans worked out. Because some were awesome successes and some were dismal failures and some were something in between.
Let's start with what worked.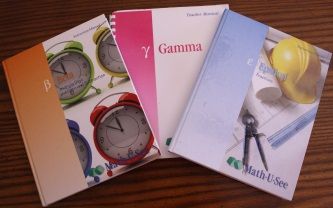 Math
was great. Abbie finished up Beta and flew through the first half of Gamma. She loves getting 100s on her test and she really loves being the first one finished with math every day. She did struggle a bit with borrowing and carrying from time to time and she heartily disliked column addition, but she fought her way through it and won.
Daniel finished Gamma. I was concerned that he would have the same problems with multi-digit multiplication that Kaytie and Nate did, but I tried a little color-coding magic that did the trick and he flew through it.
Kaytie and Nate finished Epsilon. They did struggle a bit in the middle, but Kaytie rallied quickly and moved ahead of Nate, skipping several lessons of review pages and finishing up the book two weeks ahead of her brother. In fact, Nate still has the last unit test and the end-of-the-book test to finish.
We love
Math U See
and find that it works well for our needs. Both the math lovers and the math haters.
Copywork
went well for most of us.
Kaytie has moved beyond just writing practice and was merely required to handwrite something every day. She accomplished this in various ways, writing out her favorite poems, writing her own stories, using journaling prompts, spelling sentences, and narrating for history or science.
Nate still struggles with legible handwriting. He worked on cursive all year. If he is doing it for school, I can read it. Otherwise... sigh...
Daniel learned cursive. His handwriting is amazing. He has the best in the family except for mine.
Abbie learned to print all of her letters beautifully. She already "knew" how to write, now she knows how to do it well. And she got in enough practice that she is ready to start cursive in the fall.
Spelling
also went well.
Kaytie and Nate finished up
All About Spelling
level four. We finally hit our stride and worked enough on it daily that we actually completed an entire level in one year. I am hoping to have them speed right through the next three levels next year and be done with it. We own them all, so there is nothing to slow us down.
Daniel and Abbie finished up level one. There were some lessons that we had to repeat many times before it finally clicked. I have a trick in mind to help us out next year.
Spanish
for Kaytie and Nate was great. They worked on
Mango
until our subscription ran out and then they started
Duolingo
. They learned enough that they pepper our day with Spanish phrases and they can understand each other and even say things that I don't understand. However, we did not do
Flip Flop Spanish
at all. This was totally my failing. Whenever we ran out of time this was the first thing to go and then we just forgot about it all together.
Bible
went well for everybody. Kaytie and Nate finished up a book and Daniel and Abbie were starting to establish some independence before the year ended. I really love
Bible Study Guide
.
Grammar
ended up being awesome! We discovered
Fix It!
and fell in love. I have now found our permanent grammar program that we will use forever and forever and forever. Kaytie and Nate finished the first book and will start the second book in the fall. You can read our review
here
.
Daniel and Abbie made real progress with their reading. They read aloud to me every day and have both become pretty fluent. Right at the end of the year, Abbie decided to read Because of Winn Dixie for fun and that turned out to be the gateway into reading for her. She is now devouring books just like Kaytie and Nate. Three down, one to go.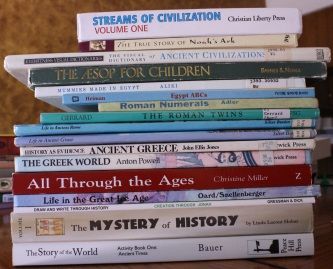 Now for the subjects that only sorta worked out:
Art
was great for Kaytie. She loves the
Artistic Pursuits
books and works on them independently. She made great strides in her drawing ability and learned some new techniques. Daniel and Abbie didn't do so well. Their "art" quickly degenerated to draw whatever you wanted and they didn't actually learn much.
Writing
for Kaytie and Nate was a struggle. We started and stopped and restarted
IEW
several times. Again, this was mostly my failing but I've re-worked our schedule for next year to address this issue and we will try IEW one more time.
We still didn't finish our
Logic
book,
The Fallacy Detective
. I told them just to read the last couple of chapters on their own this summer.
History
went well for the most part. We enjoyed it when we did it, but we didn't do it often enough to finish
Ancients
. I quickly made the easy decision to just stop where we were and continue on next year right where we left off. So what if we don't do a complete history cycle in four years?
And finally, what didn't work out at all:
Philosophy
. The kids hated it. I couldn't figure out how to make them independent with the technology set up that we had available. They did a
few lessons
but weren't retaining anything. I finally just shelved it to revisit when they are a little older.
Science
bombed for everybody. There wasn't enough
structure
nor accountability. But I am not worried about it at all because there is always
informal science
going on around here. They read it, they do it, they absorb it like sponges and they talk about it non stop.
Latin
and Kaytie did not get along. She loved to watch the
Visual Latin
DVDs but she was less excited about completing the worksheets. Unfortunately that meant she didn't learn much. Sigh. We shall try again next year.
So that's last year all analyzed and wrapped up. Next, I will tell you all about what we are planning and hoping for next year!