I have loved
Apologia Educational Ministries
for a long time. We started reading their elementary science books way back before they were even all printed yet. We have read through several of their worldview books, explored some of their books for moms and a cute little storybook for kids, and enjoyed them all. We even plan on using their middle school science next year. We have reviewed many of their products through the Schoolhouse Review Crew and I have those linked for you at the bottom of this post. So I was delighted to be asked to review their new product:
Exploring Creation Field Trip Journal
.

This is a cute little spiral-bound book. It is in the style of a scrapbook and is full color. The quick way to explain it is that it is a pretty little book for you to capture a record of your field trips. But there is actually a lot more to it than that.
First, there is a section on tips for preparing for your trip. If you are a seasoned veteran of field trips, this is probably not new information for you, but it would still be handy to have a quick checklist all in one place. And for a novice like me, there was some helpful advice in there!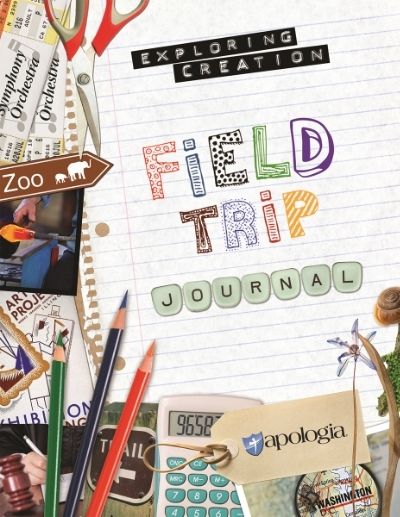 There are also some ideas of field trips to take. These are divided into these are divided into topics like: plants; animals; business; municipal. Some of these are kind of common, like the zoo. But some of them I can honestly say I had never considered before like, witnessing an autopsy. I'm not even sure that one's legal, but hey, what's a little crime in the name of education, right?
Next are some pages to list places you/ your child/ your family has been and when. These pages are so cute they jazz up an ordinary list like nobody's business. There are even a couple of maps (a world map and a USA map) for you to label or mark with places you've explored.
Now we have the field trip pages. These are 2 page spreads. There are enough pages for you to document 10 trips with the following information:
location
date
books read prior to the visit
emergency contact plan
things you hope to do
a photo (or drawing)
a short story of the event
something you want to always remember
Next are four 2 page spreads that give you a place to document a little nature study. You or your child can journal about your favorite spot in each season: fall, winter, spring and summer. This spot is supposed to be something outdoors, but doesn't have to be anything wildly exciting. You can choose your yard, an empty field, a city park. You just need a little bit of nature. On one page is a place to note your location, the date, temperature, and rainfall. There is a place to glue on a photo (or you could draw a picture) of your spot or something in it. And there is a place to take notes.
On the other page is a grid of 40 squares. It's suggested to use this to draw a map of your spot. But I think this is pretty open-ended and some other ideas for using it would be: a picture/drawing relating to your spot for each square, a word or (if you write small) a sentence relating to your spot for each square, a combo of all of those, or just a series of memories you want to remember about your spot. Or maybe you could glue a picture or a collage of pictures here. Or items you want to save like a flower or a leaf. (I wouldn't do a rock, though, too bulky)
The last thing in the book is 17 "As I See It" pages. These are for recording memories and experiences in a creative, unique way. Some of the pages have prompts like, movement or earth and some of them do not.
This was a fun book to explore. I love the scrapbook feel of it and the fact that it was in full color. This makes for a beautiful place to keep your memories. I love the sturdiness of its pages that allows us to be really tough (Painting pictures on the As I See it pages? Or gluing in a keepsake or two? Yes!) without destroying it. And I love that it is a keepsake that the kids will always treasure.
We don't take a lot of field trips, so a book like this will last us awhile. In fact, we haven't taken a field trip since we got the book, (still working out the details of viewing that autopsy don't you know!) but we have enjoyed the nature study pages. All the kids collaborated on documenting our special spot (a local park) in the spring and have filled out several of As I See It pages.
It's really easy to use this book. We just take it along when we go somewhere and a kid or two does all the work.
Here are our previous Apologia Educational Ministries reviews:
Who Is God?
,
Who Am I?
,
What On Earth Can I Do?
)
iWitness
Exploring Creation with Physics and Chemistry
How to Have a Heart for Your Kids
Flourish
Good Morning God
To read more reviews about the
Field Trip Journal
, click on the banner below!