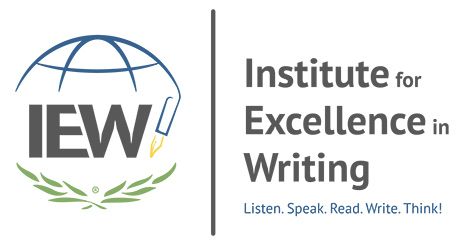 I have reviewed products from the Institute for Excellence in Writing (IEW) before. They put out a lot of products and every time I have used one, I have fallen in love. I love not only the product, but also the company. I've never met another company that exudes care for their customer as much as IEW.
This time, we received the Deluxe Combo Teacher/ Student Writing Package Level B with Fix It! Grammar Levels 1 and 2 plus A Word Write Now and Portable Walls. It was a lot of material to cover! Now, we've reviewed some of this before. But the teacher materials (TWSS) has been updated recently. So I was excited to see how much better it is now! Because I have had enough experience with IEW to know it would be nothing if not quality.
So here's the thing, I have five different products to write about and any one of them is amazing in and of itself, so, while I'll try to keep it short, this is going to be a long review! I'm going to talk about each product and how we used it individually, so you can just skip around to the parts that most interest you, ok? Or you can bear with me and read it all! :)
First, I will start with Teaching Writing: Structure and Style (TWSS). This is a program to teach teachers how to teach writing to kids. It was created by a team of teachers who learned under the 80 year old Canadian Anna Ingram. It consists of a series of lectures on DVD and a notebook/workbook (complete with a binder) for you to follow along and work through the exercises. And there are exercises because you are basically taking the same course you will be later teaching to your kids.
The DVDs contain 14 hours of viewing time so plan plenty of time and several sessions to watch it all. Or you can just watch each unit before you teach it, always keeping ahead of your students. Or you can watch it all and then go back and review before you teach each unit. This is fairly easy to do because it tells you in the student lessons when you need to watch what. That is what I did the first time through. This time, my kids were older and I could sneak off for longer periods of time more regularly so I managed to go through it more quickly.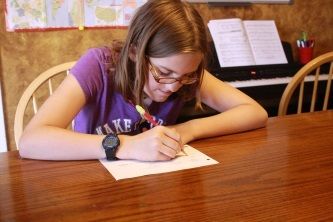 Now, if you have used the old TWSS, know that none of the actual content has been changed. It's just been updated with a better layout, subtitles (in English AND Spanish, how cool is that?) and the Premium Subscription. This subscription lets you video stream the entire course, gives you access to monthly webinars, audio downloads and lots of other resources which just magically show up on your account when you register your subscription. In other words, while it is new and improved, it still fits perfectly with the student materials, no need to replace them.
The program is divided into 9 different units. It starts with providing the student with "what to write". Using short, informative paragraphs, the child is guided through learning note-taking and making outlines. This takes up the first two units.
The third unit teaches them to retell a story. This is to teach them the mechanics of writing without bogging them down in having to make up their own story. My 11 year old son particularly enjoyed this aspect because creative writing is not his strength!
The fourth unit teaches how to summarize from factual texts. It also introduces topic and clincher sentences.
The fifth unit is about how to look at a picture and extract a story from it. It was my personal favorite because I had actually done this from the time I was a small child. I have a very eclectic-seeming taste in pictures because my kind of picture is the one that tells a story easily.
After this, the program turns more toward the child creating his own material. Unit six teaches the child to pull facts from not just one source, but from multiple sources.
Unit seven introduces creative writing... there are no external sources any more. This is when you pull together all the skills learned in the first six units and use it to express yourself.
Unit eight plunges into essays: formal essays, reports, and a base for research assignments. And finally, the ninth unit teaches the student how to write a book report, called "critiques" in the curriculum.
Basically, the program is simple. You watch the DVD and use the notebook to do the assigned work. The DVD is a taping of an actual seminar taught by Andrew Pudewa to real people. You watch him teach and see the responses of the students. You see the illustrations he draws on the board and follow along in your own workbook. It's as close to being in a live seminar as you can get while sitting on your own couch.
I appreciated the quality of the DVD: good sound, good lighting, the ability to rewind, fast forward and skip from chapter to chapter as I needed. And, of course, as anyone who has listened to Mr. Pudewa speak, he is always entertaining and engaging. He's just so much fun to listen to that actually learning something is just the icing on the cake.
Ok, so. This is the heart of the program. Once you have gone through the TWSS you can then teach your child using these principles. You can even, in theory, use the principles without even using the student part of the program. After one viewing, however, I was not confident enough to do that, so I was pleased to have the Student Writing Intensive (SWI). Kaytie and Nate had worked on level A before (I wrote a review about it) but this time we used B, which is for kids in 4th to 6th grades.
(an old picture because my son left town on a camping trip before I remembered to have them pose)
The student program is the same style as the teacher's. It's divided into 9 units that are the same as the teacher's. Each unit is further divided into lessons. The child watches the lesson on DVD and then does the exercises using the workbook (which is actually a binder). In the beginning of their book there is a schedule that lays out the work into 30 weeks which gives us a few "extra" weeks because we average about 36 weeks a year. So we just followed the schedule (with one slight variation, since it's a five day schedule and we only school four days a week, we either doubled up or left out some extra practice as needed on each lesson).
On the first day we watched the lesson. The second day they completed the assignment. On the third day they edited it On the fourth day they retyped their corrected work. On the fifth day they did the extra practice if needed. The second week we did another assignment or two, edited them, and retyped them. In this way, you can do a lesson every couple of weeks or a unit every month.
Everything is laid out very simply and my kids (ages 11 and 12) are able to pretty much do it independently. In each lesson you are told where to start and stop the video and then what the exercise is. The kids have worksheets with the assignment on one side and the checklist (which clearly delineates exactly what is expected of them) on the other. The checklist enables them to do the majority of the "checking" themselves because they are required to make sure that they have actually done what is on the list and then to mark it off.
Kaytie and Nate both like IEW. Nate loved not having to come up with his own stuff in the beginning. They love that they can do it independently. They really loved the having help with spelling and the no erasing rules. Their one real complaint about the program is the length of the DVD lessons. They feel they are too long and packed way too full of information for them to process in one sitting. And it doesn't help that the lessons don't automatically stop when they are supposed to stop watching. Because I forget to pay attention or they forget what to phrase to listen for and sometimes they wind up watching even more than one lesson. This frustrates them. So if this part is ever updated that would be a nice fix! Please have it stop on its own at the end of the lesson or at least make it crystal clear where we are supposed to stop it!
IEW also has a grammar component to their writing program. Fix It! Grammar can definitely stand alone and it isn't necessary to use it with SWI, but they do complement each other very well. The same terminology and methodology is used in both so it made it easier for my kids to internalize them and they learned them just that much more quickly. We were given both book one: The Nose Tree and book two: Robin Hood, but only used book one. Each book is intended to last a year, so we will start Robin Hood in the fall.
Fix It! was the grammar curriculum that I searched for for years. I have done a full review just on it, which you can read, so I will briefly summarize it here. It consists of a teacher book and a student book. Both are necessary but, as is typical of IEW, they offer a way to keep your costs down. If you buy the TM you receive access to an ebook of the student workbook. You are allowed to print as many copies of these as you need for your family. I loved being able to print off two copies of the worksheets for Kaytie and Nate and we just read over the other pages together (they are in the TM).
This is how the program works. We go over the lesson material together. For example, in lesson 16, they are taught capitals and contractions. There is a short script that I read to them, elaborating if needed. Then they tackle a sentence, marking the capitals, rewriting the contractions correctly. Then, because they have already been taught nouns, articles, verbs, pronouns, paragraphs and end marks (among other things) they look for and mark them as well.
Then there is another section in the TM called Fixes and Grammar Notations that we go over. This section answers some of their questions or settles some of our disputes or further explains something that we might have puzzled over. They especially enjoy the notes that begin "Praise your student if..." because they usually have done that quirky thing and they delight in their cleverness. There are also questions in here for them to answer such as, "What are the verbs?", "Who is doing the action?" and "What was your favorite strong verb or quality adjective this week?"
And finally, each sentence has a vocabulary word that the kids are supposed to look up and define. But my kids have a great vocabulary so they just tell me what it means and we go on.
They are supposed to re-write their sentences with their corrections each day, but I gave up that fight a long time ago. I have some severely writing-phobic kids and they seem to be getting the grammar just fine without fighting that battle.
The sentences that the kids are given are taken from real literature. Over the course of the year/book, they work through the entire story. I really liked that these were not forced, stilted, made-up sentences like most programs use but real, living books.
We have used Fix It! Grammar all year and simply love it. I fully recommend it and not only will we be using it next year but I have stopped my quest for the "Perfect Grammar for Us" and will only ever use Fix It! for the rest of our school lives. Ever.
So, if you are still with me. I have only two more small products to tell you about. One is the Portable Walls. This is a sturdy, full color poster that unfolds and stands alone. It contains "helps" for your student. IEW is all about setting your child up for success and this product does that. It has a list of Dress-ups, Sentence Openers, Decorations, and Triple Extensions along with rules for each. It also has lists of "ly" adverbs, "ly" imposters, prepositions, strong verbs and synonyms for "said". On the back are helps specific to each unit. So my child is empowered with the answers to their basic questions without having to waste time looking it up or coming to ask me. And I don't have the burden of having to remember. Because honestly? Their memories are way better than mine!
And finally, we used A Word Write Now : A Thematic Thesaurus for Stylized Writing. But this is not your common, everyday thesaurus! It's divided into four sections:
character traits
words to describe
words for movement and the senses
appendix
The character traits section talks a bit about how to create a character, offers synonym words for the three different character roles and then gives synonyms for adjectives to describe character traits both positive or negative. Then there are lists of synonyms for traits such as anger, courage, or exuberance. There are over 20 character trait lists arranged alphabetically. Each trait also has a definition, a wise quote and excerpt from classical literature. And at the end of the section is a form for the child to put their own topic and make lists.
The words to describe section has synonyms for appearance, color, size, time, and more. Again, each page is sprinkled with classical literature and quotes and other helps (like phrases).
The words for movement and the senses section is set up the same and has synonyms for hands, hearing, speaking, etc.
The appendix has teaching tips, games, definitions of literary devices and more.
So there you go! Congratulations for having made it through the world's longest review post ever! I truly love IEW, both as a company that shows care and concern for homeschooling families and every single one of their products that I have ever used. I love the quality that pervades their curriculum. I love how their philosophy is ever and always helping my kids (and yours, too) succeed in every area of language arts. I love that my kids (mostly) love their products, too!
Other reviews we have done for IEW
TWSS and SWI
Fix It! Grammar
PAL