Like most kids, my kids love games. We have a big closet full of games and the kids spend a major portion of their free time dragging one or the other out to the dining room table to play. I believe there is something to be learned from almost any game, but some games just have an extra educational punch to them. These, of course, are my favorite games for the kids to play, but they often turn up their noses at them. So I am always on the lookout for games that are educational but still engaging. So I was delighted to be asked to review
Shape Whiz
by
SimplyFun
.
Shape Whiz
is a card game that teaches geometry. Since this is a topic that I struggle with, it's a subject that my kids lack in as well. As soon as we got it in the mail, Abbie and I sat down to play. She is my math-loving kid, and I figured it would be easier to teach the kids one at a time. Because I was expecting this to be a complicated, slow game that I would have to force them to play. The games consists of three decks of cards and instructions. Well, actually, it's two decks but one is color-coded into simple and complex. The rules advise you to use the simple deck for an easier game and both colors for a harder game. Since we were just starting out, we chose to just use one deck and we have yet to graduate to using two.
These cards look like this:
(the harder ones are green)
These cards are dealt to each player. You get a stack of fifteen and then you lay three of those face up in front of you. Then you are ready to play.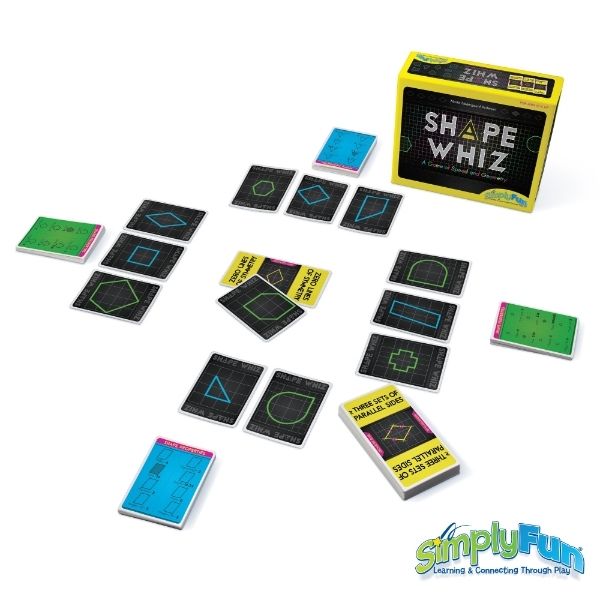 The other deck of cards goes in the middle of the table. These have questions on both sides but you only play one side at a time. They have the question printed twice so that it is easy for everyone to read all at the same time. Because speed is of the essence.
Once the card is flipped over and read, (generally, the kids read it aloud in unison)
Then you try to match one of the face-up black cards to the question. You want to be the first one to put a correct card out there. You can use an opponent's card if you are quick enough to grab it before they do!
In theory, you can tell by looking if you are right or not, but we are not confident enough in our knowledge, so we always flip the answer card over to see who got it right.
The properties of your shape are clearly listed on the back of the card, so it is easy to tell. Does this card match?
If you are right, there is some shuffling of cards that rids you of one out of your stack. If you are wrong, you wind up adding another card to your stack. If you use an opponent's card, it is still you that gains or loses a card and nothing happens to their stack.
The goal is to empty your stack first.
It plays quickly and the kids have been learning a lot about geometry terms, principles and facts. They are also learning and reviewing some math signs and symbols. Because they are having to think fast and the game doesn't drag, they stay engaged in learning and don't whine about it at all.
We have played this game many times and this is what they have to say about it.

Kaytie: It's a good game to teach geometry and certain math skills such as symmetry, greater than/ less than, area and perimeter. It's also a really fun game even if you already know that stuff. It's a good game to teach you to do math really quickly in your head. (which I'm not good at at all but will get better because of Shape Whiz!)

Nate: It was slightly interesting. I learned some stuff and I got to explain some stuff to Kaytie: like lines of symmetry. I like lines of symmetry. It's a fun game. I will most definitely choose to play this again.

Daniel: It's fun. I like it because it is involved with math. I learned a lot of math. I learned about parallel lines. I want to play it some more. I didn't like that it was a little complicated at first. But it did get easier.

Abbie: It's fun. It's kinda confusing and stressful because it's hard to win. Especially with my family! They are fast and it's hard to put something out before them. I learned what a parallel line is and area and lines of symmetry. I like this game.
They are all looking forward to challenging a cousin or two and some friends at
Shape Whiz
!