I might have mentioned before that science is our favorite subject around here. In fact, we do science for the fun of it, and often without any sort of instruction or guide. We just explore the world around us. So we are always ready to try something new in the world of science. I had never heard of
Science Unit Studies for Homeschoolers and Teachers
(put out by
Funtastic Unit Studies
) before, but when we were asked to review it, I was more than happy to give it a try.
It's a thick, soft cover book, and contains 20 different unit studies. The book is written to the teacher and is not intended for the student to use independently. It is meant for students ages 4 to 13. That sounds like a huge gap, but the units are actually divided into either ages 4 to 7 or ages 8 to 13. There are ten of each and they are clearly labeled.
The units cover topics such as Human Body, Insects, Stars and Planets, Weather, Simple Machines and Chemistry Fun. As you can see, there is a wide range which would be perfect if you are the type to want to explore a bunch of different topics.
Each unit starts with a materials list. I had little problems filling the lists with stuff we already had around the house. We did substitute a few things and there were a few things we did have to go out and buy, but even those were easy to get. There is a unit on microscopes that we skipped because we don't own one... yet.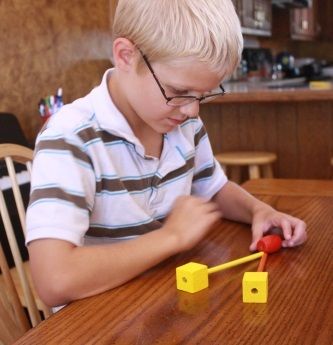 building the water molecule
Actually, we originally skipped over all the 4 to 7 units because my youngest is 8 and they looked like they would be perfect for 4 to 7 year olds. And therefore, too young for us! After we had done the other units, however, my 8 and 9 year olds did go back and do a few of the activities from those units. I basically just let them pick and chose fun stuff to do without any formality.
The units typically have about eight pages of information and activities. It starts with a short introduction and then is divided into several short lessons called "parts". First you read a paragraph or two to your kids and then you do an activity. Everything is clearly marked and labeled and explained so it is easy to know what to say and how to do each activity. There are plenty of diagrams and illustrations for those of us who need those visuals.
I found
Science Unit Studies for Homeschoolers and Teachers
to be quite easy to use. The kids and I would spend a few minutes gathering up the supply list and then we would gather around the table (or head to the backyard, depending on the unit) and get to work. I read the information aloud and then told them what to do for each activity.
At the end of each of units for the older group, there is a test, quiz, or some sort of review. These are purely optional, but my kids rather enjoyed them. The answers are in the back of the book.
launching a rocket ship
Now, we are die-hard science
geeks
enthusiasts so keep that in mind when I say we found it a little "light". Most of the information given was stuff the kids already knew and I had to present it in a "fill-in-the-blank" manner just to keep their interest. I believe, though, that kids who are not "into" science or who have moms that aren't (ahem) would learn a lot of new things.
We did enjoy the activities. It was fun to split light, play with simple machines, build a wind vane out of a straw, and signal each other with flashlights as we pretended to be fireflies.
showing off her carbon dioxide molecule
And if you are a science-phobic mom, this would be the perfect book for you. It leads you carefully by the hand and offers plenty of engaging projects that teach science without making a huge mess or blowing something up. The bits of information don't require too much reading, but would most likely offer an incentive to your child to dig a little deeper and find out more.
We were able to gulp down a unit in a sitting or two, but you could easily take your time and draw out a unit for a week or more.
If you aren't sure if this book is for you, here are a
couple of units
you can check out for FREE!