Do you have a non-reader? I'm a bookworm. I have always been a bookworm. I don't even remember a time when I couldn't (and didn't) pick up any and everything in sight and read it. When my brothers and I were kids, we weren't allowed to bring books to the table. So I remember we used to read the ingredient lists on the cereal boxes at breakfast. I read toothpaste labels, newspapers, and even dictionaries if nothing else was available. The top three best gifts I ever received were all books.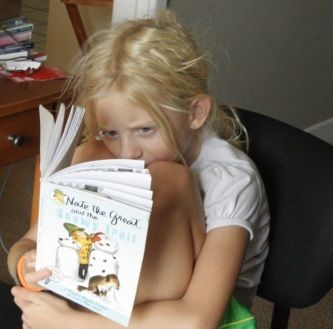 My two oldest kids are also bookworms. They both started reading early and would devour just about anything. They are more fortunate than I was, because I have kept them supplied with abundant reading material, but that doesn't keep them from reading any and everything in sight.
Then my next two kids arrived at "learning-how-to-read" age and to my utmost surprise, they did
not
take to it like a duck takes to water. They struggled with learning their letters. They struggled with learning to blend. They struggled with remembering phonemes. They struggled with putting words into sentences. They struggled with caring about the entire process.
Eventually, we found P.A.L, and they both have learned
how
to read. However, again to my utmost surprise, this did not end the struggle. Neither of them were that interested in reading. Ever. I set up a DEAR time for them to read each afternoon. (Although we call it "Grab a Book and your Timer Time) I looked for books that were simple but interesting. I hunted down books about topics that engaged them. I hauled them to the library and gave them carte blanche over the easy-reader section. But they still remained uninterested. Daniel dabbled in a book here, and a book there, and I would get hopeful, but... no.
Then, one day, Abbie discovered Because of Winn Dixie. She decided to read it. I wanted to read it, too, and she decided that she would finish it before I did. And she did. That was the push she needed. Kaytie found her some silly little pet books about dogs and cats and then she discovered some fairy books. A pony fairy? An ice dance fairy? A soccer fairy? Really? But she reads them. And she reads them while she eats breakfast, brushes her teeth, and combs her hair. She reads for fun, curled up on the couch or at night after she goes to bed. So I am happy. And I know that soon she will slip into harder books and be totally hooked.
Daniel, however, is my last holdout. When we go to the library, he checks out a book or two. Usually books on Lego or how to play chess. Sometimes he will check out a book on dogs or soccer or insects. But sometimes he leaves without any books at all. He doesn't read at night in bed. He doesn't slip into corners during the day to read a chapter or two. And it makes me sad. I want him to join us in the lovely world of stories and facts and travel and mystery. I want him to know what it is like to think, "Just one more chapter..." and then suddenly realize the book is over.
So, I'm desperate. I checked out comic books from the library today. The old "classic" ones: Calvin and Hobbs; Garfield; Peanuts. I told them they were his and I hoped he liked them. He did peruse them in the car. And he has been irritated whenever anyone else picked one up. But so far, the jury is still out...
What have you done to tempt non-readers into the magical world of bookworms?