Brookdale House
asked the Crew to review several of their products. Since we are still trudging our way slowly through Ancient History, I was delighted to receive
Writing Through Ancient History Level 2 Cursive
.

Brookdale House has been publishing homeschool curriculum since 2006. Their handwriting program is based on the Charlotte Mason principles of narration, dictation and copywork and is woven into a four-year history cycle. Since we lean strongly toward the Charlotte Mason method and since I love products that involve more than one objective at a time, I was very interested in using this with my kids.
When ordering Writing Through Ancient History, there are several options to choose from. First, you choose the time period you want: Ancient; Medieval; Early Modern, or Modern history. If you can't decide, you can just buy a bundle of all four!
Then, you choose from Levels 1 or 2. Level 2 is intended for kids working at the 3rd grade level and above. It offers selections from primary source materials for the kids to copy in appropriately-sized chunks. There are also models for dictation available. Level 1 is for the younger kids and has ruled lines to use for their copywork. It uses selections from poetry and stories that are relevant to the time period being studied.
Go here
to read more about the differences as well as see a partial list of selections used.
Finally, you choose whether you want your child to write in cursive or manuscript.
I chose Ancient History because that is what we are currently studying and I thought this would be an excellent supplement to what we are already using. I chose Level 2 because my youngest child is in 3rd grade and it didn't look so easy that my 6th and 7th graders would complain too much about using it to review some handwriting skills. :) I chose cursive because all my kids either know or are learning to write in cursive.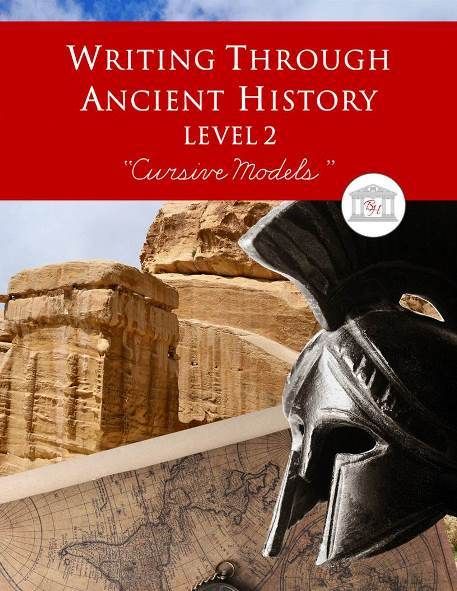 We received the 384 page PDF as a download. You can buy a printed copy but I like PDFs because I can print only the pages I need and I'm not spending money on a workbook that won't be fully used. And I like downloads because I don't have to wait for the product to arrive in the mail. Instant gratification! :)
Writing Through Ancient History is a simple program. (My favorite kind) There is a reading selection, either a Historical Narrative, a Primary Source Document, a Poem (from/about ancient times), or a Cultural Tale. These four types are divided into chapters, so it is easy to choose what you want to use. After the Historical Narrative and Cultural Tale readings, there is a place for a written narration, and all four chapters offer selections for the student to copy.
A suggested schedule and directions on how to use the selections for grammar instruction and dictation are included. Also, since ancient religions and pagan gods are, naturally, a part of the course, alternate selections from the Bible are provided for families who don't wish to include those passages.
This was really easy for us to use. I used it with Kaytie (12 year old 7th grader), Nate (11 year old 6th grader), Daniel (9 year old 4th grader), and Abbie (8 year old 3rd grader). Since we are using it as a supplement to our history work, I would chose a selection that went along with our current studies and read it aloud to everyone. Then they interacted with the material at their own level. The little kids (3rd and 4th graders) narrated aloud to me and I scribed for them while the big kids wrote their own. I expected more length and substance from my verbal 7th grader than I did from my struggles-with-language 6th grader.
For their copywork, Kaytie wrote the full selection in one sitting while I broke it up into pieces for the younger kids, focusing more on quality than quantity. Abbie, for example, would only write a line or maybe half of a longer line at a time.
Here is a picture of a page that Kaytie did.
We have thoroughly enjoyed using
Writing Through Ancient History
and found it to be an excellent supplement to our study. I especially enjoyed that I could use it with all four of my kids, tweaking it to their level. My older kids struggle with legible handwriting and often need review and practice. I liked that this program offered them not just "mature" selections to copy but also the choice of "grown up" lines to use and not ruled lines that make them feel babyish. It made it easier for me to hand it to them and have them use it.
I also appreciated that Biblical history was appropriately woven in with secular history and that primary source documents were used. I liked the variety of the selections because if it had all just been stories to read that could have gotten a little monotonous! Especially for the grammar studies!
Brookdale House
offers a wide range of products (I own and love the geography book Drawing Around the World: Europe) and the Crew reviewed most if not all of them, click the banner below to read those reviews!