We don't watch tv much in our home, and it's not so much that we don't like tv as we don't like what's
on
tv. It can be so difficult to find clean yet quality shows that the entire family can watch. So I was happy to be able to review another movie from
FishFlix.com
. This time it wasn't an educational show, it was simply a movie for sheer entertainment...
Little Boy
.
FishFlix.com is a family owned company with the desire to offer families great movies at great prices. They offer dramas, kid movies, biographies, music videos, educational films and much more. This variety of offerings has one thing in common, though, they are all family-friendly and quality productions.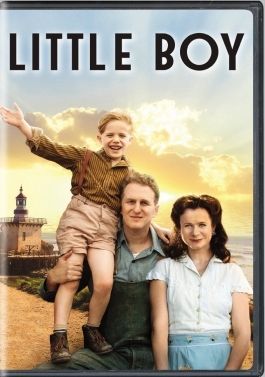 The kids and I watched
Little Boy
one afternoon. They muttered a little bit when I told them they
had
to give up an hour and a half of their free time to watch a movie for me, but not a single one of them wandered off or lost interest as we watched.
We settled in to watch a movie and were quickly transported to a small town in World War II America where a little boy struggled with bullying because he was so small for his age. He didn't mind too much, though, because he had his daddy. Thanks to his dad, who is also his partner, his best friend, and his playmate, Pepper Busbee lives a happy, almost idyllic life. Until his dad has to go fight in the war. And then is reported missing in action. The story that follows is a story of faith, of hope, of love and redemption, not only for Pepper, but for his mom, his big brother, and his unlikely new friend. This heartwarming tale engaged us all. We laughed, we cried, we cheered when Pepper's faith "moved mountains".
This is what my kids had to say:
Kaytie:
It was a good movie. I enjoyed watching it. My favorite part was the end, of course, because that was happy, but also I liked when he stood up to the bully and when he was able to move the bottle. The earthquake surprised me. I would recommend this movie to anyone who likes a good movie that will make them cry.
Nate:
I enjoyed the movie. I think it was interesting how he believed that he could do stuff to bring his father back. The war scenes were cool.
Daniel:
I liked it because it was about having faith and it had lots of actors from other movies. It focused on a verse from the Bible. My favorite part was when Pepper whacked the bully and made him leave him alone.
Abbie:
It was interesting. I liked that he tried to get enough faith to bring his father back. I cried when his brother was about to shoot his friend. I was happy at how the movie ended. I was surprised at how it ended, too!
Just as a "heads-up",
Little Boy
is rated PG13 because there is some violence and it deals with some pretty heavy issues (like death, bullying and racism). It wasn't an issue with my kids, but, of course, is best judged by parents for their own family, so you might want to preview it if you have young or sensitive kids. With that said, I totally recommend this movie as something the whole family can enjoy together over a bowl of popcorn.
You can
watch the trailer here
or read what other Crew members had to say about this or other FishFlix.com movies by clicking on the banner below.