I'm a planner. I not only enjoy the process, but I need to do it. I'm the kind of person that if I don't have a plan, nothing will get done. Because I will get up in the morning and think, "What do we need to do for school today? I can't think of anything, so..." Then, depending on my mood, we would either go to the park or I would spend all morning planning what we should do. And nothing would get done.

However, I don't buy planners. I hate spending money and I've always been able to make my own little homemade notebooks work just fine for my needs. But that doesn't mean I don't want a planner. I look them over every year and drool. So I was excited to get the chance to review The Ultimate Homeschool Planner - Blue Cover from Apologia Educational Ministries. You can also buy it in orange or yellow.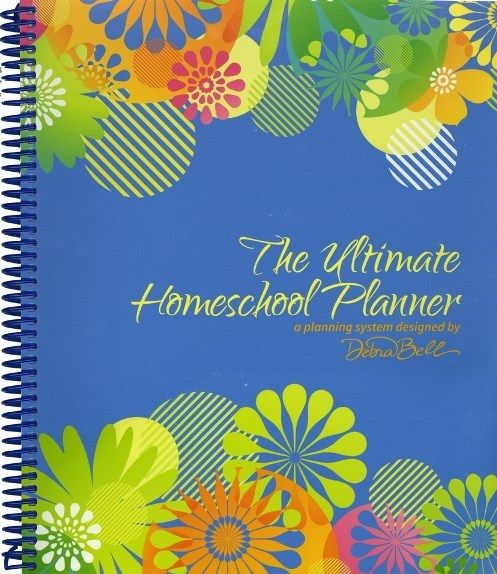 The planner is a hefty, spiral bound book of over 280 pages. The cover is a slick plastic material that is nice for repelling liquids, but I wish it were a little more sturdy, because mine bent early on and it drives me a little bit crazy. I do love the spiral binding, though. I can lay it flat, or bend it back and never worry about losing my place. Inside the front and back covers are slots for holding loose papers.
The first thing in the planner are year-at-a-glance pages. There are two years per page and it goes all the way to 2023. That's some long-range planning! Then there is a place to put your name and contact info in case you lose the book, a table of contents, and a 12 page how to use this system guide. For me, though, the beauty of the planner is that it was easy to customize to the way I already do things. The truly lovely thing about this planner is that there are no dates. I can start when I want, stop where I like, skip entire weeks and nothing gets wasted.
My favorite pages were next. I have never seen this in a planner before and it intrigued me. A blank, year-at-a-glance, two-page-spread that has room to write little tidbits of info. I experimented with months already passed to decide just exactly how this would work for me. It seems most useful for big, important things and events that take up chunks of time. But I also loved that I could jot down the number of weeks we had been in school. This is a quick and easy way to see where we are and when we will finish certain subjects if we stay on track.
Next there are some pages for recording character and academic goals, and resources needed for each student individually as well as a page for family priorities. I haven't used any of these pages, but since they are mostly blank I know that I can adapt them and use them for other information if I need to.
Next is a collection of two-page spreads for 12 months. Again, these are blank, so it doesn't matter when you start your school year, you just fill in the first month and go. Each month has a place for jotting notes, an inspiring quote, and a Scripture verse.
And now we come to the weekly pages. What I consider the heart of the planner. These are pages where I spent the most time and got the most use. First, there is a place for planning-ahead. This is another two-page spread.
The first page is meant for planning out the spiritual parts of your week, but we do things a little differently, so I used it to write down the details of our Morning Meeting. The general order so I don't forget things and then what we should be memorizing, reviewing, and the page numbers for the hymns we are singing that week. As you can see from the picture, there is another inspirational quote on each of these pages.
The other half of the spread is a journal, of sorts, to record "Memorable Moments" and "Evidences of Grace". I enjoyed jotting down little things as they happened. This page will be great to look back on see the highlights of our year!
Each "week in advance" spread is followed by "the week that is" two-page spread. I was able to use this exactly the way I use my own home-made planners. I write down everything that needs to be done that day with the initial of the child that needs to do it. For example, math is followed by K N D A because everyone does math. But photography just has K N because the little kids don't do photography. Spanish is on there twice, with two different sets of initials because Kaytie and Nate do a computer program for Spanish and Daniel and Abbie work with me on a different program. If it is something we do as a group, I don't bother with initials. If it is something we do differently every day and I'm pulling resources from different places, like History or Geography, then I put those on the bottom so I have space to add details. I also put our afternoon events on the very bottom. That way I don't suddenly remember at 3pm that we were supposed to meet friends at the park at 2pm! It's so embarrassing when that happens!
This is how we stay on track and get everything done on a daily basis. I use a pencil to cross out items when we finish them. If it isn't crossed out, I know we still need to get it done. Sometimes, we don't get to everything, but with this record, I can easily look back and see what we are consistently not doing. Then I can figure out why and how to fix the problem.
I also have room to write notes to myself for that week. I can jot down things I need to buy for a history project or science experiment. Or I can write down review products that I need to be sure we work into our day. If a product doesn't replace something we are already doing, then we put it at the end of our daily schedule, so I need to be sure that we are consistently working on it!
The end of the book has a place for grades and scores for each student. (I think I forgot to say that this planner accommodates up to six kids), pages to record reading lists, field trips, and year-end review notes. Of these, the only ones I have made use of so far is the reading lists. I had lists made out for Kaytie and Nate on just regular notebook paper. Not only do they never use them, I can't exactly find Kaytie's at this time. :) This is handier, because I won't lose them and I can show them where they are and they can reference them as needed.
Finally, there is another informative section on making memories with your kids, what I wish I had known about homeschooling, and learning styles. The last thing I need to tell you about is the two-page spread that gives you space and a little guidance for planning out a five year high school plan. Since my oldest is a 7th grader this year, I haven't filled anything in... yet. But I am excited to have it to start planning this summer!
I enjoyed using this planner and am already fighting the temptation to buy it next year!