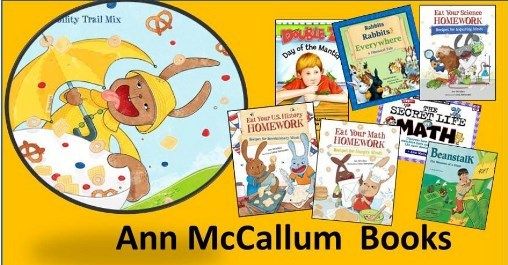 If you know us at all, you know that we love science around here. Some of us also love food. So the idea of mixing science and cooking and eating was in exciting one. So we eagerly agreed to review the book Eat Your Science Homework by Ann McCallum Books.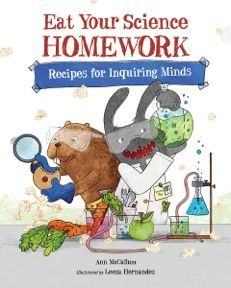 This is a beautiful, full-color book with a lot of engaging illustrations. It is a soft cover book. It contains a blurb about the scientific method, a brief overview of safety in the kitchen, six recipes, a section that reviews all the science learned by cooking the recipes, an index, and a glossary. For such a little book, it packs a powerful punch!
The recipes, of course, are the main focus of the book, that is where the science comes in. Each of the six recipes is based upon a scientific principle. This principle is thoroughly explained in the text and well demonstrated in the recipe.
There is a section to read before the recipe that talks about the science involved. Sort of setting up the demonstration. Then each one has complete instructions for what you need to do. These instructions are divided into clearly marked categories:
Before You Begin prep time, cooking time, total time, oven temperature, yield and difficulty level
Ingredients full list of everything you need to cook the recipe, even optional items
Equipment a full list of all your non-edible supplies like foil, spatulas, mixing bowls and what type of pan you need
Method clear, easy to follow directions to prepare the recipe
This was a fun book to use. My kids are older, so they were able to follow the instructions pretty much on their own and use the book independently. I had them read all the science information. Well, one of the big kids would read it aloud so the little kids wouldn't get bogged down in the reading since they are slow readers. Then they worked together to gather the supplies and cook the recipe. Then we would have a review of the science information as we ate. They didn't always enjoy the recipes, but some of them were quite tasty! Our favorite, I think, was the popcorn balls. Popcorn is our family's favorite snack and we all have a sweet tooth.
The kids also enjoyed just looking over the illustrations.
This is what the kids thought in their own words...
Kaytie: I liked the variety of science topics. Like there was one about minerals, one about space, and one about chemistry. I liked that the recipes were easy to make and they explained the science concepts very well.
Nate: I liked the Black Hole recipe. It tasted disgusting, but it was so cool that it sucked up the bacon! I liked how the different recipes had something to do with science facts. It's a fun way to learn science. There should be more to it, though!
Daniel: I liked the popcorn balls! Because I love popcorn and atoms are cool. I love learning about them.
Abbie: I liked the atomic popcorn balls. I liked the invisible ink snacks and the fingerprint cookies. They tasted really, really good. And they were fun to make.
I thought this was an excellent product as far as it went. I liked what it had to offer and we enjoyed it thoroughly. However, I didn't think that six recipes was enough for a whole book! I wanted more! More recipes and more choices and more science. I also wished that the book was more "kitchen friendly". I wish it was less likely to smudge and get dirty. I wish it had a spine that we could lay the book flat when it was open or even just fold it back so we didn't have to worry about holding it/ losing our place.