Over the years, I have often heard of the audio drama Brinkman Adventures, and made a mental note to check it out. But I never did. Until I got the chance to review The Brinkman Adventures: Season 3.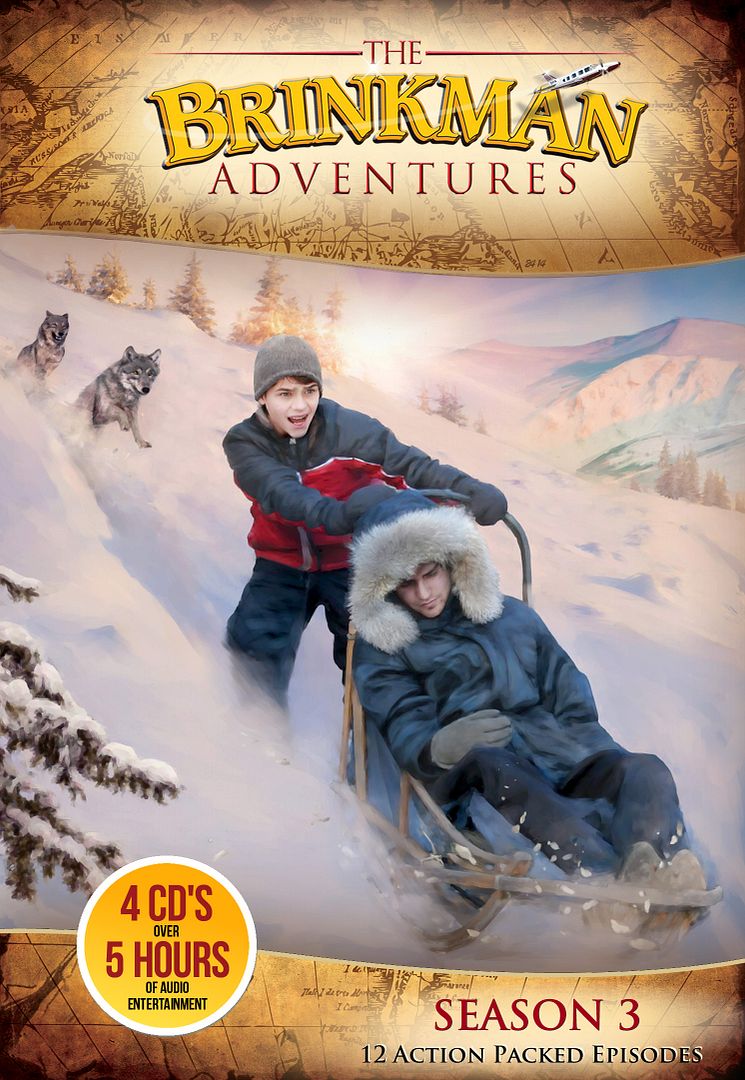 This radio show was created by a large, Christian, family, and the stories are a clever mix of the kids' real life fun and the true adventures of missionaries and other heroes from all over the world. You can read the story of how Ian Bultman got the idea for this series here.
But don't be fooled, this is no "bathrobe production". I was impressed by the high quality of the acting, script, and presentation of the material. Our attention was caught immediately and the story was easy to follow even though it was all audio and no pictures. (That's a big deal for my visual-learner family!)
Season 3 consists of twelve episodes, but some of them are two-parters, so it's really just ten different stories. Each episode is about half an hour. We usually listened to a couple each time. We learned about Tomas, who smuggled Bibles after asking God to give him impossible things to do. We listened to the story of how a little girl's sacrifice changed the hearts of men and the lives of children, and learned how meeting Jesus changed the unhappy Waodoni into a supportive society that helps the weak.
The heart of all the stories are true. The majority of all the events really happened. However, there is a little liberty taken with the stories in order to make them easier to tell in a thirty minute show. This fictionalizing most definitely does not affect the truth of God's amazing power that shines through each and every story. And just to clear up any confusion, you can read The Stories Behind The Stories which tells you which parts are facts and which parts are fictionalized in each tale.
These stories can be purchased either as a CD or a MP3 download, but we were given the CDs. In the afternoons, when the baby was asleep, I would gather the kids into the living room, put a CD in my laptop, and we would listen to an episode or (usually) two. The kids would draw, color, build with Lego, or just curl up on the couch and listen.
I enjoyed these stories because they were so full of God's provision and power. I loved hearing about lives being changed and the Lord flexing His muscles to protect those and provide for those sharing the Gospel. The story of Steve Saint was one of my favorites. My son was named after Nate Saint and that group of missionaries has always been special to me and had a great impact on my spiritual life. So hearing about "what happened after" was especially cool to me.
The kids said:
Kaytie:
I liked it. It was interesting. It made me think about being a missionary. I've always wanted to be a missionary, but hadn't known that there were different types of missionaries. They were exciting stories. I would like to listen to the other seasons now!
Nate:
I liked listening to stories about how God protects people and helps people who are trying to serve Him. It was kind of cool when God made miracles happen in the stories. I would recommend this to kids who like to learn more about Jesus.
Daniel:
I liked it because it was about how Jesus helped the people spread the Gospel by carrying Bibles across the border and other ways. I liked how God provided miracles for them.
Abbie:
It was cool. I liked how they mixed up the Brinkman's stories and the missionary stories. My favorite part was how the pastor felt when Tomas brought him all those Bibles!
We loved Brinkman Adventures and think you will, too! But don't just take our word for it, read more reviews by clicking the banner below!