I may have, in the past week or so, ranted at my children not to be sheep. Not that they were in any danger of it, but my greatest parenting fear is that they will grow up to the kind of people that jump on bandwagons. I shudder to think of it. I want them to not only be able to think for themselves but to actually do it. On a regular basis. In light of this, we have been working on logic skills lately with the help of The Basics of Critical Thinking (grade 4-9) from The Critical Thinking Co.
Now, we have reviewed for The Critical Thinking Co before, so I knew that we would be getting a quality product. The Basics of Critical Thinking is a big, thick, soft-cover book. It's purpose is to teach middle schoolers (well, grades 4-9) the skill of thinking critically. It defines critical thinking as "finding and evaluating evidence to try to make the best decisions", and it teaches those skills using a lot of examples and plenty of practice. Basically, the goal is to teach the students how to identify half-truths, insufficient evidence, false claims and weak arguments.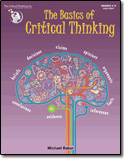 The book is divided into 19 different sections (you can see the Table of Contents on their website) followed by post-tests. Each section is interactive, with a mix of reading and answering questions. The pages are full color and engaging. The book is actually a workbook and the student is intended to write in it. This makes it consumable, but permission is granted to make copies within your family.
I was going to tell you what the questions were like, but there is a pretty wide variety. Some are true/false, some are fact/opinion. Sometimes there is a story and questions are asked about that story. Sometimes a picture is shown and the student draws conclusions or not about the picture. Here is a sample of a couple of the pages:
Since my kids are writing-phobic, and this is a subject that I definitely want to keep light and fun, we did all the work orally. Kaytie, Nate and I worked through the book together, as a group. They would gather up on either side of me and I would read the material and the questions aloud. They took turns answering questions, unless it was an opinion type question when they would both answer. We spent probably fifteen minutes a day on it and worked our way steadily through the material.
As I say, logic and critical thinking is something that both my husband and I have worked to instil in our kids since they were babies. However, there were many concepts in this book that stretched them. Nate struggled with the difference between fact and opinion because in his head, if he thinks it is so then it is. His opinions are synonymous with fact and your facts are merely opinions unless he agrees. So we had some rousing discussions over those lessons. :)
Kaytie's struggle was with jumping to conclusions but at least she is more willing to admit when she is wrong. Sometimes. :)
Most of the time, I am able to decide on the spot if their answers are correct or not, but if I ever have any doubt, all the answers are in the back of the book.
I asked the kids to tell you what they think about it:
Kaytie:
It's easy because it introduces each step gradually. The problems are solvable but challenging enough to actually make you think about it. I would recommend this for kids who are interested in learning to think, even younger kids.
Nate:
It was awesome. It wasn't really hard, but it was fun and still got the point of the lesson. It was really cool. It had different things to do so we could practice all the new skills. I loved it. I learned the difference between true and probably true. I learned that instead of just looking at part of the evidence, to look at all of the evidence.
But I just have to add this:
Last week, I told the kids the review period was almost over, and I asked. "What do you want to do? Keep on with this book or start a different one that I have?"
Nate answered, "Let's do this book, but let's do it every day and work on it longer each time!"
You know it's successful when they are learning and asking for more!
Our other The Critical Thinking Co. reviews:
World History Detective
Crypto Mind Benders