Welcome back to the 2016 Virtual Curriculum Fair! This week we are talking about Exploring Our World. For me, that means Geography.
It took me awhile to figure out how to teach Geography to my kids, mainly because it took me awhile to figure out what I wanted them to learn! Personally, I love Geography. I love maps, exploring different cultures, learning about what makes regions different and all the fun little quirks around the world. So I wanted to communicate that love of people and culture and the wonders of creation to my kids.
One of the things I have learned is that the best way for my kids to learn is for them to take ownership of the process. I have to offer the means, put a system in place, and then step back and let them run with it.
So this is what we are doing for Geography this year...
I have a lot of resources. I chose ones the kids could use independently and made a list. Every day, the kids pick one thing off the list and work on it. So they could be drawing a map, coloring a flag, doing a puzzle, playing a game, listening to a song, reading a book, watching a video, answering a quiz, etc. etc. etc. I try to keep track so they are doing a variety. And that's pretty much all there is to it.
First, we have tons of resources because I have been collecting them for a long time.
Galloping the Globe
Uncle Josh's Outline Map Book
Draw Europe
a couple of wall maps (one I don't know where it came from and one from Mardel)
a scrunch map
a globe (bought from Mardel)
a lot of different atlases (basically whenever I find one cheap, I pick it up)
Geography songs and the book that goes with it
Geo puzzles
The Global Puzzle
wall charts
Eat Your Way Around the World
Geography from A to Z
Children Just Like Me
Missionary Stories with the Millers
Around the World in 180 Days
A Child's Geography
Children Around the World
We also use a lot of online resources:
National Geographic for Kids
(fun place to explore)
World Atlas
Youtube
(a great place to find short documentaries about countries, animals, cultural items and national anthems)
Sporcle.com
(they work on the country and flag quizzes)
Seterra.net
(more quizzes and these are easier for younger kids)
We also use apps:
Stack the Countries
Jigsaw Puzzle
(has a lot of jigsaw puzzles of flags)
TapQuiz Maps
We get most of our reading material from the library. I like the
Count Your Way Through
... the
Colors of the World
... the
ABC books
... and the
If You Were Me and Lived In
... best, but I generally just get whatever the library has.
And finally, here is the link to my Pinterest board:
Geography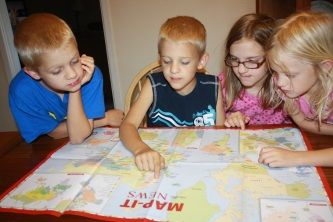 Check out the rest of the 2016 Virtual Curriculum Fair!
Yvie @
Gypsy Road
-
Bringing It to Life! History, Geography, & Science
Jen Altman @
Chestnut Grove Academy
-
Virtual Curriculum Fair 2016: Exploring Our World, How We Do Social Studies and Life/Earth Science
Laura @
Day by Day in Our World -
Learning About the World Around Us
Chareen @
Every Bed of Roses
-
Social Studies a Science of Relations
Lisa @
GoldenGrasses
-
Exploring & Discovering Around the World
Annette @
A Net In Time
-
Science and Culture Around the World and at Home
Kym @
Homeschool Coffee Break
-
Exploring History and Geography
Laura @
Four Little Penguins
-
Going Around the World at Our Kitchen Table
Joelle @
Homeschooling for His Glory
-
Our Tackling of the Social Studies and Science
Kristen @
Sunrise to Sunset
-
Encouraging Curiosity about the World