Welcome to the second week of the 2016 Virtual Curriculum Fair! This week, the theme is Discovering Patterns. So I'm going to talk about math and science.
For our main math curriculum, we use
Math U See
. I explain all about it
here
. But that isn't all the math we do, of course! We have a lot of fun supplements to math.
Nate has an account with
Khan Academy
that he uses regularly. The younger kids still work on "life math" by playing store, fiddling with our pattern blocks, walking around the house with a measuring tape, figuring out recipes, and working on puzzles.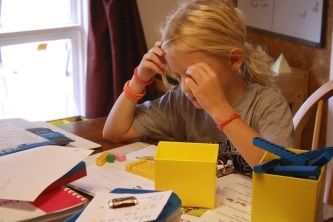 We also work on our math facts with various programs:
and
Times Tales
(which is new to us, watch for a review coming soon!)
Science is our favorite subject around here. We do science informally almost constantly. Someone is always reading a book about a science topic. Or we are discussing Creation vs Evolution. Or one kid is telling another kid some fascinating animal biology fact. Daniel almost always has some sort of experiment going. Chemistry happens a lot whether with a kit or cooking in the kitchen. The boys like to catch, study, and raise insects. The girls love to find and identify plants and flowers. Kaytie draws nature almost daily. Lego and simple machines help us out with physics. We like to watch nature videos on youtube and "how it works" shows on tv. And this is only a small sampling of our science activities!
Since Kaytie and Nate are now in middle school, they have added a formal science to their day. I chose Apologia's
General Science
because they could do it independently, it had plenty of experiments and text seemed to "speak" the way they learn.
Chareen @
Every Bed of Roses
-
Thoughts on Math and Science
Kristen @
Sunrise to Sunset
-
From Counting to Calculus
Laura @
Day by Day in Our World
-
How We Approach Math in This Homeschool Year
Annette @
A Net In Time
-
Struggling with Math, Loving Science
Annette @
A Net In Time
-
Lego Pulleys and Levers
Yvie @
Gypsy Road
Hands -
On Math with Special Needs Learners
Chelli @
The Planted Trees
-
Chemistry Using Living Books
Lisa @
GoldenGrasses
-
An Appalling Lack of Curiosity
Edie @
Carter Chaos
-
Our Favorite Ways to Study Numbers
Tracey @
A Learning Journey
-
Robot Area and Perimeter Art Project
Jennifer @
A Glimpse of Our Life
-
Math and Standardized Tests
Jen @
Chestnut Grove Academy
-
Discovering Patterns: Mathematics, Logic, and Science
Sarah @
DeliveringGrace
-
Learning Multiplication Tables
Kylie @
Our Worldwide Classroom
-
Multisensory Multiplication
Kym @
Homeschool Coffee Break
-
Science and Stuff
Kemi Quinn @
Homemaking Organized
-
Math in Our Homeschool for a Later Elementary Organized Reader
Joelle @
Homeschooling for His Glory
-
Math and Logic - Our Steady Path
Laura @
Four Little Penguins
-
Math and Science Love