One of our favorite companies to review for would have to be
Heirloom Audio Productions
. We have been blessed to experience all of their productions so far, so we were delighted to be able to listen to
The Dragon and the Raven
the past few weeks.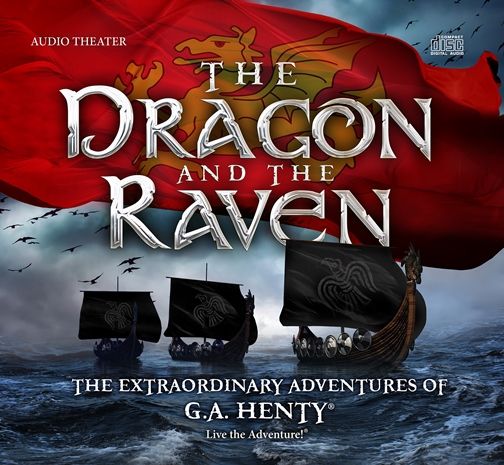 Like all of Heirloom Audio's productions, this one was top-notch quality. With a star-studded cast for the voice talent, and big name producers working in a real studio in London, this is well worth your time and money.
The Dragon and the Raven is based on a book by the famous G.A. Henty and tells the tale of King Alfred the Great as he battled to free ancient Britain from the marauding Danes. The story is full of excitement and adventure and war. But it is not about violence and killing. No, far from it! It is about building character, courageous actions, valiant love and faith in God. The fictional "hero" of the story is young Edmund, who joins King Alfred (the only king of England referred to as "the great") in not only fighting off the Danes, but also in turning the young nation back to a faith in God.
Along with the CD, we received a Study Guide, some beautiful posters, and a copy of the ebook. The Study Guide comes in the form of a PDF, so you can print it out, or just view it on a screen. We just pulled it up on our iPad, which saves on ink. :) It follows along with the story, offering discussion questions (both questions on details and deeper thinking questions about the story, asking kids to research, analyze, or evaluate characters, background, or just what the kids think) and vocabulary words that your child (or you, even) might not have heard before.
The Guide also offers three Bible studies that "go along" with the story, and some history in the form of biographies of both G.A. Henty and King Alfred. There are also maps, pictures and even a recipe for making cakes. Because everyone has heard the story of King Alfred and the cakes! :)
We are always a little loose in our use of the Study Guide... I read the questions aloud and the kids respond at will, according to whoever knows or feels they know the answer. Then I read bits, and they read bits and we all enjoy the maps and pictures.
As I said before, we always enjoy listening to these stories and when I told the kids that as soon the baby went down for a nap we would start listening to The Dragon and the Raven, they hauled out Lego and clay and cosy blankets, all ready to go! As you can tell, even the Dreaded Jungle Basset listened in!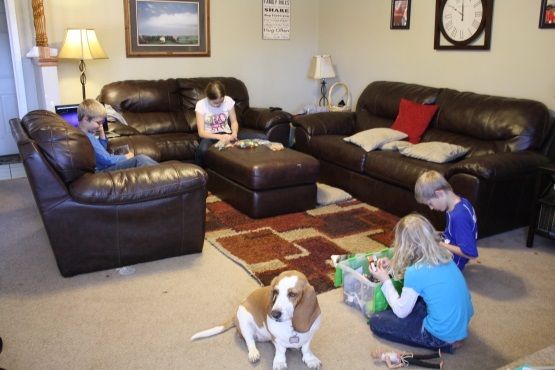 Now, we didn't listen to it all in one sitting, of course, since it is two and a half hours long. We break it up into two or three sessions. But they always pull out something to keep their hands occupied while their ears are busy listening.
I love that these CDs are so well done and enjoyable, but even more I love that the kids are learning. And not only learning history, but learning valuable lessons in courage, hope, dependability, and faith. I love that they hear such quotes as:
"God is close to the broken-hearted."
and
"Within every man is the will to fight for a just cause."
This is what the kids thought:
Kaytie:
I liked it. I liked that it had sound effects and it was more than just someone telling the story. It was sort of like listening to a movie instead of watching it. I liked that it was very descriptive. I learned about King Alfred, I didn't know anything about him before. Olaf was the funniest part.
Nate:
It was really cool. And it had Sylvester McCoy in it, which was amazing. And I kind of learned some things about King Alfred and the Danes, like about the jewel.
Daniel:
I liked it because there was a lot of fighting. I didn't like the kissing at the end.
Abbie:
I liked it because they stood up to the Danes.