Little boys and Lego seem to just go hand-in-hand. My little boy was absolutely thrilled when I asked him if he wanted to review the
Faith Builders Bible
from
Zonderkidz
.
The Faith Builders Bible is a hardcover Bible written in the NIrV. It is a sturdy book, with larger print and the table of contents right at the front, all of which makes it easy for kids to navigate. The NIrV is a simplified version of the NIV. It uses shorter, simpler words, separates chapters into smaller segments, and titles every chapter. This makes it easy for kids to read and understand. In the back are a dictionary that defines words like "nard" and "plague" and "scroll", and a list of some of the more famous stories. So this Bible is a great one for a "first Bible" because, while it is the complete text and not Bible stories, it allows them to read and discover God's Word on their own.
But the truly unique part of this Bible is the Lego pages. These pages contain full-color pictures of Lego creations. These creations depict scenes from Bible stories: David and Goliath; Jericho; and the Nativity of course, but also less well-known scenes such as building the Tabernacle. There are 24 of these pages and, as you can see from the illustration below, The picture is paired with a snippet of information and a Scripture verse.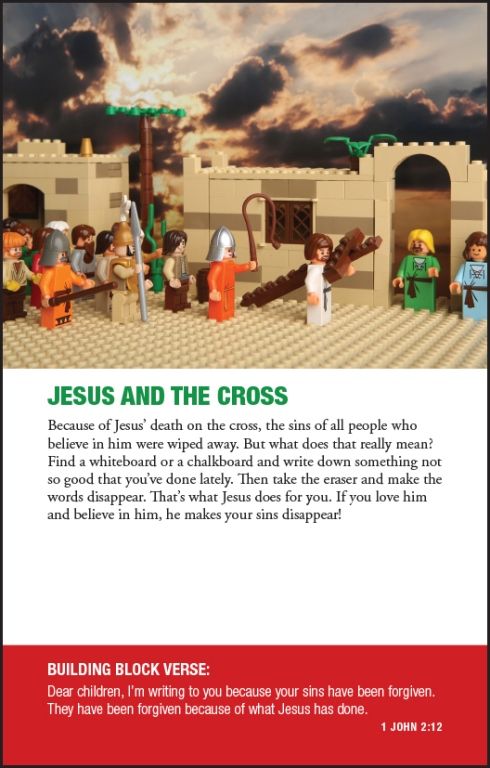 I chose my ten-year-old son as the primary user of this Bible for several reasons. First, because he is our family's Lego fanatic and I knew he would appreciate it the most. Second, because he is a disinterested/ struggling reader and I knew the easier words and larger print would appeal to him. And finally, because he didn't have a Bible of his very own and I felt this one would be a great one for him to start with.
Every day, he used it for school. A part of our Morning Meeting is me reading aloud a chapter from the Bible and the kids following along in their own Bibles. Daniel was pretty pleased to use his own, easy to read Bible instead of a generic one from the school box.
He also enjoyed looking over the illustrated pages just for fun. The snippets of info were perfect for him to read and glean a little more knowledge or insight into the old, familiar stories. I challenged him (and his siblings) to memorize the Building Block verses. And, of course, he really enjoyed attempting to recreate the depicted scenes with his own Lego.
And of course, that eventually led to him building his own Bible story scenes with Lego!
He said:
Daniel:
I liked it because the pictures were fun to look at. It was easier to read because it had a bigger print. It was easier to find places. The Lego part was cool. I liked the Building Block Verses.
In our opinion, this is a great little Bible for Lego-loving kids. Easy to read, fun to use, and habit forming... all things you want your child's first Bible to be!