I usually start thinking about the next school year in January. But this year, here it is nearly May, and I am only just starting to jot down plans. Mostly, this is because this year, everything worked so well that we will pretty much be just continuing to use what we are already using. There are a few new things and a few things I need to figure out, but mostly it will just be keeping on keeping on. Here is what I am thinking so far:
Nate, 7th Grade
Math:
Math U See Pre Algebra
(yes, I'm scared!)
We split up our Language Arts into many different parts, using products that best fit our needs in each area:
Grammar:
Fix It! Level 3 Frog Prince
Writing:
He will finish up
Jump In: a workbook for reluctant and eager writers
Spelling:
All About Spelling
(He will finish up
Level 6
and complete
Level 7
. I expect it will take him the entire year. When he is finished with Level 7 he is done with spelling instruction forever!)
Literature:
This is a new subject for him. He needs absolutely no encouragement to read. Sometimes, though, he does need a little nudging to get out of a rut and into new and exciting books. So he will have a reading list, just so I am confident that he reads everything I want him to. He will also learn some basic literary terms and write some about his reading.
Technology/ Computer Programming:
He will continue working at
Khan Academy
and will also take a class at our co-op (hopefully, he really really wants to). I'm also looking for other opportunities for him because this is the area he wants to pursue as an adult.
Piano:
Hopefully, he will continue with lessons. If not, at least he has his guitar.
Bible:
Still working our way through
Bible Study Guide for All Ages
. Kaytie and Nate are getting a little bored of it, but it is still the best I have found, so we will continue using it for now.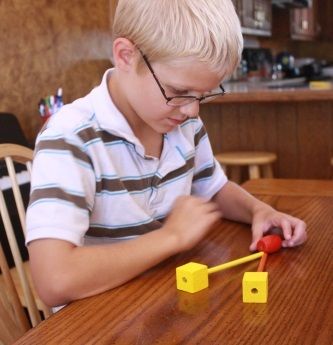 Science:
He and Kaytie will (hopefully) finish up Apologia General Science over the summer. Then they will start
Apologia Physical Science
in the fall. I already own it, so we will just move seamlessly from one to the next whatever the time frame happens to be.
Spanish:
He will continue working through
Duolingo
. I am hoping to get the kids into a conversational sort of class, but I don't know if that is a possibility around here. They are definitely to the point that they need to start speaking the language.
Latin:
It will not be a favorite, but he will definitely be doing
Visual Latin
this year.
Logic:
The Thinking Toolbox
. We are all looking forward to this!
Typing:
He will learn some great typing skills at
Typing.com
Geography:
We had fun and learned a lot about Europe this year doing our own
Hoggard Geography
. So we will tackle another continent this year using the same method.
History:
First, we will be reading and working our way through the
Middle Ages
in our own carefully crafted
Hoggard History
.
Also, we will be experiencing the Epic Glory of T
exas History
using
The Story of Texas
as a spine. I am really hoping to post our plans here because there is such a dearth of really good curriculum for Texas History. We are only going to do it once, all together, because I am expecting it to be a lot of work!
He is also considering some electives for high school credit.
As I post the other grades, I will link them up here:
Kaytie (8th grade)
Nate (7th grade): you are here
Daniel (5th grade): coming soon!
Abbie (4th grade): coming soon!