Today I'm going to share with you on of the easiest and most enjoyable products we have ever reviewed.
The Pencil Grip, Inc
sent us a package of
Kwik Stix 12 pk
. When they came, we broke them out of the package, pulled up a pile of paper and just had fun.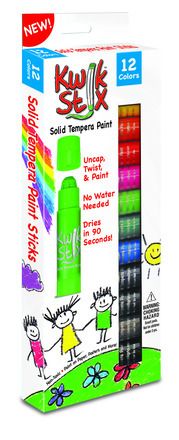 These are paints. But they work like markers. Or glue sticks. Or maybe a little of both. These handy little paint sticks take the mess out of painting. I know moms, even the artsy moms, the relaxed moms, and the moms who stick at nothing to give their child the best of every waking second, all dread giving kids the "ok" to paint. Who wants to deal with paint shirts, easels, water cups, messes, spills, and cleaning everything up once the kids are done? Well, with Kwik Stix, you don't have to.
Kwik Stix looks like a marker, with a tightly fitting cap (although my borrowed 2 year old was able to open them easily so be warned). Kwix Stix works like a glue stick, with a twistable bottom to get you some more when you need it. Kwix Stix acts like a crayon, with little to no mess that cleans up easily. However, Kwix Stix is actually tempera paint that dries in 90 seconds.
The colors are bold and dark. It applies with ridiculous ease. The kids had a blast creating with them. We spent a happy afternoon painting and when we were done, the only clean up was hanging up their pictures.
As you can see, we even included the two-year-old that we babysit. He enjoyed himself thoroughly. One of the kids heard the word "paint" and took his shirt off, but there was really no need, I don't think. I don't know if the paint comes out of clothes, but unless your kid is super careless or deliberately colors on himself, it probably won't even be an issue. These things are just not that messy.
There are a few things that we noticed that I feel I should tell you about.
the paint really, truly does dry in 90 seconds
because of this, mess is not an issue, I touched my picture immediately after application and got nothing on my finger
because of this, it is easy and fun to layer colors over each other
however, because of this, you can not blend the paint
you also can't get a lighter application of color with less pressure, you get one shade only
lighter colors don't layer over darker colors well
the ends are flat, like a glue stick, not pointed like a marker, so lines and fine details are difficult to pull off (this did not bother the younger kids but was slightly annoying for the older artists among us who happen to like fine details)
unlike markers, the caps do not fit over the back end for easy storage while you work, (my 13 year old wanted me to especially mention this because it bugged her a lot)
the aforementioned 13 year old accidentally got some on the table and discovered that it rubbed right off with little effort
Our conclusion:
Kwik Stix
is awesome. If you have a kid (or more) under the age of ten, and they like art at all, you should definitely invest in a package. They have several different options of color and package sizes to consider. My kids all gave these paint markers rave reviews. My non-artistic kid even said that if we had had them when he was little, he might even be artistic like the other kids. Maybe.
Here's a sampling of their favorite paintings...
We were also sent, as a little bonus, one of the
pencil grips
that the company is named for. It's a squishy little rubber thingie that slips onto the pencil with the intention of instilling a proper grip or correcting your child's incorrect grip.
Now, I have a slightly incorrect grip that has, quite frankly, never bothered me or hindered my writing. I have a nice, perfectly readable cursive that has served me well my entire life.
My son, who is twelve, also has a slightly incorrect grip. He has perfectly atrocious handwriting, but I never once considered that it was his grip causing him any issues, because mine never gave me any trouble.
He has finally reached the point in life where he wants to work on his handwriting and is willing to do what needs to be done. So he latched onto the pencil grip and has been using it ever since.
What sold him on it was looking at samples of his handwriting with and without the grip. When he first started using it the difference was dramatic. However, that sheet of paper was accidentally thrown away. So he wrote another one today. You can still see that he has better control when he uses the grip versus when he does not.
When he first started using it, he complained a lot that he didn't like the squishy texture of the grip. But a couple of days ago, he mentioned that it was growing on him and he didn't mind it so much.