As a mom who leans heavily toward a Charlotte Mason homeschool philosophy and even more heavily toward a simple, easy to implement homeschool methodology, I have looked for a long time for a music appreciation course that I don't have to work too hard to employ. I was raised with a vague respect for classical music but with not enough exposure to it. I know the names of many composers and a few musical pieces (what are they properly called? not songs, I know, but what?) but not much more. I wanted to give my kids a better education than that, but how?
So you can imagine my delight when I was asked to review
Music Appreciation Book 1: for the Elementary Grades
put out by
Zeezok Publishing LLC
.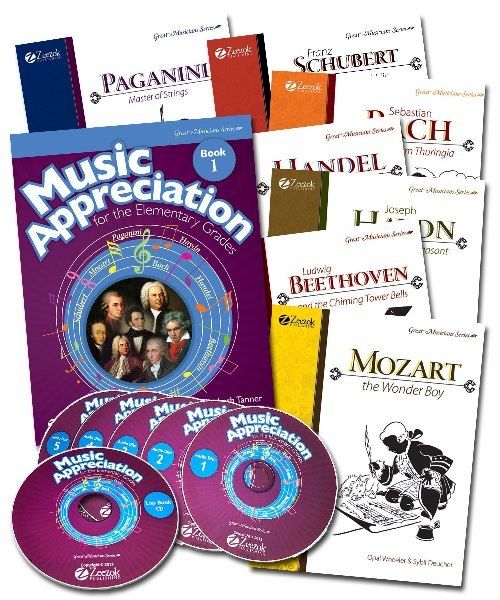 So, as I said, I was excited to get my hands on a music appreciation curriculum. But then when I actually did get to lay eyes on it I was overwhelmed! Just in total shock at how much came out of that little box!
This curriculum has many components but all of them are important for the overall success of the program. Individually, each is a wonderful resource, but all together they are just amazing.
Level 1 introduces your child to seven different composers: their lives; their music; the historical and cultural setting in which they lived; and a couple of their character qualities for your child to emulate.
The composers are:
Hayden
Bach
Handel
Schubert
Paganini
Beethoven
Mozart
The composers are each have their own unit study. Each unit is expected to last four weeks. The composers can be studied in any order, so we started with Hayden.
First, I am going to tell you about the program as a whole, then I will talk specifically about Hayden.
To begin with, there is the music itself. 5 CDs contain several selections of each composer's work for your child to hear.
Then there is a biography for each composer. These are little books written by Opal Wheeler in the 1930's. They have simple but enjoyable illustrations and snippets of musical scores to break up the text. Six of these books were paperback and one was hardback.
There is another CD that has a PDF lapbook for you to print.
And finally, there is the big, thick, enormous Activity Book that ties all the rest of it together. It also contains the schedule, activities, questions, and additional information about each composer.
So now, for what we did and how we used the curriculum. First, let me explain that I used this mainly with my two younger children. The two that are in elementary school, still. They are 3rd and 4th graders. But my older two, my 6th and 7th graders listened in and participated whenever they so desired.
The first thing I did was chose a composer and find him in the Activity Book. Each composer is color-coded, and tabbed in that color, so it is easy to find your place in the book. The schedule is on the first page of each composer's section and it is simple and easy to follow. Hayden had ten activities in each of the first three weeks and eight in the fourth week. I'm guessing you could do each week's work in whatever order you choose, but I decided it would be easiest just to start at the top and work my way through. This is also the way it is laid out in the book, so it's simple to keep track of where you are and what you need to do next.
On the first day, we read a selection from Hayden's biography, called
Joseph Hayden: the Merry Little Peasant
. Then we answered the comprehension questions found in the Activity Book. We did these orally for several reasons.
The blank lines for the answer are not long enough for my kids' sloppy writing.
The binding also makes it hard to write in the book for young kids.
My kids HATE writing answers down so I never make them do it for "fun" subjects.
There were two plus kids wanting to answer and the pages in the Activity Book can not be copied.
Next, we discussed four different character qualities of Hayden that could be found in the first chapter of his biography. And that wrapped up the first day.
On the second day, we read about and discussed some "Tidbits of Interest" about Hayden. We did a map activity, wrote a thank-you note and started out our lapbook. We skipped the final activity of week one because it was too "young" for my older elementary and middle school kids. Although they would have LOVED it when they were younger. This activity was instructions on making rhythm instruments.
On weeks two, three and four, we listened to samples of Hayden's music, did more reading, discussing, and answering questions, finished up the lapbook, learned about Austria in the 1700's, studied the instruments and sections that make up an orchestra, read about his two composer contemporaries. (do you know who they were? I didn't!) baked some kugelhopf, and learned a little bit about the symphony.
I thoroughly enjoyed
Music Appreciation Book 1: for the Elementary Grades
and feel that we learned a lot about Hayden. I would definitely recommend this for younger kids. My preteens/ teens did get something out of it but would have enjoyed it so much more in second or third grade!
For us, at this time in our lives, my favorite part was definitely the biographies. They are quick, "easy" reads but, since they were written so long ago, they are still well-written and interesting enough that I enjoyed them as well as my kids. I loved the illustrations, too.
My least favorite part of this curriculum was the music selections. I felt they were too short and was irritated that they were scattered around the CDs. I would have preferred to have all of Hayden on one CD so I didn't have to look for the right one. I really wished they were longer so the kids got more of a real feel for the work. I think even kids younger than mine could sit through longer selections and enjoy them, especially as background music while you do other things.
All in all, though, I enjoyed our music appreciation course on Hayden and plan on working our way through the other composers in the future. In fact, we are currently appreciating Bach.