The past few weeks, we have been working on a review for
Essential Skills Advantage
. We were given two subscriptions to
Complete Home Learning Suite
, an online supplemental learning program for elementary aged kids.
ESA offers instruction in these areas:
reading (for grade levels K to 6th)
language and grammar (for grade levels K to 6th)
math (for grade levels K to 6th)
science (for grade levels K to 3rd)
geography (for grade levels 4th to 6th)
This program is entirely online. It is also completely individualized so each child needs their own account. Their accounts, however, are tucked under one parent account so you can manage them all easily under your parent login.
I used this with Daniel (rising 5th grader) and Abbie (rising 4th grader). My main purpose in asking to review this program was to give them a fun, engaging way to help them improve their reading skills. So I had them focus mainly on the reading portion, but they were also free to play around with other subjects.
This is an easy program for us to use. Once we were signed up, a huge positive for me was how easy it was for the kids to sign in. They didn't have to remember a password and username because their username was right there and I could chose not to require a password. This made it easier for everyone for me to just say, "Go work on ESA."
Once they were signed it, the navigation for the site was super easy. The kids could easily choose which topic they want to work on, and then choose the grade level. They loved the level of independence. And since this is a supplement, enjoyment in using the program was a big plus for us.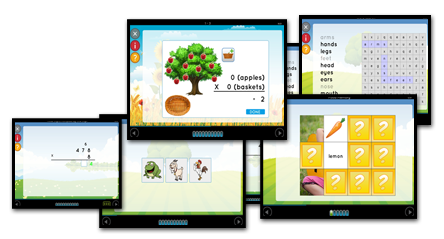 I was surprised that there were no "lessons" per se, but rather a lot of activities and games for the kids to do. Reading at the third grade level (which was where I asked them to spend their "work" time, yes, they are a little "behind") was divided into three parts: vocabulary, spelling, and comprehension.
Vocabulary offered the choice of Compound Words, Easily Confused Words, Figurative Language, Prefixes, and Suffixes. The kids could click the icon for whichever of these they wanted to work on and they went straight to the activities. The instructions were given aloud and were easy to understand and follow. These are mostly games in the form of matching columns of words, concentration-style puzzles, word searches, fill in the blank by clicking on words, and the like.
Reading Comprehension was just that, a short passage for them to read and then questions to test their comprehension. It followed the same click on the icon and play the game format.
Spelling was where the phonics came in, offering the topics of Long Vowel Patterns, R with Vowels, Consonant Combos, Digraphs and Diphthongs Consonant Blends, and Tough Words.
In using this program, we initially had a little bit of trouble getting it to run on our old computer, but once we figured out we couldn't use that computer for ESA, we got along quite well. The kids would spend a bit of each day working on their own account and I could keep an eye on their progress from the main dashboard. I could see at a glance which programs they had used, how far along they were in each program, and what their average score for each program was.
Even though I'm not exactly sure that it helped their reading level, I did think this was a fun little program. I think it would be more beneficial for kids who need help with comprehension or vocabulary. Those both come easily for my kids, though.
The kids say:
Daniel:
I would recommend this for littler kids than me. It was too easy for me, even the 6th grade. My favorite part was the games.
Abbie:
I liked that I could pick which topic to do. It was fun. I didn't like that it was so easy. The stuff that I got to read was interesting. I liked to read that.
To see what other Crew Members thought, click on the banner below!