For the past few weeks, the kids and I have been using and enjoying a
Notebooking Pages Lifetime Membership
from
NotebookingPages.com
.
We are eclectic homeschoolers, but we lean strongly toward a Charlotte Mason mindset, which means we don't do a lot of testing to see what the children know. Instead, we do a simplified sort of narration, or retelling of our history and science learning. My kids are writing-phobic, so we usually do this orally or by drawing pictures or doing projects. Now that they are older, though, I have started expecting more and more actual writing in their schoolwork. I have often considered notebooking, but it can be difficult to find good pages and I have neither the time nor the patience to create my own. So I was delighted to get a chance to dig around
NotebookingPages.com
.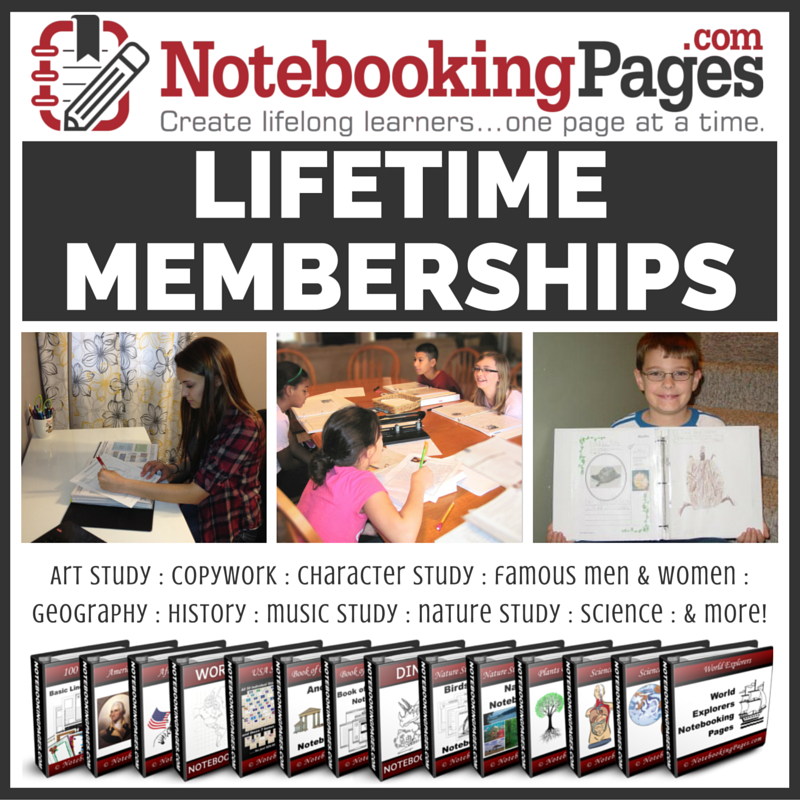 I was not disappointed. There was much here to explore! The pages are divided up into ten different categories:
A-Z
which is for the youngest crowd, being mainly alphabet copywork and ABC notebooking pages for animals, sports, and transportation
Bible/Character
Famous People
Fine Arts
Geography
History
Holidays
Language Arts
Science/ Nature
Any Study
which is just basic borders, clip art, and mini books
Each of these ten categories contain subcategories which contain a multitude of actual notebooking pages. So you can well imagine there are plenty of options from which to choose.
For example,
Geography
offers both Continent maps and World maps. There is a separate category just for USA study. And, I was very pleased to find a Country Study for (what looks to me to be) every country in the world! These studies contain maps, as well as pages to document national holidays, geographical information, economic data, culture, history timelines, the national anthem, the flag and national emblem, money, landmarks, current events, wildlife, language, inventions, government and even "blank" pages in case you can possibly think of a topic they haven't already covered. There are several options for each topic, and every Country Study that we used had well over 100 pages.
Fine Arts
was another favorite section of mine, with notebooking pages, art prints, and picture studies for over 25 different artists. as well as notebooking pages for over 25 different composers and pages with musical designs for copywork purposes.
The
History
pages are sub-divided into the four main sections of history: Ancients, Middle Ages, Renaissance and Reformation, and Modern Times. There are Book of Century pages as well as timelines and regular notebooking pages.
But I can't possibly tell you all about everything there is on this site! This is just a small sampling of my favorite parts!
In addition to the actual pages, the site offers a multitude of tips, videos on various subjects (how to make a timeline, for instance) and a plethora of information on how to add notebooking into your school day. They offer cover sheets, spines and everything else needed to make a beautiful notebook for each and every subject.
For the purpose of this review, after I looked over the site and stopped drooling, I pulled together a few different sheets for the kids to use. Since we are currently still wrapping up our Ancient History from last year, and are eyeball-deep in the Greeks, I printed off some sheets about Archimedes. We are reading Archimedes and the Door of Science, so these pages fit right in. I had them color a bust of Archimedes while I read. Later, they filled in a notebook page about him. Since this was also for a review, I had them choose which type of page they each wanted to do so that I could show you some variety. The younger kids chose pages with primary lines and the older kids had regular lines.
We also did a Picture Study of the kids' favorite painting by their favorite artist.
The painting is actually supposed to be in color, but my color ink had just given out, so we went with a black-and-white option (procrastination strikes again).
I also printed off some Quiet Time journaling pages for the kids to use. These come in black, pink, or blue options and have a place for the child (or the mom) to write the Bible passage read, what you learned/ felt God was saying, and prayer requests. They are beautiful, but I won't show you a picture in order to respect the kids' privacy.
We did a few Country Studies of different European countries to review last year's work. I definitely plan to add these into our Geography rotation next year!
I also am very excited to use some of the science pages next year! Specifically the Human Anatomy pages for my rising 4th and 5th graders, the Astronomy pages for my rising 8th grader and the bird pages for all four birding enthusiasts.
One thing that we did differently than suggested by the site is that we did not build notebooks for our pages. We have spiral notebooks where we keep our history stuff, so the Archimedes pages were just glued into those. Our Country Studies went into the kids' regular binders, they keep their Quiet Time journaling pages with their Bibles and we tucked the Van Gogh pages into their "special things" boxes that they keep in their rooms. I point this out to show you how versatile this site can be. You can build notebooks and/or make a special study or you can just pull topics to add to your curriculum or use some pages just for "fun" because it is a special subject for your child.
I found
NotebookingPages.com
to be very easy to use and to navigate. It seems a little overwhelming at first, but after a few minutes of clicking around, it makes sense becomes very simple. There is an Easy Start Guide if you are new to notebooking. There is a tab for Recently Added pages. Each subtopic downloads into a PDF file for easy viewing and printing or you can download the entire topic as a zipfile. I do wish I could view the files without downloading, though.
Obviously, the notebooking method is not for everyone. However, if it is for you, then
NotebookingPages.com
is definitely something you should check out, because this is an incredible resource with tons of pages and more being added all the time!