There are two things that we never get enough of around here, science and art. We all love both but the boys tend to get more excited about the science while Kaytie is all about the art. She was especially thrilled to get a chance at art lessons from
ArtAchieve
. We were given access to
Entire Level II
.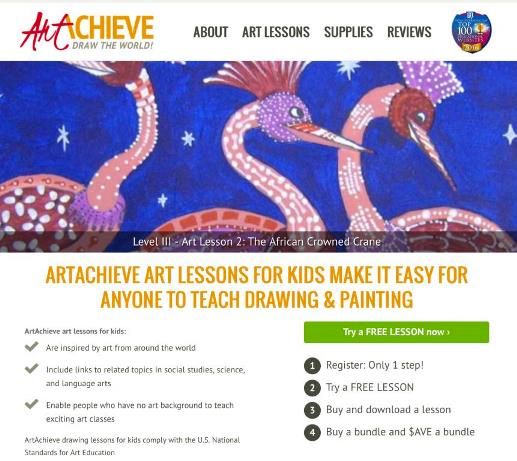 ArtAchieve is an online site that offers drawing lessons. These lessons are based on the idea that drawing is a skill that can be taught, not just a gift that some people happen to be born with. The lessons are designed to give the student a chance to succeed at drawing something recognizable, but the finished product will be highly individualized and creativity is encouraged.
Once I had our account set up, it was easy for the kids to get on and access the lessons. Each lesson has two parts: a warm up, and then the actual lesson. The warm ups have to be downloaded onto your computer as PDFs to be viewed. You then need to print them out, so the child can use them during the lesson.
The lesson streams online. There are two ways for the student to watch the lesson: a power point that they control, or as an actual video. My kids hands down preferred the power point. Their main complaint with all other art programs is that they have to pause/ rewind/ restart so much because they can't keep up with the video. With the power point, this is no longer an issue because they get to choose when to advance to the next slide.
The first lesson discusses "line" and gives the kids a few exercises to do to demonstrate. After they finished this lesson, I pretty much let them choose which order they did the other lessons in. They based their choice on what they would be drawing rather than what they might be learning. But that seemed to be ok. My kids have been drawing for awhile and art is kinda fluid for them. It didn't seem to matter what order they did the lessons in.
Each lesson is based on art from a different country. The country and its art techniques are briefly discussed at the beginning of the lesson. The kids are given a goal for the lesson then a list of the supplies they will need. We didn't have any problem with the supplies. It was all simple stuff that we already had: markers, pencils, paper, scissors, watercolors, oil pastels, etc. If you are not an artistic family and/or do not have basic art supplies, then you might want to look over the
Supply List
provided on the site just to be prepared in advance.
The lessons teach the kids how to easily proportion their drawings correctly. Planning your drawing out beforehand is also taught. After the drawing portion, the kids are led through suggestions/ tips/ ideas on how to add the color to their drawing. It is all very simple and step by step. But this is not a "childish" program. It was simple, easy and fun, but they were not playing. I felt that my kids were learning real art techniques and they definitely were proud of their work when they finished a lesson.
The girls' opinions:
Kaytie:
I liked it. It could have been a little more descriptive because it was hard to draw some of the stuff. I just needed more steps sometimes. I liked that it had both the video and the power point so that when the video went too fast I could watch the power point instead. I learned a lot of new techniques and I like that the art was something cool that I could be proud of. It wasn't just a craft for little kids.
Abbie:
It was fun. I learned how to do a hidden butterfly. I liked not having not hit the pause button. I liked the art I could make. There was nothing I didn't like.
I liked that the girls learned art techniques and methods without me having to get involved. I always appreciate programs that don't require me to acquire knowledge first. And I liked the emphasis (in every lesson) on encouragement and how it was reiterated that there is no wrong way to do art. My kids can be their harshest critics and mommy encouragement just isn't the same as hearing it from someone else.