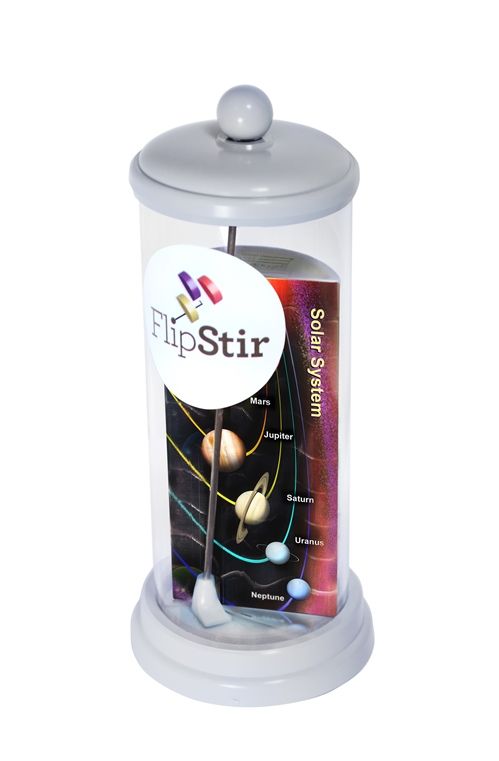 Sometimes reviewing for The Schoolhouse Review Crew is hard work. Sometimes it is just plain fun. Like when we were asked to review for
Enlivenze LLC
. We had our choice of a FlipStir Puzzle and we picked
Level 2 Solar System
.
These are simple little puzzles that look incredibly easy at first. That's why I picked a Level 2, because I thought we would be way beyond a Level 1! But trust me, it's harder than it looks!
This puzzle is contained in the clear plastic tube and you solve it by manipulating the pieces with the metal stick that has a little "foot" on the end.
As soon as it came in the mail, Abbie tried it. It took her about 5 minutes of shaking and poking before she gave up. I played it with it a little, got one piece in place and put it down in frustration. So Kaytie grabbed it. It is brightly colored and unique so it looked fun and she thought it would be easy! The boys were at summer camp, so she had it all to herself. I promptly forgot about it, figuring that maybe the boys would solve it or probably Daddy would so I wouldn't even think about it until they got home.
Then a couple days later, Kaytie brought it to me to show me that it was solved!!!! She had figured out a clever little trick that made it quick and easy to solve.
Once we knew the trick, we all could solve it!
When the boys got home, we let them struggle awhile before we told them what to do. Daniel solved it before we said anything.
But eventually, we let Nate in on the secret and he did it, too!
I don't know... maybe the shirt makes them smarter?
There are currently four of these clever little puzzles. Rainbow Pencils and Tyrannosaurus Rex are level 1 (the pieces have smooth edges). Solar System and Statue of Liberty are level 2 (the pieces have jagged edges).

What I loved most about it is that there is no fear of lost pieces. So we can take it anywhere and give it to anyone (even a crazy toddler!) and don't have to worry about losing parts or it getting chewed or ruined with water. None of the usual bad ends that await our puzzles.

It's a definite challenge, even for us adults, but is conquerable even by an impatient nine-year-old who likes things to be easy.

These are great to give as gifts, to save for long car trips, or just to have around the house to amuse a bored kid. Puzzles are good for the brain so I plan on keeping our handy in our schoolroom to entertain the toddler or to hand to a kid who needs a mental break or is just waiting for his turn for me.


Kaytie: It was hard until I figured out the trick. I figured it out by accident. I think they should have told us what it was supposed to look like when it was solved. Mom didn't tell me it was on the website so I was confused.

Nate: It was kinda hard to solve. It was an interesting puzzle.

Daniel: It was fun and very entertaining. I'm happy that it doesn't take so long to solve it. I didn't know there was a trick until after I solved it, so I feel pretty smart.

Abbie: It is fun! When I solved it I was happy and proud. It took work but I'm glad I did it.

To see what other Crew Members thought, click on the banner below!