I have known from the beginning of our homeschooling career that the kids would have to have a foreign language credit or two when they reached high school. I have known even longer than that that foreign languages are best learned when one is young. And I have known the longest that immersion is the best and easiest way to learn any language, native or foreign. So I chose Spanish (based on where we live, because, after all, what else does one learn when one lives in Texas?) and we have used many different programs over the years to give the kids some level of fluency. Some we've loved, some we've hated, some have just confused us, but today I am going to tell you about one of my personal favorites,
Foreign Languages for Kids by Kids
.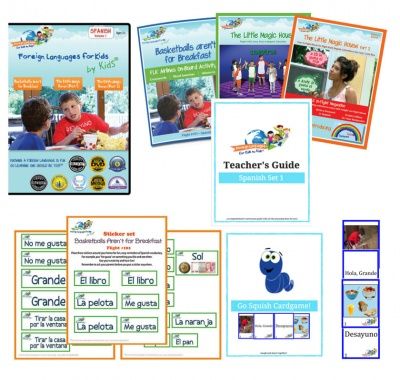 We were sent
Starter Set 1
which consists of the first 3 levels of the program. We were also given the card game Go Squish! which you can currently (but only for a limited time) get free when you order this set.
The Starter Set consists of :
a Teacher Guide for each level
a workbook for each level
a DVD that has all the lessons for each level
a set of stickers with the Spanish vocabulary words on them
flashcards
The main part of this program is the DVD lessons, because this is an immersion program. The DVDs follow a day-in-the-life of a family of three boys, completely in Spanish. The style is reminiscent of Sesame Street, and as such, is a little bit cheesy, but it kept all four of my kids engaged anyway. Vocabulary words are pulled out of the dialogue and emphasized. This vocabulary is then reinforced in the workbooks, the games, the stickers, and the flashcards and many, many activities in the Teacher's Guide.
The goal of Foreign Languages for Kids by Kids is to teach your child their second (or third, or fourth!) language the same way they learned their first one: by listening, watching, and puzzling out what the words mean and how they are used in daily life.
As I mentioned before, I was already sold on the immersion idea, but I was pleased by how this program implements that idea. The DVDs are meant to be watched over and over, with the kids figuring out the language over time and exposure. The teacher is told not to translate or explain what is going on for the kids. The words they learn are then used over and over again with fun and simple games that even a non-Spanish speaker like me could pull off. In short, I don't have to know the language to teach it!
The Teacher's Guide has all the information you need for the lessons: a description of what to do, a short summary of the video, a vocabulary list for the whole level and then ones for each lesson, and several activities for each lesson. It is simple, colorful, and easy to follow.
The workbooks are full-color, consumable, paperback books that provide a place for your kids to interact the vocabulary by filling out crossword puzzles, writing Spanish words, matching, filling in the blanks, and learning some simple grammar rules. The Teacher Guide tells you when to do which pages. It never took us very long to fill in a page (we worked together) and it was not at all tedious to my writing-phobic kids. The answers are in the back of the book.
The flashcards were sturdy and the perfect size for little hands. They came with a booklet of rules for the game Go Squish! The kids enjoyed this game that reviews vocabulary words, and I liked that there were a lot of variations in the rules so we could easily adapt it to what we needed.
The stickers are for labeling your child's environment with Spanish words. I freely admit here that we did NOT do this. I tried something similar once when the kids were in preschool and I still, to this day, regret it. And let's not even talk about how my husband still shudders whenever he hears the word "sticker". Instead of peeling them off the backing, we just cut them out, backing and all, and laid them on top of things. It worked and left no residue!
I am also going to admit that we tweaked a lot of this program. My kids are 13, 12, 10 and 9, so we are kinda on the edges of being too old for the slow pace that the Guide gives. (I'm not going to say too old for the program, because older kids can definitely get a lot out of this program!!!) Also, my older two have been studying Spanish for years and knew about 95% of the material. My younger two have also had exposure to Spanish and knew at least 20% of the material. So this was mostly review for the big kids and the little kids picked it up very quickly.
We watched each level's video in one go, instead of spacing it out. We did re-watch it several times, following up with the suggested activities and a lot of games of Go Squish! We worked together through the workbooks, and did most of it orally so we could repeat it several times. I did not put a lot of emphasis on the simple geography lessons that were included because my kids knew it already.
We did put most of our attention on the DVDs. Despite being cheesy, my younger kids watched with out complaint and my older kids would show up to watch even though they were not meant to be a part of this review.
This is what they have to say about it:
Kaytie:
It would have been really helpful if I were just learning Spanish. The accent made it difficult for me, a couple of the words were hard to understand, but mostly it was the same, so it was ok. I really liked the Go Squish! game because it is a good way to build vocabulary especially since you are only supposed to speak in Spanish when you play.
Nate:
It would be great for a beginner. It has starter words and advanced words so I did learn some stuff even though I knew most of them. I definitely recommend it!
Daniel:
I liked it because it taught me a lot of words that I need to speak Spanish fluently. What I didn't like was that it didn't say what the words that I really wanted to know were but focused on other words. I really liked the Go Squish! game.
Abbie:
I liked it because it was interesting. It was hard to understand at first, but that got easier as we watched it more. I really liked Go Squish! I also liked how in the video how it "showed" you what the words meant so I could figure them out. It's a good way to learn Spanish.
So our "pros" for Foreign Languages for Kids by Kids:
It is an engaging way to learn a foreign language. The videos were well done and kept our interest. Not one kid rolled their eyes or complained about watching them. They all learned something new each time we watched. After we watched a lesson, we all found it easier to "think" in Spanish instead of translating back and forth.
It is an awesome tool for a beginner. And it is even an effective tool for a more advanced learner like my older kids.
The games (especially Go Squish!) were a perfect way to reinforce learning. The kids loved playing manzana, manzana, naranja, (or an apple, apple, orange version of duck, duck, goose) and answering the question: donde esta?
It makes it so easy to teach Spanish to my kids even without knowing the language myself. In fact, it was a piece of cake for me to learn right along with them!
There was no prep work involved for me. This is a totally open and go program.
My kids learned so much!
The "cons" are:
The pages in the workbooks are slick and hard to write on for my younger kids.
There are only three levels. We want more!!!!
I wish the boys in the videos had been a little bit nicer to each other. They weren't out and out rude, and, in fact, didn't act much differently than my kids do to each other, but there was a little bit of attitude that bothered me a bit. I don't think they needed to be syrupy-sweet, but a little modeling of kindness would have been nicer than the sighs and eye rolls and wrinkled noses the boys displayed.
And finally, one that might not be a con for you at all... this program teaches "Spain Spanish" and not "Mexico Spanish". The main difference is in accent, for they pronounce words differently. But for those of us who have learned primarily Mexico Spanish, it was really hard to understand what they were saying sometimes and I got a little confused a time or two.
All in all, however, I loved Foreign Languages for Kids by Kids and HIGHLY recommend it! It has made my list of Favorite All Time Curriculum for sure!