Health is not a required subject in our state. But since I see it as an important topic for kids to know, I was pleased to be given the
WAY Comes Home Kit
from
HomeSchool Scholastics, an i4 Learning Company
to review.
I knew there would be several components involved, but I was quite taken aback at the size of the box we received in the mail! And it was full of stuff! Daniel took one look at the contents and said, "Oh! A
fun
review!"
And it was. The program consists of a DVD, a Parent Guide, student journal, vocabulary cards, posters, and all the equipment you need to complete the activities. There is also an online component, but we were just asked to review the physical parts. Which was ok, because there were a lot of physical parts! A scale, soft balls, fingerprint pad, measuring tape, counters, glitter-germs, and even a working stethoscope! That was my kids' favorite part!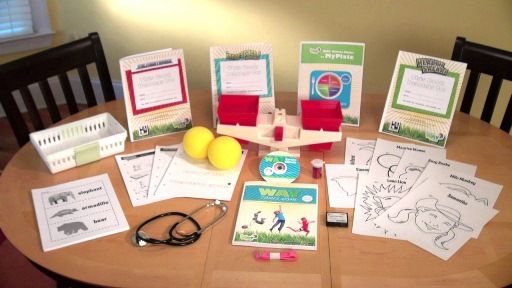 WAY Comes Home is geared for elementary aged kids: grades K to 5th. It is bright, colorful, and packed with a wide variety of engaging activities. There are five lessons or Modules titled:
Getting Started
Where Do You Begin?
Let's Get Active
The Nutrition WAY
Health -- It's Personal
Each Module is divided into three distinct sections aimed at different age groups. The first section is called Health Safari and is intended for Kindergarten and 1st graders. The second section, Me Mysteries, is for 2nd and 3rd graders, and the third section, Innerspace Adventure, is for 4th and 5th graders.
There is a different journal for each age group, but all the lessons are in the Parent Guide. This guide is colorful and eye catching. It was easy for me to find the place I needed to be and to quickly and easily pull the items I needed for the activity I wanted to do. I liked that they had all three levels together, because even though my kids are 4th and 5th graders, I did pull some activities from the lower levels that I thought they would enjoy and learn from.
Each Module is laid out the same way, with ten different sections
Parent Prep: gives you a heads up on the background of the lesson
Lesson at a Glance: a quick summary
Get Things Ready: lists everything you need to gather in order to teach the lesson, and includes a list of optional books just in case you want to use them
WAY Vocab Words: vocabulary words related to the lesson
What to Do: detailed instructions of what to do for each lesson with extra tips on how to include older or younger kids
Art Attack: an extra art activity for the kids to express what they are learning
Weekends with WAY: extensions to the lessons in order to draw out the learning about health and/ or share it with friends or family
Pray/ Reflect: Bible verses and inspirational quotes to help you add spiritual and moral values to the lessons
WAY More Resources: websites for additional resources
WAY More Fun: extra odds and ends to extend the fun
The DVD offers video clips that introduce each lesson and physical activity exercises that can easily be done in your home to keep your kids moving!
A major part of the program is the journaling the kids are expected to do. There is a different journal for each age group and they are consumable so you need one for each child. The first thing I noticed about the journals is that the covers are blank. This is so that the student can decorate it however they please. The journals provide a guided, age appropriate place for the student to record their learning adventure. The K -1st has a lot of coloring pages and drawing spaces while the 4th - 5th journal has plenty of notebook paper style pages for the kids to write on and the 2nd - 3rd book is a mix of the two.
This program was very easy to use. Everything I needed (except pencils and crayons etc.) were either in the box or in the Parent Guide. I was able to just open the guide and start teaching. We would spend a few minutes a day watching the videos, doing some exercises, playing some games, talking about our health and whether or not we made wise choices and journaling all our learning.
Abbie came to quite the realization when she used pennies and the scale to compare the calories she takes in with the exercise she gets. And I loved it because I didn't have to say a thing, she got it all on her own.
I thoroughly enjoyed using WAY Comes Home. It is a well thought out program and made it easy and fun for my kids (and me, too!) to learn more about nutrition, exercise and how to improve our health.
It's a perfect fit for early elementary kids. My middle school kids were always allowed to join in whenever they liked, but they mostly just hung around when we were working with the cool "toys" like the stethoscope and then wandered off when the real work began. It was almost too "young" for my fifth grader, but I was able to keep his interest in pretty much everything but the DVD segments. My fourth grader was all in and as you probably noticed from the pictures, the toddler that we babysit had his moments of participation as well. So this is clearly a program that includes the whole family in some way!