After all the times we have reviewed for
Heirloom Audio Productions
, I hardly need to mention that we were excited to receive their newest adventure...
The Cat of Bubastes
.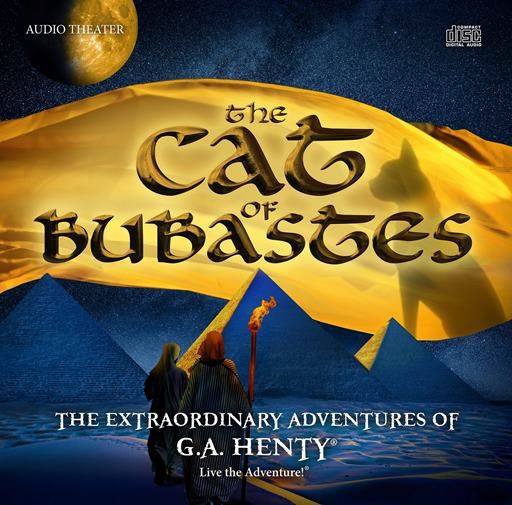 We have reviewed all of the first five of these adventures, so we were incredibly excited to receive the sixth story to listen to and review. Since we spent a lot of time in ancient Egypt in our history studies last year, the kids were interested in a story set there.
The great thing about Heirloom Audio is that their stories are not just books read aloud. No, these are full scale presentations with different actors, sound effects, and a musical soundtrack. It is a listening experience! It is high-quality as well, produced in London with well-known actors doing the voices. People that my kids delightedly recognize, like Sylvester McCoy (
Dr. Who, The Hobbit
), Elizabeth Counsell (
The Chronicles of Narnia
), and John Rhys-Davies (
The Lord of the Rings, Indiana Jones
).
In addition to the 2 disc CD set, we were also sent a myriad of bonuses:
MP3 of the production
so we can listen in other places besides the car or on that one specific computer that actually has a working CD drive.
Cat of Bubastes E-
book
in full color so that we can read the original story. These books are not your everyday e-books, either! They are well formatted and on a lovely Egyptian background with pictures of a cat and of the Sphinx.
Official MP3 Soundtrack
so that we (if we were of a mind to) could listen to the music from the story. I am not that kind of person, but sometimes my children like that sort of thing.
a printable cast poster
inspirational verse poster
because each story is entwined with a Scripture verse that illustrates what the main character learns about the character of God.
access to Live the Adventure Website
a behind-the-scenes video
that is fun and interesting to watch if you are at all curious about how these productions are put together!
and finally, a
Study and Discussion Guide
This is 47 pages long PDF and perfect for helping your kids dig a little deeper into the story. The Study Guide is divided into naturally occurring segments of the story and each segment has questions that are separated into three categories: Listening Well (which are basic comprehension questions), Thinking Further (which requires drawing conclusions or further research or just a little more thinking on the part of the child), and The Defining Word (which are vocabulary words your child might not know. The definitions are not given, they have to be looked up.)
The Study Guides are always one of my favorite parts because they include pictures, historical background information, Bible studies, maps, and even the occasional activity suggestion. I enjoy looking at it with the kids. We go over the questions orally as a group. I don't make it a high-pressure sort of thing, we just read the questions and whoever has an answer or an idea or a thought will chime in. When they run out of stuff to say, we move on to the next section!
The Cat of Bubastes is a story set in Ancient Egypt. It actually starts on the shores of the Caspian Sea with a young prince, Amuba, and his friend Jethro, who have been captured after a battle where Amuba's father was killed. They are taken to the city of Thebes where the real adventure begins. They are sold into slavery yet eventually form relationships with their owners. I don't want to give away the story, so I will just say that Amuba is introduced to the Egyptian gods but also to the One True God. He learns about slavery to sin and freedom in God as well as God's provision. The "tragic" death of a cat (worshiped by the Egyptians) leads (eventually) to an unforeseen happy ending for all.
The Cat of Bubastes is an exciting story that encourages character and points kids to the One True God, educates students about the culture of ancient Egypt, and entertains with a quality story line. As we always do with Heirloom Audio Productions, we enjoyed it thoroughly and highly recommend it.