Way back in the very beginning of our homeschool journey (well, at least the kids' journey) when Kaytie and Nate were itty bitty first graders...
we chose
Apologia Educational Ministries
for our science. We started with Astronomy because it was Day One of Creation and we enjoyed it a lot. And now, all these years later, in middle school, Kaytie and Nate are still doing Apologia science! So we were happy to be asked to look over the new Apologia Astronomy:
Exploring Creation with Astronomy, 2nd Edition
and give you an informative review about what has changed in the 2nd edition.
Exploring Creation with Astronomy has always been packed with information, heavily sprinkled with beautiful pictures that illustrate the text, and stocked with activities that reinforce the learning. It still has all that, but now has much more.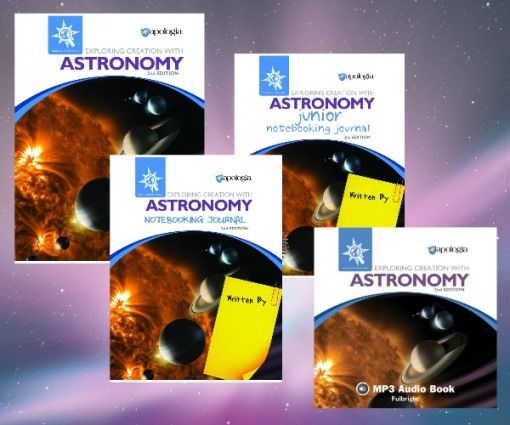 For those of you who have never seen or used this program before, I will describe it briefly first. Then I will talk about the changes.
Exploring Creation with Astronomy is a Charlotte Mason style science curriculum for elementary students. It is (obviously) Bible based and teaches from a Creation perspective. The text is lively and engaging and speaks directly to the student. It works best as a read-aloud, especially for younger students. It contains 14 Lessons, each complete with hands-on activities and questions posed in narration style. There is no "teacher guide" because everything you need is in this book, including a Supply List (by lesson) for the activities.
Also, for each lesson, there are online "extras" that you can access with a code given to you when you purchase the book. These extras are links to additional information and online activities to extend the learning for the child. These are fun.
There is more to the program, but this is all we had when we used it, way back when, so I will tell you about the rest after I compare a bit.
To start the comparison: the new edition still has 14 lessons, but they are arranged slightly differently: Uranus and Neptune now have their own lesson (they shared in the old version), "Pluto and the Kuiper Belt" has been updated to "Kuiper Belt and the Dwarf Planets" and the lesson on the stars and galaxies has been combined with the lesson on space travel.
The new book still contains a supply list and answers to all the narration questions. It is still full of content-rich, living-book-style information. It still has the fun, engaging activities and What Do You Remember? sections. Everything that I liked about Apologia is still there. The new book is just, so much more attractive and easier on the eye than the old book. Here's a picture to show you the difference:
These are the first lesson pages of each book. I love the insets that break up the text and make it easier to read. I love that there are fewer illustrations and more real pictures. I love that it is a more colorful, engaging page. Most of my kids and I are visual people and the new page layout makes it easier for us to read and remember the wealth of information.
Ok, so, now in addition to the text book and online extras, you can now get fun go-alongs to enhance and enrich your study! I mentioned before that my kids are visual learners, they need to see it to "get it". But I have a friend whose son is an auditory learner, he needs to hear it. For auditory kids, there is an MP3 audio book. This is the complete text read aloud by the author, Jeanne Fulbright.
One of my kids is a kinesthetic learner. For him, in addition to the experiments and activities in the book, there are notebooking journals. There are two of them, the jr. version for "beginning writers" and the regular version for well established writers. These are THICK, spiral bound, full color, consumable notebooks where the kids record everything they learn in a crazy variety of ways. And even include a suggested schedule for the course.
The jr. notebook has primary lines for writing, lots of blank space for drawing, coloring pages, mini books, crossword puzzles, copywork and even places to record the activities.
The regular notebook has all the same pages, but just sized age appropriately. It also has review questions and/or journaling pages instead of coloring pages.
We thoroughly enjoyed Exploring Creation with Astronomy when we went through it years ago, but now it is so much more... more beautiful, more engaging, more informative, more inspiring, better lay out, more adaptable... I am looking for a way to squeeze it back in and do it again!
To read what other Crew Members thought, click the banner below!