We are "eclectic" homeschoolers. That means we use a lot of different methods to get the job done. We like to notebook, play games, build lapbooks, color, play games, do puzzles, and even fill out those much maligned worksheets. And now I have discovered a website that offers all of that and more as downloadable printables. We have been reviewing the site
CHSH-Teach.com
and the
CHSH Download Club
.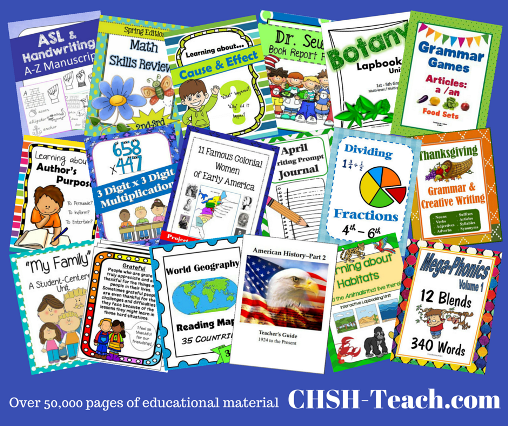 CHSH-Teach.com
is a place to connect, to share, and to find all sorts of goodies for your homeschool. The site includes a forum, a community blog, social groups, and tons of resources like homeschooling laws and devotions as well as the actual downloads.
The cool thing about the downloads is that members can upload what they create, so there is a lot of variety in the content. A lot of this content is free to anyone, but purchasing a membership gives you access to it all. And believe me, there is enough there that membership is worth it. Especially since people keep adding to it all the time.
The Download Club is super easy to navigate. You can search them by subject, by grade, by topic, or even some of the younger stuff by month (how cool is that when you are trying to pull together seasonal fun for preK and early elementary?)
I feel, though, that I haven't made it entirely clear what all exactly you can find at the
CHSH Download Club
. This is not just worksheets. First, let me elaborate that there are things for math, Language Arts, science, social studies, Bible, health, arts/music/crafts, foreign languages, record keeping, calendars, dictionaries, classroom materials, and more.
These things are not just worksheets, there are full unit studies, nomenclature cards, posters, copywork, reading lists, map work, diagrams, lapbooks, notebooking pages, ebooks, vintage materials from the 1800s, and full curriculum for all different ages.
There is no way I can fully describe to you everything you can find here, so let me just tell you the parts we most enjoyed.
Kaytie, who is in 8th grade and independently studying Astronomy, was interested in the 159 page Sky Observer's Guide. It is a PDF ebook that we could drop onto her Kindle.
Daniel and Abbie (5th and 4th graders) found a Human Anatomy coloring page and some diagrams that we have been using to round out their science the past few weeks.
Nate, who loves chemistry, has been perusing the Middle School Chemistry Textbook. This PDF ebook is 716 pages of a full on curriculum. It has engaging text, demonstrations and experiments, links to videos, recording sheets, and plenty of illustrations to enhance the information.
And we all used some mapping pages to supplement our geography study of Europe. I even found an Evan Moor geography workbook!
Now, understand, I did not find something for each and every topic that I went hunting for. These are created by moms, so it pretty much has to be something that someone else saw a need for. But trust me, there are thousands of possibilities here. It would be pretty hard not to find something to use for your homeschool, even if was just to supplement what you are already doing, like we did with the geography and anatomy pages.
So I highly recommend
CHSH Download Club
. I personally plan on using the fire out of it over the next year. But you don't have to just take my word for it. Look over the freebies for yourself and read what other Crew members have to say by clicking on the link below.