My daughter Kaytie is a writer. It is what she does in her free time for fun. She writes stories, a lot of stories, but sometimes, she even enjoys writing the more "boring stuff" for school. And she plans on writing in some form or other to be a major part of her college education and her future. So I thought she might get some good out of
Excellence in Literature Handbook for Writers
from
Everyday Education, LLC
.
We were given a download of the ebook which comes in PDF format. I put it on our iPad so it would be handy for her to reference.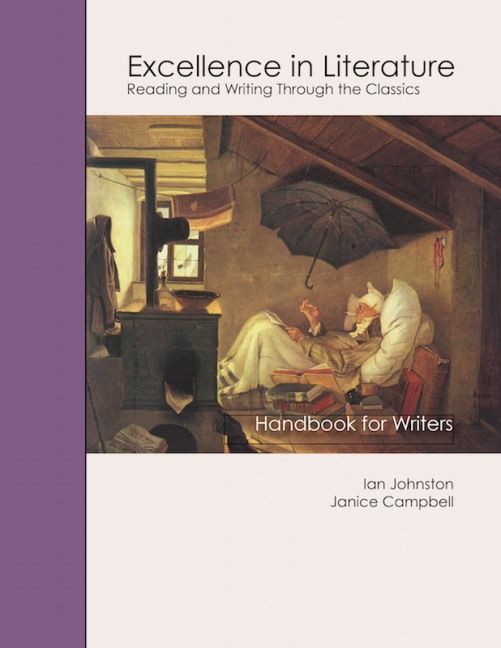 With 420 pages, this book is enormous. I think it must cover every possible thing you would ever want to know. It is aimed at high school and college age writers. It offers samples and full instructions for writing essays and arguments. It also gives rules and information for style and usage.
The handbook starts with arguments, or "an essay that clearly and convincingly presents a point of view". This is basically short, quick lessons on how to set up your argument, define the focus of your argument, decide on your opinion of that focus (your thesis), form a good thesis statement, set up an outline, and then compose strong paragraphs.
The student is taught how to write an introduction, a main body and a conclusion of a persuasive essay, with every detail covered in the lesson from logic to coherence to structure. By the end, your student should be able to write a really strong essay.
Next is a section on literary analysis essays and then research papers. Now, to be clear, these are not "curriculum type" lessons, but just information with some examples and exercises for your student to do in order to gain understanding of the process.
Next is the usage and style section. This section is HUGE. It covers everything:
phrases, clauses, sentences
words (slang, names in formal writing, euphemisms, commonly misused words, frequently misspelled words, abbreviations, etc)
basic punctuation
pronouns
parallel structure
modifiers, gerunds, infinitives
clarity, logic and structure
references and bibliographies
basic format for essays and research papers
with hundreds of subjects within those topics.
Each section and paragraph is numbered so that as you grade your student's writing, you can jot down the section number by the correction and your child knows exactly where to find the information needed to correct the mistake and learn from it.
Kaytie is 13 and in 8th grade. She looked over the ebook to get a basic idea of what it held. She read her way through the first part about writing arguments and did a few of the exercises. Up till now, she hasn't ever written anything as serious as an essay, so I was pretty happy that she was able to read this before she attempted to do so. As I said, she writes a lot, but mostly fiction. I haven't tried to give her any high school level assignments because I really don't know how to go about it. The Excellence in Literature Handbook for Writers helps us both, me as the teacher and her as the student.
But what she has really enjoyed using is the usage and style part of the book. As she first read over the table of contents, she exclaimed, "Commas! Yea! I am always confused about commas. This will be so helpful!"
Now, whenever she has a question, she has a place to go to find the answers.
This book is definitely something she will use for years to come.