I love holidays and one of my favorite holidays is Christmas. I love the excitement and the traditions. I bask in the sparkle and glow. I anticipate the joy my kids have on Christmas Eve and the delight my kids will display on Christmas morning. I enjoy the shopping, a thing I normally avoid, because it's so much fun to choose great gifts for the people I love.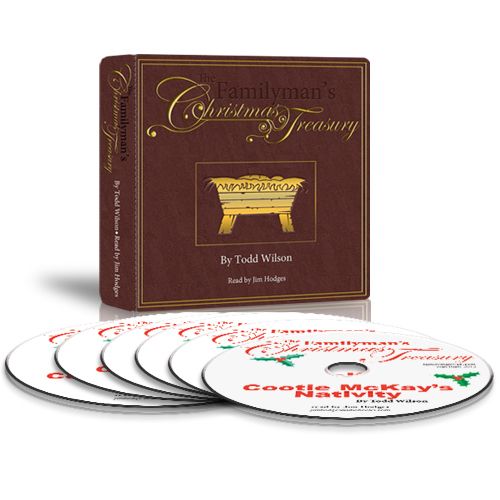 We were sent
Digital Downloads
for the purpose of this review. We received eight different stories. Each story is about Christmas. Not about the "world's Christmas" of trees and Santa and presents that don't last. Each story reminds the listener of the real reason for Christmas: to celebrate the birth of the Christ Child who grew up to become the Savior of the world.
Cootie McKay's Nativity, book one is the story of a small town who learned that Jesus died for everyone, even those people who are a little bit (or a whole lot) weird. They also learn that those oddballs can have an awful lot to offer if you are willing to accept them.
Captain Chaos and the Manger Blaster, book two is reminiscent of the well told tale of wishes coming true. What would happen if the manger was blasted and Jesus was never born? Captain Chaos helps Jason discover just that after Jason gets into trouble for fighting with his sister and wishing he could change the Christmas story into something more exciting.
The Stranger, book three is the tale of how a family's Christmas Eve is rapidly being ruined. But the kindness that they show a scary stranger reminds them of how Jesus' love is the reason we celebrate in the first place.
The Bishop's Dream, book four is the story of Bishop Nicholas and a strange dream/vision that brings him forward into the future. He is shocked to see that Christmas is not a celebration of the birth of the Savior but a festival of feasting and presents. He is saddened that people think Christmas is about Santa Claus. "It's not about me! It's about HIM!"
(A little heads-up to my Catholic readers: there is a slight "dig" at Nicholas being called a Saint.)
Harold Grubbs and the Christmas Vest, book five is a dad's memory of the "meanest man in town" and how Jesus changed his life. Harold Grubbs in his Christmas Vest is a reminder to an entire town of the power of Jesus' love.
Gladys Remembers Christmas book six is a heartwarming story of an unloved middle aged woman. The memory of Christmas past helps her remember that no one is truly unloved because Jesus loves each of us enough to come to earth and give His life for us.
The Secret of Snow Village book seven is a little story of a little girl's magical visit to her grandmother's miniature Christmas village which teaches her that Jesus is the center of Christmas, not all the fun trimmings.
It's Called Christmas, book eight is a story from the future. A boy uses technology to send back to us, people in his past, a warning. In the future, religion, Christmas, Jesus, the Bible, have all been erased from public knowledge. Christmas has become a meaningless holiday of trees and gift giving and no one knows about the love and sacrifice of the real story of Christmas. Thanks to the bravery of stranger, the boy, Nook, learns about Christianity and sends a warning back to us so that we can, hopefully, keep it from actually happening.
Each story is written by Todd Wilsos, read aloud by Jim Hodges, and is from 15 to 30 minutes long. Each story points us toward Christ but does not ever condemn the partaking in all the traditions of the holiday. The message of every story is that presents and trees and cookies and all are fun (not bad) but that they should never keep us from remembering that the reason for all the good things is the birth of our Lord Jesus Christ.
Since the stories are so short, it was easy to find time to listen to them. I enjoyed every one. My children, who prefer high-action tales of derring-do and enormous acts of bravery and heroism to heart-warming, inspirational stories such as these, only listened to a couple of the stories with me before they starting looking at me sideways and finding other things to do when I turned them on.
But I don't care.
The Familyman's Christmas Treasury
are well done, wholesome tales that are perfect for those December days when your children's hands are busy with baking or crafts or gift-making. I plan on playing the entire treasury to them when I have such a captive audience. I do believe they will enjoy them a lot more with Christmas looming on the horizon and they need the reminder that "It is about Him".