Sometimes, when I excitedly announce to my family the imminent arrival of a new review item, they look at me askance. "We have to do WHAT?"
But when they heard that this review was to do with food, they were all in. They like to eat so they eagerly waited with me for the arrival of our
MyFreezEasy.com Freezer Meal Plan Membership
from
MyFreezEasy
.
I, personally, don't generally get too excited about food. I'm the kind of person that eats to live rather than lives to eat. I can be pretty picky but it's not just that. I can often simply forget to eat because so many things are more important. It follows then, that cooking is not my favorite household chore. I taught my kids to cook when they were quite young and we are all rather proud of the fact that the older two (ages 12 and 13) can cook anything I can while the younger two (ages 9 and 10) can pull together a meal if need be.
Also, I have some picky eaters in my house. Not to name names, but one of them is one I did not raise and the other one was born later in my life when I was too tired and overworked to fight that battle. She is not as picky as the other one whose Name We Do Not Speak. ((ahem))
So I've never been too interested in meal plans. Between the fact that we have a workable menu plan that all of us can pull off, and the ones who won't eat certain things, I never saw the value in it.
Well, at least, not until this fall. Combine an incredibly busy three months with an opportunity to try one for free and I was willing to give it a shot. Plus, MyFreezEasy had an extra incentive. Let me explain...
MyFreezEasy is not "just" a meal plan. First, it is many different meal plans. Each month, I received access to a month's plan, already completely filled out and done for me. This plan is 10 meals with recipes, shopping lists, and instructions on how to double the recipes and freeze half. So in one fell swoop, I can plan, shop for, and prepare 20 meals. So I can do almost a month's worth of cooking in one hour.
I have never really been able to wrap my head around "once-a-month" cooking before. But with MyFreezEasy, I don't have to. All the work of thinking it out is done for me and I just have to follow the instructions.
But what about my picky eaters? How do I let someone who doesn't even know us pick meals for us? And what about the other 10 days of the month? Not to worry, that is taken care of.
I can use those 10 meals, but I don't have to. When I go to This Month's Meal Plans, I have many options. I can choose:
20 meals plan [10 recipes for 20 meals total]
Traditional meal plan [5 recipes for 10 meals]
Gluten Free meal plan [5 gluten free recipes for 10 meals]
Slow Cooker meal plan [5 recipes for 10 meals that utilize the crock pot]
Clean Eats meal plan [5 recipes for 10 "clean" meals]
All Chicken meals plan [5 recipes for 10 meals using only chicken]
All Ground Beef meals plan [5 recipes for 10 meals using only hamburger]
All Pork Chops meals plan [5 recipes for 10 meals using only pork chops]
Or, (and this is the best part!) or, since I have the Premium Membership, I can create my own plan. I can swap recipes in and out of the above plans or I can simply pull 5 or more recipes from any of those plans to create my own, customized plan. When I do this, I can then download the plan and with it comes all the recipes, shopping lists, and doubling/freezing instructions. It is just that easy. And that awesome.
Plus, once I download it, it is forever on my computer, in a PDF, so I can reuse the plan at a later date. I also always have access to the recipes that we really loved. Each recipe is on it's own page, so I can print just the ones that I want and put them in my recipe book in any order that I want.
There are also printable labels to put on your freezer bags that tell you: what it is; times and temps information for cooking; and when you froze it (you have to put that on yourself, of course, but there's a place for it).
When I create my own, customized plan, I can choose meals based on:
Type of Protein: chicken; ground beef; other beef; pork chops; other pork; seafood; or vegetarian;
Cooking Method: slow cooker; dutch oven or saucepan; baked; skillet; grill; or one dish;
Dietary Preferences: recipes I have marked as favorites; gluten free; dairy free; gluten, dairy, soy free; Paleo/whole 30; top 8 allergy free
And all of the above can be mixed and matched. I can also set it to serve 2, 4, 6 or 8 people. The drawback is that I can only choose 5 meals at a time and I have to choose 5 meals. We do a "get your own" night on Sundays, so I don't cook 7 suppers a week, but that still leaves me with needing to plan 6 (or 12) so I think it would be awesome to have the option of adding one more meal so I could do 2 whole weeks in one go.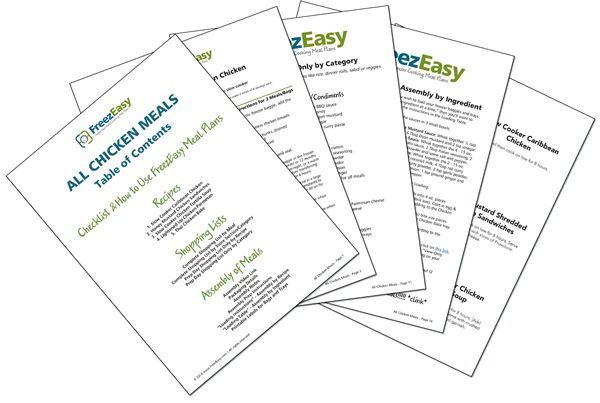 MyFreezEasy was super easy to use. After some initial poking around the site, (there are welcome videos and how-to videos to help get you up to speed) I chose 5 meals quickly and easily and downloaded the PDF. On the PDF I scrolled down to the Freezer Prep Shopping List by Store Section page and added the ingredients to my regular shopping list.
After shopping, I opened the PDF again (you could print it but I chose to work off the computer until the recipes have been approved by my family) and followed the pre-cook and assembly instructions. One of the things I really loved about this part is that each meal fits into a gallon-sized freezer bag so I could actually fit a week's worth of meals into my teeny tiny freezer and still have room for other things (like ice cream, ahem).
And that was all there was to it. Oh, except for the taste test! So far, not one of the meals has been rejected by my family. Now, I did tweak the recipes here and there a bit. For example, we don't eat onions, so I use onion powder whenever they are called for. I also substitute anything I know certain people won't eat. But they were really easy to tweak and make my own without a lot of extra work and we have so many new favorites!
Oh, and another plus, there are instructions for cooking each recipe as a single meal. So I can choose to just cook a favorite one night if I don't want to take the extra step of freezing an extra for later.
All in all, we are LOVING
MyFreezEasy.comFreezerMealPlanMembership
!!!