The kids and I love playing games and are always eager to learn a new one. So when we were asked to review
Commissioned
by
Chara Games
, we were more than willing.
Commissioned is a unique game. It is based on the history of the Early Church, yet it is not a trivia game and you do not need to have any knowledge of history, the church, or the Bible in order to play. By the end of the game, however, you will have learned something about all three.
Commissioned is a co-operative board game. When I first told this to my kids, they scoffed at me. "No winners or losers? What's the point?" But there is winning and losing. You just do it all together as a team. You play together to, as I explained, "Beat the game itself." Being video gamers, they did understand this. :)
Commissioned is a world domination game of sorts. You are conquering the world for Jesus. Or, more accurately, I suppose, you are planting churches all over the map of the Early Church. You have Prayer and Faith cards to help you and Trials to hinder you, just like the Apostles did.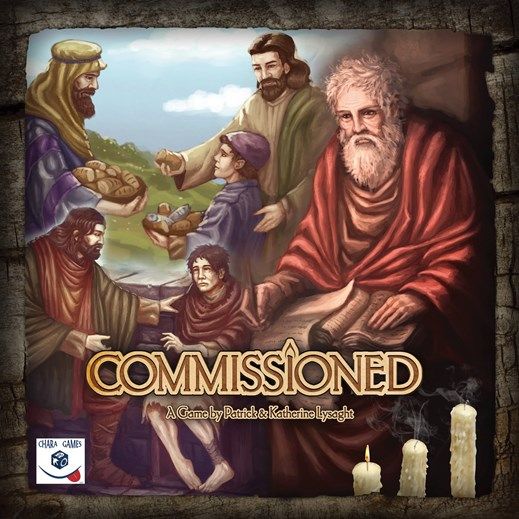 Now there are a lot of parts and pieces to this game. At first glance, it appeared to be incredibly complicated. Indeed, we played the first game with the rules booklet clutched in my hand so that I could pore over it in order to understand every single move. However, about three-fourths of the way through the first game, something suddenly clicked and we were able to play easily and finish the game with a sense of triumph. It helped that we won. :)
Of course, there were a few rules that confused us to begin with that we realized in the middle of the game we were doing it wrong. But we just went with until the end of the game and it was all good. We knew better the next time. In fact, there are many levels to this game. It's ok, and even recommended, to start off easy and add layers of challenge as you get better at the game. We usually play a couple of games between adding challenges.
Despite our initial confusion, this was an easy review for us. I watched the Youtube tutorial, (which you can find on the website) and we played a game together. After that, I watched the tutorial again, and we were good to go for many more games. I think it is a fun game with a lot of learning potential. It's difficult to find truly fun games that also teach history. I loved that it required my crew to work together. They can be competitive when it comes to board games, which means the games usually dissolve into a fight. But, try as they might (and they did) there was nothing to fight about in this game. It's win or lose together.
Now the suggested age range for Commissioned is ages 14 and up. But my kids, ages 13, 12, 11 and nearly 10, had no problems understanding and playing the game. So if you have a kid or two (or four) under 14, don't let the suggested age scare you off! They might just be able to play, too.
Here's what my kids had to say about the game:
Kaytie:
It was fun once we figured out how to play. It has a couple random hidden strategies that we had to figure out. Depending on the standards for winning, there are different strategies to use to get to your goal. I liked that because I like strategy games. I liked that they involved Biblical history in it and the restrictions applied to the time frames in history.
Nate:
It's a good game. It's a domination game but different because everyone is working together and not against each other. The age limit says 14 and up and I think it should stay that way. I liked learning the history. I learned that Barnabas was physically large, and I didn't know that before.
Daniel:
It was fun because we had to work together and find the best way to do what you needed to beat the game. I didn't like how hard it was to learn but it got really easy after awhile. I liked how there was the Apostles and not just random characters. I liked learning about history.
Abbie:
It was fun! It was very complicated at first. I didn't like that the games took so long. I liked that it was based off the Bible. I learned that John teached people about Jesus. I liked that we had to work together to win the game instead of fighting against each other.
Chara Games has another game out: 3 Seeds which some Crew members will be reviewing sometime in the future.