If you know us at all, either in real life or as a reader of this blog, then you know that we are passionately interested in science. So we are always eager for any science related product reviews. The boys have recently been greatly enjoying Chemistry 101 from The 101 Series.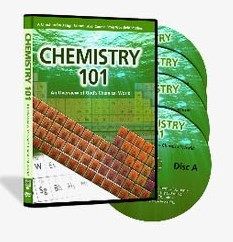 We all love science but we each have our own special science interest. Nate's interest is in Chemistry. When he was just a little guy, he fell in love with the Periodic Table of Elements and has been fascinated by all things Chemistry ever since. Although there have been times when I wondered if it was just the blowing up of things that truly held his interest, he does enjoy reading and learning about compounds and molecules and all the rest.
The 101 Series, which includes Physics 101 and Biology 101, is intended to be a series of high school level, credit earning courses, to meet all your high school science needs. The series is produced by Westfield Studios, a company that was created by a homeschooling dad, Wes Olson to fill a void of uncomplicated but understandable, visual, high school science.
The program consists of a set of DVDs that contain 19 lessons. Each lesson is roughly half an hour long and is given in a conversational style with a lot of visual aids and varying backgrounds. The teacher talks directly to the students. It is casual and engaging. He performs the lab experiments in the lessons for kids like my son who are using the program as a supplement.
The lessons include the history of Chemistry, modern Chemistry, electrons, radiation, particles, the Periodic Table, neutrons, compounds, molecules, and much more.
In addition to the "lectures" is a PDF of an overview of each lesson. This Guidebook also contains discussion questions, quizzes, and quiz answers. Another PDF, the Accreditation Booklet, offers everything required to turn the lessons into a full science credit, including labs, essays and reports, a schedule, research and notebooking assignments, field trip ideas, and even a list of materials required to do the labs.
We used Chemistry 101 as a supplement. Nate loves Chemistry but he is only twelve and I don't think he is quite ready for a high school science credit. So basically I handed him the DVDs and said, "Watch this."
I expected him to watch one lesson and wander off. I thought I would have to use some mommy-persuasion to fulfill the work required for the review. I was wrong. He watched the first three lessons in one sitting. He only stopped because we limit screen-time and I made him stop. He immediately commenced begging to watch more. And it's not just him. My eleven year old son is just as fascinated. They huddle up together on the couch and absorb all the chemistry knowledge.
When I am not letting them watch it, Nate is telling us all the stuff he is learning... pretty much non-stop. He loves these videos! I asked him to give you his opinion in his own words.
Nate says:
I thought it was quite interesting. I learned a lot. I like how he teaches by talking and talking because that is just the way I learn best. The first few lessons give you an overview of chemistry history and then it teaches you the parts of the Periodic Table and the background of the separate elements. I also learned that it rains diamonds on Neptune because the majority of the gases are carbon and since the pressure of the atmosphere is so strong it causes the carbon into another of its forms: a diamond.
I liked Chemistry 101 very much! It is very good for kids of all ages. Anybody over 3rd grade could benefit from this. It gives the basics but then it teaches stuff that I didn't even know. I highly recommend Chemistry 101 to everybody but preschoolers, it's probably too much for them.
I agree with him that even young children will enjoy watching the videos and will learn a lot about Chemistry while doing so. I also think that with everything included in the Accreditation Booklet and the Guidebook, this would be an incredibly full science course for a high school student. I am thrilled to have this in my arsenal of possibilities for when we hit high school in a couple of years.