Like a lot of homeschool moms, one of my favorite things to talk about is curriculum and/or ways to teach my kids the concepts I feel they need to know. I love to huddle up in groups of other homeschool moms to share information and brainstorm creative ideas. Frequently of late, in the these conversations, others have expressed the desire to teach their kids diagramming in grammar. They either chose a curriculum because it taught diagramming or they wish they could find a stand-alone product that teaches diagramming to supplement the program they want to use for grammar.
So I was happy to get the chance to review such a product. I didn't know one existed until I was asked to review
Sentence Diagramming: Beginning
from
The Critical Thinking Co.™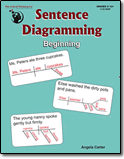 The Critical Thinking Co.™
has been around since 1958 and desires to teach kids analytical thinking with products in math, science, history, reading, and writing. They also offer
software for preschool academics
. We have reviewed for them several times before and have always enjoyed their products.
Sentence Diagramming: Beginning
is a slim paperback book with perforated pages. It is a consumable workbook written directly to the student. It contains 12 lessons:
Simple Subject and Main Verb
Direct Object
Adjectives
Adverbs Modifying Verbs
Predicate Adjectives
Predicate Nouns
Prepositional Phrases (Adjectival)
Prepositional Phrases (Adverbal)
Compound Subjects
Compound Predicates
Compound Direct Objects
Compound Predicate Adjectives and Nouns
Each lesson contains basic information and four worksheets. After the information is given on the first worksheet, the student is asked to find and correct mistakes in diagrams. The second worksheet gives more information and then the student is asked to diagram sentences. On the third worksheet, the student is given blank diagrams and asked to create sentences that fit those diagrams and then put them into the diagrams. On the fourth worksheet, there are sentences for the student to diagram independently.
The Critical Thinking Co.™
offers a very generous copyright so I was able to make copies for my kids. Even so, I felt that this was best taught as a group lesson. So I taught them all together using the whiteboard. I only made one copy and had them take turns filling it out. I felt they got plenty of practice and they worked together and helped each other learn as well.
Since my kids are older (my youngest is nearly ten) and already fairly well grounded in the basics of grammar, we were able to work through the first few lessons rather quickly. We did a whole lesson at a sitting and it was not tedious for them at all.
It was not tedious for me, either. The lessons were quick and easy and if I needed help, the answers are in the back of the book.
While we love our regular grammar program, it does not include diagramming and we felt that this was a perfect supplement to catch the kids up to speed on this facet of English grammar. I am not one that thinks diagramming is incredibly necessary, but this was so simple and engaging that I was happy to have it to just round out my kids' knowledge. It gave them some review of concepts as well. I am really hoping that they come out with additional books to teach even more advanced diagramming. I would love to use them when we finish this one.
The only concern that I have about
Sentence Diagramming: Beginning
is that for moms who are not strong in grammar themselves, this might be difficult to use because the information given is so basic. I would certainly not use this as a stand alone grammar, it is definitely a supplement!
Otherwise, I highly recommend this for teaching your kids to diagram!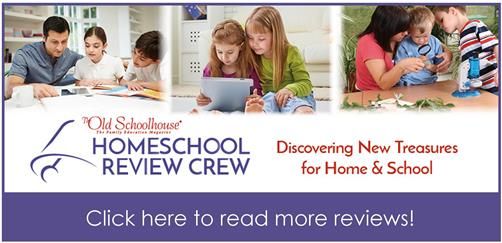 Our other The Critical Thinking Co. reviews:
The Basics of Critical Thinking
World History Detective
Crypto Mind Benders