My oldest daughter is in 8th grade. She is my creative child and a strong independent learner. When we were asked to review a product from
Homeschool Legacy
, she volunteered for the job. She chose one of their Once-a-Week Micro-Studies called
Pirates or Privateers: You Decide
.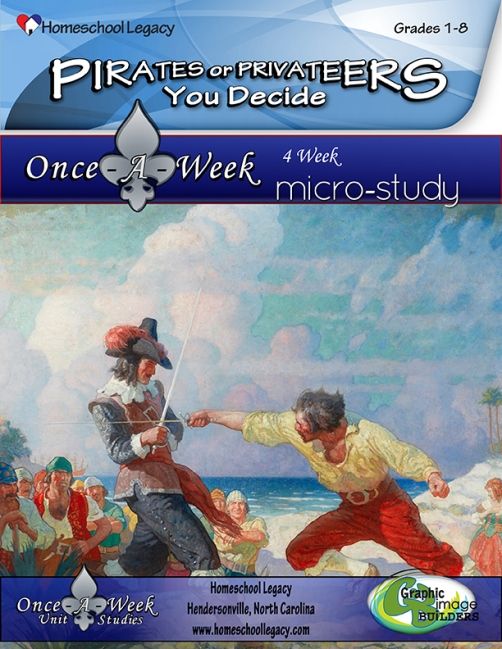 We have reviewed for Homeschool Legacy in the past,
a once a week unit study
about birds. Micro-Studies are like once a week studies, only shorter. They are intended for your child to spend only about three or four thirty minute sessions learning the material. They are designed for your whole family to use together as they span the age range of 1st grade to 8th grade.
We received
Pirates or Privateers: You Decide
as a PDF. It is only a 23 page document, so it wouldn't be that much to print. However, since she was using it independently, I just let her use my computer to read and do the work.
The study is divided into four sections, or weeks. The first week is on Early Pirates. After a brief discussion about the differences between real pirates and our romanticized notions, it explained that pirates have been around a long time, even as far back as the Odyssey. History and Geography are intertwined in this lesson on ancient pirates.
The second week discusses privateers. History, Language Arts and Critical Thinking are brought into play in this lesson. The history of privateers is discussed from the 1550s to the American Revolution. Your family is encouraged to discuss the difference between privateers and pirates and to consider the question: Is there really a difference at all?
The third week covers Pirates of the Caribbean and The Age of the Buccaneers. Along with the history, there is a fun quiz on what pirates were really like and some information on pirates and music.
The fourth week wraps up the study with The Golden Age of Pirates. This is when most of the famous pirates lived. This section talks about how pirates governed themselves and an actual code of conduct is included.
Scattered throughout the study are full color pictures and tons of clickable links. There are also suggestions of books to read, family-friendly movies to watch, and games to play. At the beginning of each week is a list of supplies needed for the activities mentioned.
She did this study pretty much independently. Since it is written directly to the student, it was easy for her to do it on her own. The hard part was getting her to stop at the end of the week's assignment on not just do it all in one sitting.
She looked up links and did the activities linked up. She dressed a pirate, watched a video on pirate songs, used an atlas, read articles, made a timeline and wrote a story.
This is what she says about
Pirates or Privateers: You Decide
It was very well written. I liked how it gave a basic overview then delved a little deeper with the details over the weeks. It mentioned random tips on how to write a pirate story and that was even homework for one of the weeks. I thought that was cool because I am a writer. I also liked how it was multi-media, it gave links for reading stuff, it gave suggestions for things I could physically do, it gave videos... it basically covered all the different learning types.
We both agree that while this would definitely be a fun study for the entire family, it was a great learning experience just for one interested child on her own. We also thought that the other Micro-Studies would be fun for her to as well, especially
Thanksgiving with the Pilgrims
at this time of year!
If you are interested, check out the other
Homeschool Legacy
products the Crew reviewed by clicking on the banner below.