When Kaytie and Nate were babies, we somehow acquired a little book of Bible stories. It quickly became a favorite and Daddy read them a story or two from it every night before bed. As Daniel and Abbie came along, they became a part of the tradition and then took over it as Kaytie and Nate gradually became too old for the simple little tales. Our copy was very old, battered, and in pretty rough condition when I passed it on to a friend for her kids.
Then we were asked to review
The Beginner's Bible
from
Zonderkidz
and the kids took one look and exclaimed, "I remember that Bible!"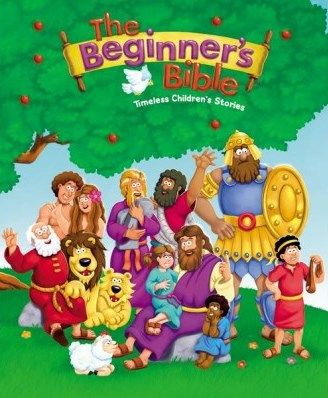 Sure enough, it was an updated version of our old family favorite.
The Beginner's Bible
is a thick, sturdy, hard back book filled with stories. These stories, although taken straight from the Bible, are adapted to simple, easy language perfect for a toddler. The stories are just long enough to hold the attention of a preschooler without omitting any important bits.
There are about ninety-five different stories. They are laid out in Old Testament and New Testament, just like a real Bible. Each page has a bright, colorful, engaging picture that illustrates the text.
Even though all of my kids have out grown this Bible, I agreed to review it with the idea of using it with the 3 year old that we babysit. He loves to be read to and he enjoys Bible stories. He is the perfect age for the stories in this beautiful Bible story book. All excellent reasons to review the product.
All the same, the day it came in the mail was a busy one so after I opened the package, I laid the book on my desk and pretty much forgot about it.
The next morning, when the little guy came to our house, he noticed the Bible still on my desk. Now, my desk is generally off-limits to all the kids, but he seemed to somehow know that this book was just for him.
He picked it up and took it to the couch, where he spent the next thirty minutes or so leafing through the pages, looking at the pictures and just enjoying the whole experience.
Eventually, he took a break long enough to pose for an adorable picture.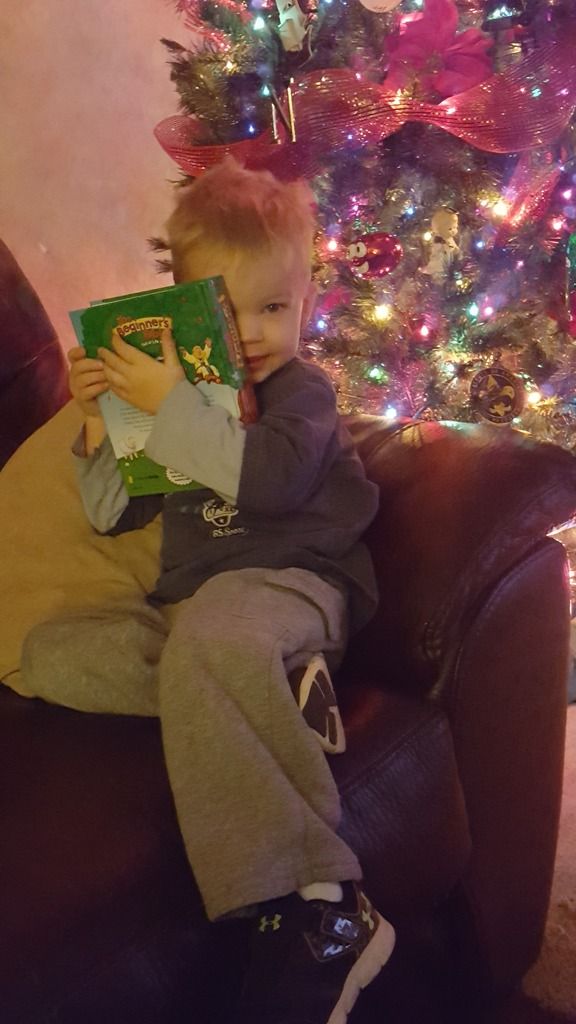 The Beginner's Bible
has the stories ordinarily told to little children, like Noah's Ark, Jonah, Daniel and the Lion's Den, the Christmas story and many of Jesus' miracles. But it also has many stories that are left out of the typical toddler stories, like Deborah, Gideon and Hannah's tales, Elijah on Mount Carmel and the chariots of fire. Each story is kid friendly, telling the true story in a non-frightening way without any "gory" details a child isn't yet ready to hear.
The girls had so much fun reliving the memories and sharing the love with the baby as they read him the stories they loved when they were his age.
This is, in my opinion, the perfect Bible story book to get for your baby because it will last for years as your child grows. You read it to them when they are tiny and then they can read it to you as they learn how. The stories set a firm foundation for your child to stand on as he/she moves into school age. The memories you make reading
The Beginner's Bible
will last a life time.