I feel like this is my first ever high school post! I know I have talked about high school before but not in its own, dedicated post. My oldest two will be officially starting high school in the fall. They are actually earning some credits this year! So we are more than ready to start talking about it!
I have discovered that I am a front loader... I like to put all the work of a thing up front and then let it run itself while I work on other things. This is why, when my oldest child hit sixth grade I freaked out about high school. And whyI have spent the past few years doing all the work. The reading, the research, the questioning of friends, the brainstorming, the conferring with Kaytie, and the planning. And now, I am at peace, because the real work is out of the way and now all we have to do is implement and tweak.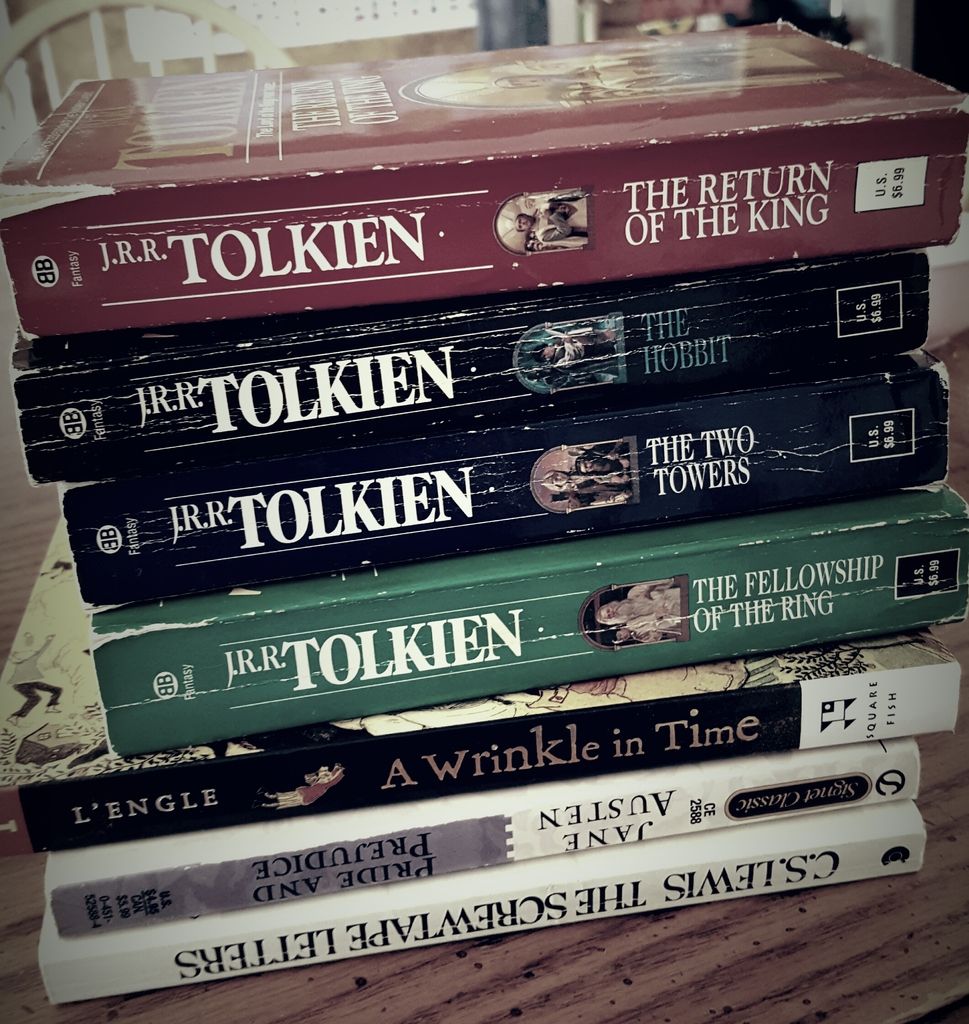 One of the hardest things for me to plan was Literature. I love to read. I love to read classics. And I love to think about and discuss what I have read. So I am super picky about high school Lit. programs. I couldn't find a single one that made me happy. They picked the wrong books. They want to focus on comprehension and vocabulary (neither of which do any of my kids need to worry about). They look incredibly boring. I really just want to give my kids great books to read and then have them write and talk about them.
It was at this point that I realized I just (once again) needed to do my own thing. So I started asking questions and making book lists. I knew I needed to start with what to read, so I asked around and searched online to find out the general consensus to the question: What books does every kid need to read before graduating high school?
I made a list of all the books mentioned to me, and then I weeded out my own personal "no ways". I talked to my husband and tossed his "no ways". And finally, I left out any books that felt unnecessary to me and added in a few that hadn't been mentioned by others.
The next step was to decide how to sort these books into years. They have four years to read them, we might as well do it in a logical and orderly way. Now, I believe that there are many ways to do this, but we decided that it suited our purposes best to separate by traditional categories and assign each category a list based on the books and their ages when we wanted them to read those particular books. Does that make sense? That might not make sense... Let me explain it this way.
Their 9th grade year, they will read British Lit:
5 Murder on the Orient Express
8 The Importance of Being Ernest
13 Lord of the Rings Trilogy
15 1984 OR Animal Farm OR Brave New World
16 The Best of Father Brown
Tess of the D'urbervilles
The Once and Future King
Now, some of these they have already read so that will be taken into consideration. Also, my first two kids are avid readers so they have no trouble reading all these books in one year. My younger two kids are not as into reading and will probably be given a much lighter list when it's their turn. Unless, of course, they grow into avid readers before then.
The numbered ones will be required reading, the half-dozen others will be free choice. Also, the marked ones will be the ones they will be required to write about. They are not as strong of writers as they are readers, so I know I will not be getting sixteen good papers out of them in one school year. This is not a final list, of course, I will be adding asterisks over the summer as I ponder the list and look for good but free study guides that I can tweak.
I have a literary analysis outline that I found that I will give them to guide their paper writing. (Kaytie is actually already practicing with it in 8th grade.) But I highly doubt I will expect them to write an analysis for every single book. I will, most likely, expect a paper every couple of weeks, or a more thoughtful paper every month.
I also have my eye on
Windows to the World
and
The Power in Your Hands
. I like what I read about them, but I haven't actually held them in physical form, which is when I make the ultimate decision on new curriculum.
Their 10th grade year they will read poetry, plays and short stories.
The Complete Sherlock Holmes
Tennyson
Longfellow
Wordsworth
Dickinson
and some that they chose on their own. I'm not so particular about poetry. And I need to find some way to teach them how to analyze it I guess. Poetry isn't really my thing. I expect this to be a light, easy year for them. I haven't put much thought into as of yet.
Their 11th grade year they will do American Lit.



Adventures of Huckleberry Finn
Autobiography of Benjamin Franklin
Narrative of the Life of Frederick Douglass, an American Slave

The same basic thoughts from British Lit. apply here. I just haven't weeded through to decide what are must reads and what are free reads. Nate is already asking to read some of the books on this list, so that will help shorten the list for him, I guess.

Their 12 grade year will be World Lit.


The Count of Monte Cristo
All Quiet on the Western Front
And then, because they are such avid readers, I will offer them some elective credit courses, but these are even less thought out, and will be a lot more open to their ideas and suggestions, so I am only going to give you a list of categories, not actual book lists:
Classic Horror/SciFi
Ancient Lit
biographies
(bios can be grouped into history or other topics like WWI or scientists)
and, of course, they have the option of suggesting their own courses.