I love history and I love reading, so it was fun to get a chance to review Bessie's Pillow by Strong Learning, Inc.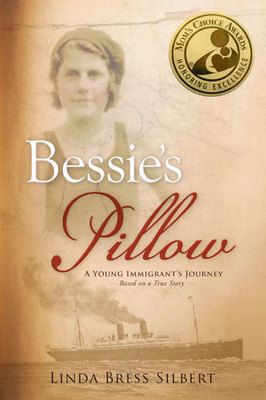 Bessie's Pillow is an historical fiction book about an immigrant in the early 1900s. The book begins in Lithuania, recently taken over by the Russian Empire and we meet a young Jewish girl, Boshka, who is about to embark on adventure. Because she is Jewish, she and her family are suffering persecution as most Jews were in that time period. Her parents choose to send her to America to keep her safe. This book is the story of her journey, and her life in America.
I found this book to be a quick read. Not quick as in easy and simple but quick as in I read it in one sitting because I simply could not put it down. Once I started reading I was quickly immersed in the story and just had to keep reading to find out what happened next!
The story is told from the first person point of view of Boshka, whose name is Americanized by a port official to Elizabeth and quickly shortened to Bessie. It is also told in present tense, which always takes some getting used to for me, but it really worked in this instance, because with the words chosen, the sentence structure and the tense, the entire book felt like Bessie herself was sitting there telling me the story.
The tale follows Bessie from Lithuania, where a woman gives her a pillow to take "to my son in New York!" and travels with her across the ocean and then details her life in America for the next thirty years, including her love story. As we read, we gain a very clear picture of Bessie's strength of character and rugged independence that help her overcome her difficulties and struggles and achieve her own American dream. We are also given a good view of what immigration and life in America was like. It was not an easy life, but Bessie, instead of complaining, was quite grateful for whatever she had. She was also extremely willing to use her blessings to help others.
And the really compelling part of this book? It is based on a true story. A few minor details and names of supporting characters were changed, but Bessie's Pillow is the life story of the author's grandmother. Bessie told the story to her daughter, who told it to the author, Linda Bress Silbert. The book includes photographs of the characters in the story and at the end of the book, there are short paragraphs telling "what happened after" to the main characters in the book, including the pillow!
With the book comes an online study guide: Bessie's America. This site contains a wealth of information about American immigration. There are photographs, recipes, information about the illnesses mentioned in the book, movies from the time period, music, a link to radio shows that Bessie probably listened to, tons of fascinating information about the transatlantic steamships and so much more. There is even a Teacher's Guide to help you put all of it together in a coherent fashion for your kids.
After I read Bessie's Pillow, I handed it over to my fourteen year old daughter and she read it to. Here is what she had to say.
Kaytie: It was very engaging. I liked the storyline and the basic concept. I liked how the pillow brought it all together. I thought it was well written. I would recommend this book for older kids, probably eight and up.
I highly recommend Bessie's Pillow to anyone who is interested in a real life look at American immigration. It was a fascinating book.