My three artistic kids have been reviewing Creating a Masterpiece. We were given free access to their Monthly Plan.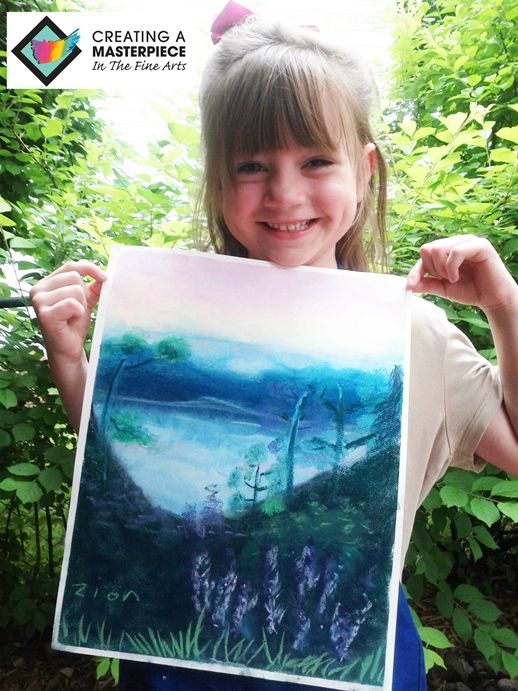 Creating a Masterpiece is an online art program for kids. It was designed by Sharon Hofer in an attempt to extend her art studio. She wanted to teach kids technique while enabling them to create beautiful works of art right off the bat.
Creating a Masterpiece consists of video instruction with step-by-step directions for the kids to follow. The program is results based, meaning everyone's finished project will look basically the same with minor differences.
The lessons are divided into six skill levels, starting with Beginner. The lessons get more challenging as you go from Beginner to Level Five. However, kids can choose from any level. The levels are not locked, so they do not have to go in any particular order.
Your student can also choose their lesson based on medium. And there are a lot to choose from:
acrylic
batik
block printing
carving
conte' crayon
copper tooling
glass mosaic
gouache
ink
mixed media
oil painting
oil pastel
pencil/charcoal
sculpture
silk painting
soft pastel
watercolor
wood burning
The videos are of various length and some of the lessons were divided into different videos. It is suggested that the lessons should be done about one a week. Sometimes the kids got to a particular spot and then were told to wait until their paint dried and then come back and finish the project.
Each lesson has it's own supply list that you see first thing when you open the lesson. Or there is a main supply list, kind of like an overview, that you can browse through and pick your projects by the supplies they require.
Inside the lessons are also tips, suggestions, highlights and even some images you can print out for the kids to look at if wanted/needed.
Oh, and you can also print your supply lists for the lessons you are interested in. Just in case you need something to take with you to the store.
I have three kids that are quite interested in art. They have all taken classes, worked on other art programs and worked on their own for many years. So this was an easy review for us to do. I simply showed them the log-in information and told them to get to work.
At first, we had an issue because they worked at various paces and the faster ones were irritated when the slower ones needed to pause or re-watch parts of the video. And the slower ones were irritated that they could not keep up. I quickly solved that issue by making them all work on their own laptop or tablet.
My most adept artist was also annoyed that some of the "lessons" were actually a video telling her what supplies she needed. But she settled down once she actually got started working.
Once we got all that worked out, they had a blast. Daniel and Abbie got their first real experience working with pastels. They were pleased that even their initial results were "hang up on the wall" worthy.
Kaytie: I got lost a couple of times in the lessons. I finished all the parts of the lesson and the picture wasn't done and I had to find the rest of the lesson somewhere else. Actually, my brother found it for me!
I liked the way she explained the process and gave a lot of detail.
I was impressed at how well my art looked when it was done.
I liked how many different types of media were offered and how the projects were sort of adaptable and flexible.
Daniel: It was fun because I got to figure out how to use different art styles and different equipment for different needs. I liked how it was easy to make something awesome from just a few materials.
Abbie: It was fun because it is art! I loved what I could draw. The videos went too fast for me but I paused it until I could keep up. It's important to use the right supplies or your picture won't turn out right.