Home School Adventure Co. sent us a partial, advance copy of their unit study: Walking with the Waodani.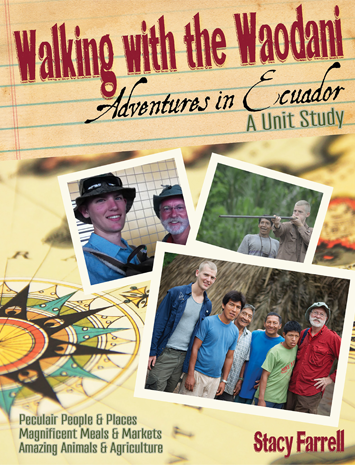 I grew up hearing the story of Jim Elliot, Nate Saint and the other missionaries whose death and the brave faithfulness of their families resulted in the salvation of a tribe of South American warriors. In fact, my oldest son, Nathaniel, is called Nate in honor of Nate Saint, the pilot of the group. But for those of you who don't know the story, here's the short version.
In the 1950s, five American men and their wives and children were serving as missionaries in Ecuador. They heard of a violent tribe called the Auca nearby and decided to attempt to take the Gospel to them. Unfortunately, after what seemed like progress befriending the tribe, the men were attacked and killed with spears. Several years later, Jim Elliot's wife Elisabeth and Nate Saint's sister, Rachel, tried again to befriend the Auca and, largely due to their display of forgiveness and love, succeeded.
Nate Saint's son, Steve, grew up spending summers with his aunt living with the tribe they now called the Waodani. And now he and the man who killed his father, Mincaye, travel together to tell their story of forgiveness and redemption and the amazing love of God.
The unit study is based on this story, but also tells the story of Russell, a young man who was able to go visit the Waodani himself on a tour which the tribe offers in an attempt to support themselves and their elderly members independently. These tours are short-term jungle trips that allow others to experience the jungle hunter/gather lifestyle.
The study also tells of animals, foods, and a lifestyle unique to the Amazon River jungle. The black jaguar, how best to cook and eat the delicacy called the Palmetto Weevil Grub, a recipe for a delicious soup, the vampire bat and some Ecuadorian history and even stories about spear fishing. Oh, and yes, even a flying car! Not something you would naturally expect in a study about the jungle, but this unit study is full of surprises!
At the end of each lesson are activities for the kids to do. Some of those activities were filling out maps, drawing pictures of jungle animals, writing stories, and answering open-ended questions about what they had learned.
The study also includes lists of outside resources (internet links, books and videos) which you can use for additional learning.
It is important to note that this study is still in the process of being created. We have received the first three lessons, which is all that has been completed at this time. If you want to be notified when the study is ready, click here and scroll down to sign up.
We went through Walking with the Waodani as a group. It comes in the form of a PDF, so you are free to print or to read it from any device. Instead of printing, I read aloud while the kids looked over my shoulder at all the fabulous pictures. At the end of each lesson, we clicked on links to further explore. We actually went through the first two lessons in one sitting, because we just couldn't stop. I intend, when we get the rest of it, to go back through a little more slowly, and do some activities like making the soup to try.
I also want them to see the movie The End of the Spear. I have seen it, but when it first came out, my kids were way too little to watch it. Now, though, I think it would be great for them, especially after this unit study.
Speaking of which, this is what they thought about the study:
Kaytie:
I thought it was very interesting. It described things really well. It had a bunch of interesting information about cultures and customs. The flying car was cool. I liked learning about the food they ate.
Nate:
That was interesting because it was very factual. I love facts. I think it was particularly interesting because it was about the guy I was named after. I liked learning about the grubs. That was cool.
Daniel:
I liked how they taught us about how they did things and what their culture was like. I liked learning about the animals and the problems they have with the animals and how they made stuff. I liked learning about the food. It was so cool they could make the car that does multiple things. It was great how much time and effort they put into making something that would benefit other people.
Abbie:
It was interesting. I learned about missionaries in Ecuador. I liked that Steve's Saint forgave the guy that killed his father instead of killing him in revenge. And I liked that he was baptized by the guys that killed his dad. But the grubs were gross!!!
In short, we highly recommend Walking with the Waodani as a great way to teach your kids self-sacrifice, love, forgiveness, the Gospel, and the culture of Ecuador.