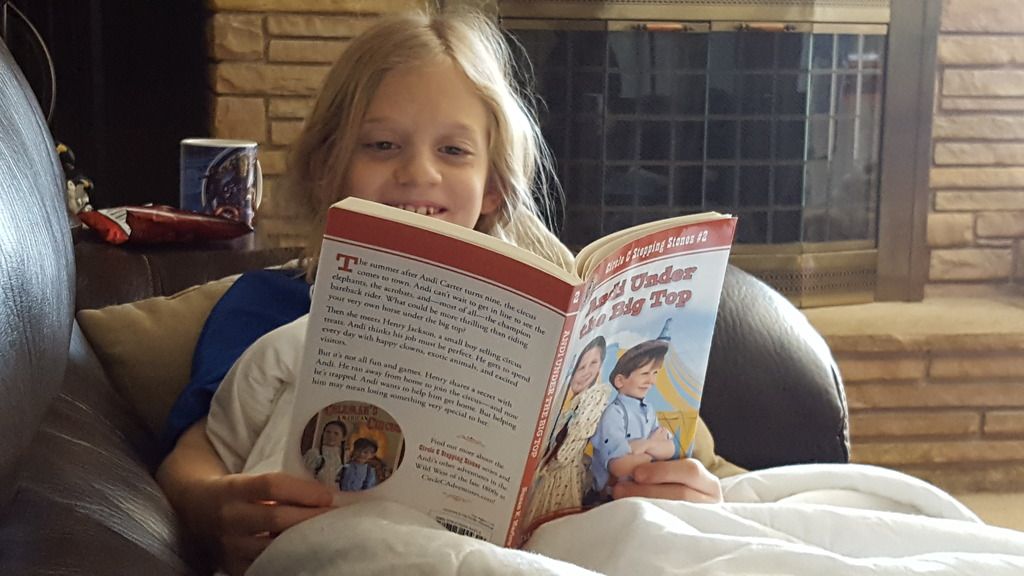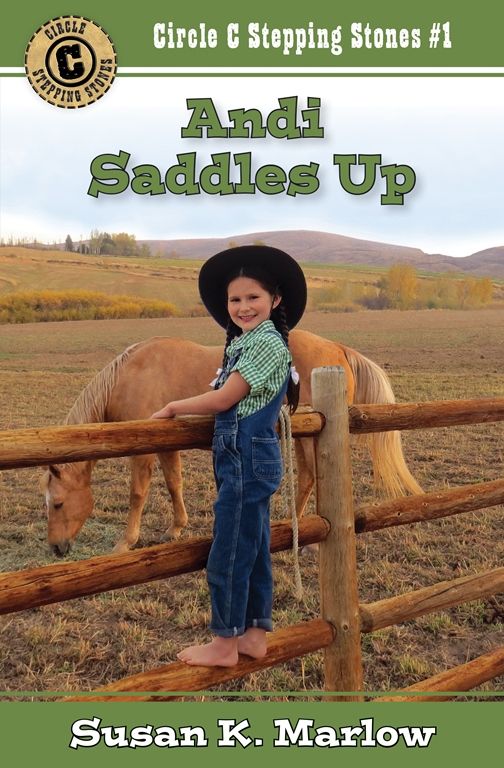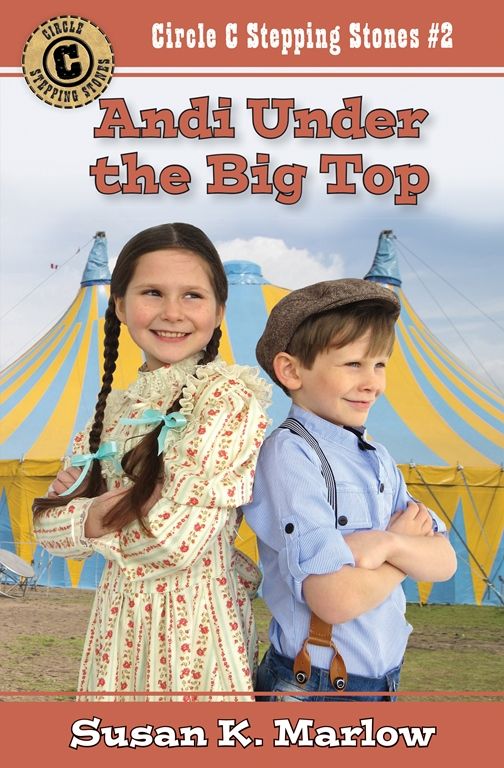 These books are the first and second books in the new Andi series:
Circle C Stepping Stones
. Andi Carter is now nine years old and these stories are intended to appeal to older readers than the ones when she was six. There are also a couple of series where Andi is even older.
The Andi Carter books are set in California in the 1870s and 1880s. The Carter family owns a ranch which gives Andi access to horses and a wealthy lifestyle that would be uncommon in that time and place. The Carter children, (there are five of them) also enjoy a freedom that comes from their father being deceased and their mother being a relaxed parent. The older children make most of the decisions regarding Andi and her behavior. Thus, Andi enjoys many adventures and escapades. These are the stories in the books.
Andi Saddles Up tells the story of friendship tested by outside forces. Andi's family are ranchers and her new friend's family are sheepherders. This classic dispute puts pressure on the girls friendship. We also get to experience fishing trips, a broken arm, and, most importantly, learn about the value of obedience!
Andi Under the Big Top explores the excitement of a circus coming to town in the 1800s. We get to see the thrill the townspeople felt at seeing the exotic animals, the amazing performers, and the bizarre sideshows. We also get to see the hard work and dark underbelly of the "behind the scenes" as we meet Henry, a little boy who works for the circus.
Along with the books are free study guides. They are PDFs that you can print, or, you can pay for printed and bound copies if you like. The study guides are over 20 pages long and are great go-alongs for the books. They ask comprehension questions in true/false, fill-in-the-blank, or multiple choice format. They also have math activities, puzzles, language art activities, crafts, recipes, art projects and extra information that involve both science and history. The study guides turn a fun book into an enjoyable school subject if you are so inclined. Or your child could just use the guides as a fun extra to prolong the enjoyment of the book.
My ten-year-old begged me to let her review these books. She had read a Circle C Beginnings book and was eager to read more about Andi Carter. When the paperback books arrived in the mail, Abbie disappeared into her room with them and read them both in a couple of afternoons. This is what she thought:
Abbie says: They were interesting. I like how her older brothers looked after her. I thought the stories were exciting. I loved that her friend had sheep because sheep are my favorite animals. My favorite part in Andi Saddles Up is when her brother and her friend's dad decide to get along instead of fighting over land. My favorite part in Andi Under the Big Top was when Justin gave Henry the money so he wouldn't get in trouble and then an extra dime for himself.
I read them after she was done and found them to be sweet little books that teach wholesome principles about obedience, sacrifice, love, and doing the right thing, no matter what. Abbie is just beginning to blossom into a love for reading, so I am happy to have books I can hand her without concern and know she will enjoy the process and ask for more.