When we signed up to review the book
Smoky Mountains ~ Here We Come!
from the
By The Way Book Series
, I was really expecting a story book. Maybe with some cool illustrations and little factual information about the Smoky Mountains thrown in. So I was quite surprised when we actually got our hands on the book!
Smoky Mountains ~ Here We Come!
is a hardback book with 50 pages. That was a lot more pages than the cute little picture book I was expecting. But this is more than just a picture book.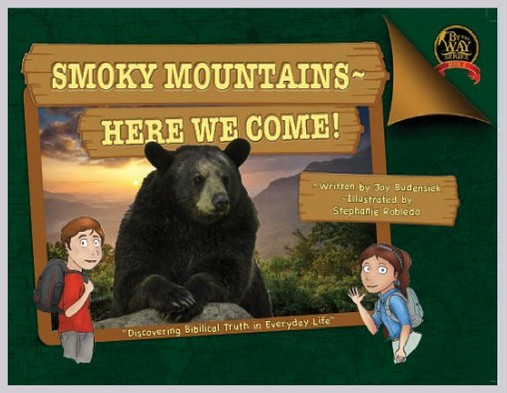 Yes, it is a cutesy story of two kids, Alex and Lexi, who are visiting their Uncle Ted who is a forest ranger in the Smoky Mountains. But as we read the story of their adventure as they hike along the Appalachian Trail, we find a lot more hidden on these pages.
First, there are beautiful, realistic photographs of the Smoky Mountains mingled in with the cartoon drawings.
Even better, the pages are packed with nuggets of information that draw the kids in and fill out the story. The By The Way series is intended to be a springboard for parents and (especially) grandparents to introduce spiritual truths to kids on a regular, daily basis. So each book is filled with wonder at the beauty of God's creation, Scripture verses, hymns, science facts, photographs, real stories from history, and a challenge to find specific pictures scattered throughout the book.
This book was super easy for me to use. I slipped it into our Morning Meeting basket and we read a page or two every morning. My kids are between the ages of 10 and 14, so they felt the story line itself was a little young for them. But they truly enjoyed all the little extras along the way.
We had fun singing the included hymn. It was one we already know and love.
I loved the historical stories about people who lived and died in Appalachia... even before it was called that!
The kids competed with each other to find all the pictures from the challenge.
But their favorite part was, of course, all the science that flooded the book.
We learned about butterflies, skunks, elk, salamanders, blackberries, otters, geocaching, fireflies, bears, many different birds, and much, much more. The book does not go in depth about each thing, but gave us enough to intrigue us and whet our appetite to learn more.
But back to how we used it. I would read a little bit, stopping whenever it seemed like a natural break, then we would explore the sidebars on the pages we just read. We examined the pictures, discussed the interesting information we just learned, explored the Scripture verses, and sometimes, pulled out the Internet to go even deeper on topics that sparked an interest.
We highly recommend these books to families who love learning, not just about creation, but also about interesting historical stories. Or even to families who want to learn to love creation and history and science. I think, as they get more books out, this would be an excellent way to serve up science and history to young elementary kids! They would make great spines.
As the name suggests, there is a series of these books, each focusing on a specific state. So far there are six books with many more in the works. Mountains pique the interest of my prairie-born crew, so we also have our eye on
Colorado ~ By The Way
.
Read what other Crew members thought about
By The Way Book Series
by clicking on the banner below!